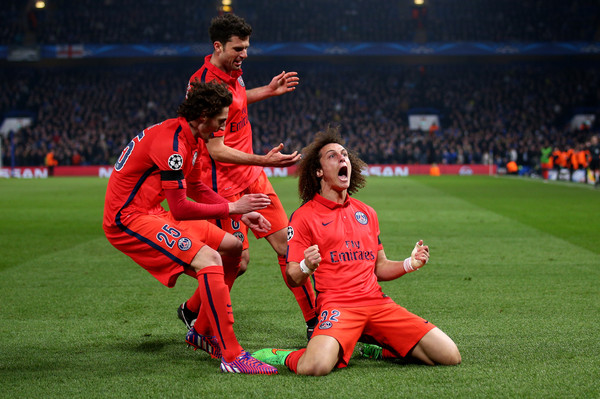 Arguably the most enticing match of the 2015-16 UEFA Championship League season thus far will take place this week, as two European powerhouses in Paris Saint-Germain and Real Madrid will tangle on centerstage in matchday three.
Both sides are coming into Wednesday's contest not only boasting perfect records in the group stage without conceding a goal but also the fact that neither club has suffered a defeat through all competitions this season in their respective leagues as well, giving the meeting at the Parc des Princes a little extra allure.
The only other club in the UCL this season to also have a spotless record, Bayern Munich, meanwhile, will pay a visit to Arsenal in a Group F match. Bayern has been riding on the back of the red-hot Robert Lewandowski as of late, while the Gunners are still searching for their first points in the competition this season after two surprising defeats at the hands of Dinamo Zagreb and Olympiacos.
Elsewhere, Manchester City will host Sevilla, Roma will travel to Bayer Leverkusen and Juventus — though still struggling in Serie A — will look to continue its UCL success when it takes on Borussia Mönchengladbach at home.
Here is a rundown of all the UCL contests in matchday three action:
TUESDAY
2:45 p.m. — Fox Sports 2/Fox Sports Go/Fox Soccer 2Go/Fox Deportes — Arsenal vs. Bayern Munich
2:45 p.m. — ESPN2/ESPN3/WatchESPN/Fox Soccer 2Go — Bayer Leverkusen vs. AS Roma
2:45 p.m. — ESPN Deportes/WatchESPN/Fox Soccer 2Go — BATE Borisov vs. Barcelona
2:45 p.m. — ESPN3/Fox Soccer Plus/Fox Soccer 2Go — Dynamo Kiev vs. Chelsea
2:45 p.m. — ESPN3/Fox Soccer 2Go — FC Porto vs. Maccabi Tel Aviv
2:45 p.m. — ESPN3/Fox Soccer 2Go — Valencia vs. K.A.A. Gent
2:45 p.m. — ESPN3/Fox Soccer 2Go — Dinamo Zagreb vs. Olympiacos
2:45 p.m. — ESPN3/Fox Soccer 2Go — Zenit vs. Lyon
WEDNESDAY
2:45 p.m. — Fox Soccer Plus/Fox Deportes/Fox Soccer 2Go — Paris Saint-Germain vs. Real Madrid
2:45 p.m. — ESPN Deportes/WatchESPN/Fox Soccer 2Go — Manchester City vs. Sevilla
2:45 p.m. — ESPN2/Fox Soccer 2Go — Juventus vs. Borussia Mönchengladbach
2:45 p.m. — Fox Sports 2/Fox Soccer Go/Fox Soccer 2Go — CSKA Moscow vs. Manchester United
2:45 p.m. — ESPN3/WatchESPN/Fox Soccer 2Go — VfL Wolfsburg vs. PSV Eindhoven
2:45 p.m. — ESPN3/Fox Soccer 2Go — Atlético Madrid vs. Astana
2:45 p.m. — ESPN3/Fox Soccer 2Go — Galatasaray vs. Benfica
2:45 p.m. — ESPN3/Fox Soccer 2Go — Malmö FF vs. Shakhtar Donetsk