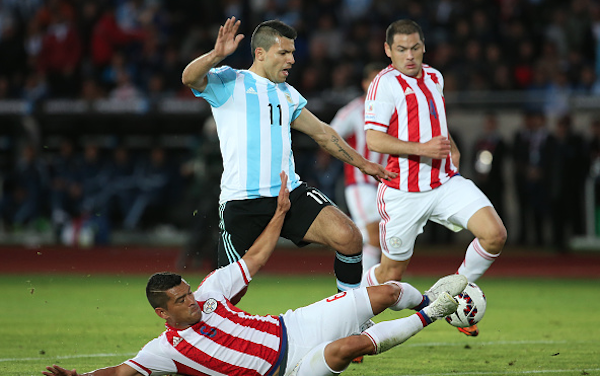 By FRANCO PANIZO
The two-year slog is about to begin in South America, and there is again one more team vying for the highly-coveted World Cup berths.
CONMEBOL's 2018 World Cup qualifying campaign is set to begin on Thursday, with Brazil returning to the mix after sitting out last cycle because it was hosting the 2014 edition of the tournament. Having another team competing for the four-and-a-half spots available for Russia 2018 will make for even more intense competition, and it adds further incentive to each of the 10 South American nations to try and start off on the right foot in the roller-coaster marathon that is South American qualifying.
While these first matches figure to be every bit as pressure-filled as usual, they will be lacking a bit of their usual star power. From Lionel Messi to Neymar to James Rodriguez to Luis Suarez, several of South America's biggest names have already been ruled out for this initial round of matches. Others like Arturo Vidal, Alexis Sanchez and Jefferson Farfan could also miss out, leaving several national teams to have to already dig deeper into their player pool.
Even so, there will still be plenty of talent worth watching. The optimism and dreams of playing in the World Cup are there for all the countries involved, and veteran players and promising youngsters alike will need to perform in order to avoid falling behind the curve in a region that is considered by many around the world to be the most difficult.
Here is a closer look at the first round of CONMEBOL World Cup qualifying for 2018:
BOLIVIA vs. URUGUAY
(4 pm ET – beIN Sports Connect / 8 pm ET tape delay – beIN Sports / 4 am ET tape delay – beIN Sports Espanol)
Bolivia is always considered one of the underdogs to reach the World Cup from CONMEBOL, but it very well might be the favorite in the first qualifying match this cycle.
La Verde hosts Uruguay at high altitude in La Paz, which tends to prove difficult more often than not. Bolivia lost there only twice during the previous World Cup qualifying campaign, and will be hoping that the homefield advantage can help it collect three points.
Making things even more difficult for Uruguay head coach Oscar Tabarez – who is entering a remarkable third straight World Cup cycle at the helm of the Charruas – is that he will be without star strikers Luis Suarez and Edinson Cavani. Suarez is still in the midst of serving his lengthy suspension, and Cavani is also banned after misconduct against Chile in this summer's Copa America.
Uruguay has never won a game in La Paz, but new Bolivia manager Julio Cesar Baldivieso has not called in a bevy of experienced players on his squad. That lack of veteran savvy could hurt the Bolivians, who have not made it to a World Cup since 1994.
COLOMBIA vs. PERU
(4:30 pm ET – beIN Sports Espanol, beIN Sports Connect / 11 pm ET tape delay – beIN Sports)

The two nations have met twice this year, and they've settled for a draw each time. They are both hoping things play out differently this go-around.
Colombia and Peru will meet in Barranquilla, where temperatures could reach the low 90s on Thursday. That is why the Colombians scheduled the game for an afternoon kickoff, as they are hoping to gain an advantage from the sweltering conditions.
Los Cafeteros are looking to bounce back from a disappointing Copa America campaign and show the form that helped them make a historic run in the 2014 World Cup. Colombia head coach Jose Pekerman will, however, be without star playmaker James Rodriguez in this one because of injury.
Peru, meanwhile, is full of optimism after seeing new manager Ricardo Gareca guide the side to a third-place finish in Chile this summer. The Peruvians will be without starting left back Juan Manuel Vargas due to a knock and are unlikely to count on the recovering Jefferson Farfan, but they still have talents like experienced forwards Paolo Guerrero and Claudio Pizarro who can help make a difference.
VENEZUELA vs. PARAGUAY
(5 pm ET – beIN Sports, beIN Sports Connect / joined in progress at 6:30 pm ET – beIN Sports Espanol)
Venezuela shocked Colombia at the Copa America, but it could not translate the momentum picked up from that into more wins.
Currently on a four-game run without a victory, Venezuela is aiming to get back on track when it welcomes Paraguay to Ciudad Guayana. La Vinotinto will be leaning on captain Tomas Rincon and forward Salomon Rondon to help lead the charge, as it looks to grab three points in a qualifying campaign that all of Venezuela is hoping ends with a first trip to the World Cup.
In the way, however, stands a Paraguay side that finished fourth at the Copa America this summer. Los Guaranies should prove a formidable foe, especially with Toluca defender Paulo da Silva available for selection.
The Paraguayans might also feel confident going into this one because of the fact that they have lost just once to the Venezuelans in their last six meetings. That defeat was not that long ago, however, as it came in a home World Cup qualifier for Paraguay back in 2012.
CHILE vs. BRAZIL
(7:30 pm ET – beIN Sports, beIN Sports Connect / 12 am ET tape delay – beIN Sports Espanol)
Chile crossed off winning a Copa America title from the to-do list this summer. Now, the sights are on knocking off the same team that eliminated it from the previous two World Cups.
Chile and Brazil will square off in the first meaningful international match in Santiago since La Roja's Copa America capture in July. Chile is still riding the high of lifting that trophy, but it is possible to be without major pieces in Arturo Vidal and Alexis Sanchez because of respective knocks to the groin and knee.
Brazil is also missing a key cog, as talisman Neymar continues to serve a suspension stemming from this summer. That still will not be enough of an excuse for Selecao head coach Dunga, who is under pressure to rebound from a discouraging quarterfinals exit at the Copa America.
While Chile should prove a stiff test, the Brazilians have historically had the upperhand in this series. In fact, Brazil has not lost to the Chileans in its last 14 encounters, a stretch that dates back to 2000.
ARGENTINA vs. ECUADOR
(8 pm ET – beIN Sports Espanol, beIN Sports Connect / joined in progress at 9:30 pm ET on beIN Sports)
Leo Messi is out, and someone is going to have to step up and help pick up the considerable slack.
Argentina will begin the qualifying campaign at home in Buenos Aires without its star player. Messi is out due to an injury sustained while playing for Barcelona, leaving Albiceleste manager Gerardo Martino to have to count on someone else to help carry the offensive load as his team looks to stay unbeaten in 2015.
The most likely candidate is Sergio Aguero, who scored five goals for Manchester City over the weekend, but there are other candidates like Carlos Tevez and Angel Di Maria who can also change the outcome of a game. In any case, it has already been confirmed that Aguero will be wearing Messi's famed No. 10 during these qualifiers.
Messi might not be around, but the challenge of facing the Argentines is still a big one for Ecuador. La Tricolor has not beaten the South American powerhouse in their last five meetings, and it also endured a forgettable Copa America campaign this summer. Still, key veterans like Antonio Valencia and Felipe Caicedo are available and capable of helping pick up at least a point.
—–
What do you think about this first round of CONMEBOL World Cup qualifying? Disappointed by the amount of stars missing? Who do you see wining these matches? Which nations do you think are likely to reach Russia 2018?
Share your thoughts below.