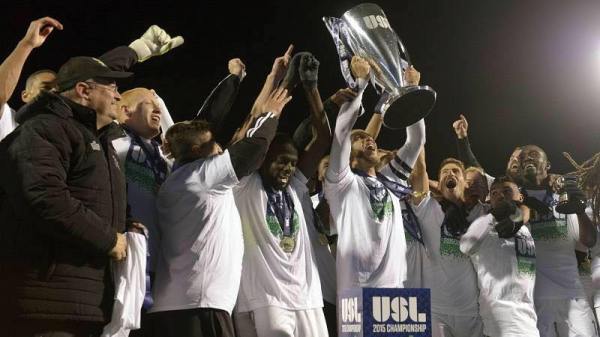 Photo by Rochester Rhinos/USL
By COLE KELLOGG
After finishing the regular season with 14 more points than any other USL side, the Rochester Rhinos sped through the postseason.
Friday night, they earned one more victory, defeating LA Galaxy II in the USL Championship.
A second-half strike from Ariel Lassiter gave Los Dos the late lead, but substitute Asani Samuels scored an equalizer in stoppage time and then struck the game-winner in the 112th minute to earn the Rhinos the championship at home. Samuels also earned himself MVP honors for his performance.
"The opportunity presented itself, and I took it with open arms," Samuels told reporters after the Rhinos won their fifth title and first since 2001. "This is the best moment of my life."
Lassiter made his mark on the match in the 65th minute, slotting home a rebound to score his fourth goal this postseason.
The Los Dos youngster drew an initial free kick, which was taken by Bryan Olivera from the left flank.  The ball was whipped in dangerously, and Lassiter smashed home the rebound from a Bradley Diallo shot that ripped off the crossbar.
Los Dos would've thought they had done enough to earn the trophy with that strike just 25 minutes from time, but late heroics from Samuels would crush the dreams of the Galaxy II side.
In second-half stoppage time, the substitute rose above the crowd in the box to head home a corner kick and level the score.
A head injury to the Galaxy's goalkeeper Clement Diop forced teenager Bennett Sneddon into the net for Los Dos, and he was in for a rough awakening in the biggest professional moment of his life.
Then, it was deja vu for the Galaxy II as the same situation ended in a second goal for Samuels and the Rhinos.
In the 113th minute, the tall attacker rose over his man to smash home another cross from a corner kick with his head.
The major impact Samuels had in this match was no surprise to the Rochester faithful, but a bystander looking at his regular season statistics might be dumbfounded by the performance.  The MVP only made 11 regular season appearances, with each one coming from the bench, as the attacker logged less than 200 combined minutes in USL.
Asani had almost an identical performance against the Harrisburg City Islanders in the U.S. Open Cup earlier this year.  The big man came on late to score twice and lead his side into the next round of the domestic tournament.