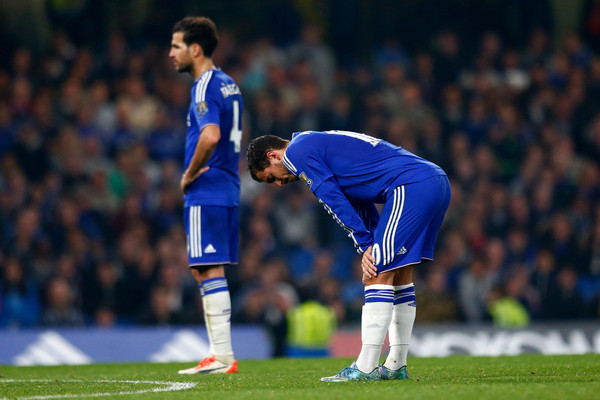 By SBI SOCCER
The Premier League season continues to wind on, and Chelsea continues to falter.
Entering the weekend with only eight points in seven games, Chelsea settled for yet another loss Saturday in a 3-1 defeat to Southampton at Stamford Bridge.
After seeing Willian open the scoring with a perfectly-hit free kick in the 10th minute, Chelsea struggled to get into the game while watching Southampton create chance after chance. Following a Steven Davis equalizer just two minutes before halftime, Saido Mane game Southampton the lead in the 60th minute. Graziano Pelle's 72nd minute finish all but sealed the game and dealt Chelsea yet another Chelsea defeat.
With the loss, Chelsea currently sits 16th in the Premier League table.
Here's a closer look at all of Saturday's European action:BARCA FALLS ON THE ROAD AGAINST SEVILLA
In the team's first league match since Lionel Messi's injury, Barcelona was forced to settle for defeat.
Barcelona was handed the team's second league loss of the season on Saturday, falling 2-1 on the road to Sevilla.
The hosts' pair of finish came within six minutes of one another, with Michael Krohn-Dehli opening the scoring in the 52nd minute. A Victor Iborra finish soon followed, putting the game out of reach despite a 74th minute penalty kick goal from Neymar.
Despite hitting the post three times, Barca fell to the team's second straight road defeat.
AGUERO SCORES FIVE AS CITY CRUISE
There was just no stopping Sergio Aguero on Saturday.
The Argentine forward scored five goals in a 20 minute span, leading Manchester City to a 6-1 thrashing of Newcastle Saturday at the Etihad Stadium.
Scoring his first just three minutes before halftime, Aguero completed a his hat-trick with goals in the 49th and 50th minutes. A Kevin De Bruyne tally followed three minutes later before Aguero added another pair of goals in the 60th and 62nd minutes to complete the performance.
With the win, Man City maintains a two point lead atop the table over second place Manchester United, who faces Arsenal on Sunday.
Here's a closer look at the rest of Saturday's results:
ENGLISH PREMIER LEAGUE
Crystal Palace 2 – 1 West Brom
Bournemouth 1 – 1 Watford
Aston Villa 0 – 1 Stoke City
Norwich City 1 – 2 Leicester City
Sunderland 2 – 2 West Ham
BUNDESLIGA
Borussia Monchengladbach 2 – 0 Wolfsburg
Ingolstadt 2 – 0 Frankfurt
Hannover 1 – 0 Werder Bremen
Hertha Berlin 3 – 0 Hamburg
Hoffenheim 2 – 2 Stuttgart
LA LIGA
Granada 1 – 1 Deportivo La Coruna
SERIE A 
Carpi 2 – 1 Torino