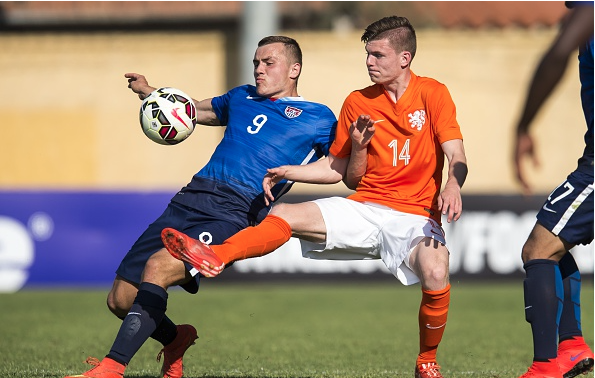 By FRANCO PANIZO
The road to Rio is about to begin, and that means we are about to get some good insight into which players U.S. Under-23 Men's National Team head coach Andi Hertzog thinks are ready to deliver.
CONCACAF Olympic qualifying is set to start on Thursday night, and the U.S. opens its campaign with a meeting against Canada at Sporting Park in Kansas City, Kansas (9 pm ET, NBC Universo). The Americans are not only favorites for this encounter but also in a group that also includes Panama and Cuba.
Expectations bring pressure, however, and Herzog will likely want to go with his strongest lineup to avoid any possible letdowns in Group A. The matches come quickly in this competition so rotating players will be key, but that still should not stop Herzog from fielding his preferred group, as he aims to build chemistry ahead of the potential Olympics-berth decider in the knockout rounds.
Here is the U.S. lineup that could take the field vs. Canada:
——————Steffen——————
Polster—-Miazga—-Packwood—-Serna
——————-Trapp—————–
Hyndman———–Gil———–Pelosi
———Kiesewetter————————
———————Morris———-
Some thoughts:
U.S. head coach Andi Herzog has a number of tough decisions to make going into this Group A opener, and it begins with the goalkeeper spot. Regular starter Cody Cropper is out for this qualifying tournament because of a knee injury and back-up Ethan Horvath was not released by his club, leaving Herzog to have to choose between Charlie Horton  or recent U.S. U-20 Men's National Team graduate Zack Steffen.
Of the two reserves, Steffen possesses some familiarity with some of the U-20 centerbacks that have joined him on this squad. Couple that with the fact that he is a very talented prospect that impressed in a big way at the Under-20 World Cup this summer, and he could very well be the player that gets the nod here.
The defense is also full of question marks, especially at right back after the Montreal Impact surprisingly recalled Eric Miller. Real Salt Lake's Boyd Okwuonu was called in as a replacement, but the fact that he was not on the team to begin with seems to suggest that Herzog has someone else in mind. The player who could fill in there is versatile rookie Matt Polster, who has seen time at the position throughout the year for the Chicago Fire.
Next to Polster could be a duo comprised of Matt Miazga and Will Packwood. While some might prefer to see Miazga and his previous central defense comrade Cameron Carter-Vickers together, given how strongly they performed at the U-20 World Cup, Herzog will probably want to have someone a bit more experienced on the field for these games. Packwood fits the bill, as he has been with the U.S. U-23s for a good portion of this cycle.
The midfield will be really intriguing, as Herzog has a bevy of options after filling much of his 20-man squad with midfielders. Finding a good balance in the center of the park should be a priority, so talented youngster Will Trapp seems a lock to start in a defensive midfielder role.
Ahead of him could be three other midfielders who are also good with the ball at their feet. Emerson Hyndman of the U.S. U-20 team, Luis Gil and Marc Pelosi might comprise the more advanced trio, which would mean that there is no real width against Canada but plenty of players who can keep possession.
While it is possible that the Americans deploy a 4-3-3 because of the absence of Rubio Rubin, Herzog may be more inclined to stick with a 4-4-2. Jerome Kiesewetter had a strong Toulon Tournament earlier this year, and that may have done enough to help convince Herzog that he deserves a place in the lineup.
The two positions that seem more clear cut than the rest are at striker and left back. Jordan Morris is all but guaranteed to spearhead the American attack and much is expected of him. Meanwhile, Dillon Serna should occupy the left side of the defense given the dearth of options out there.
—–
What do you think of this projected lineup for the U.S. U-23s? Who would you like to see start that is not listed here? Expecting an easy win vs. Canada regardless of which Americans take the field?
Share your thoughts below.