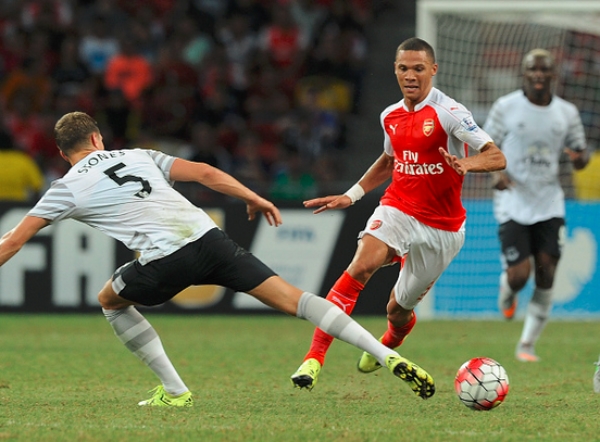 Arsenal sit just two points behind current-English Premier League leaders Manchester City, but another true test awaits it Saturday.
Everton visits the Emirates Stadium, where the Gunners most recently pulled out an impressive 2-0 win against Bayern Munich on Tuesday. Olivier Giroud came up big in the UEFA Champions League match, but head coach Arsene Wenger is expected to use his first-choice forward in Theo Walcott. Arsenal has already had a challenging EPL schedule to date, playing Chelsea, Manchester United and Tottenham in the team's first nine games.
Elsewhere, the Under-17 World Cup rolls on, and Mexico is looking to clinch first place in its group before the knockout rounds. It can do so with a win against Germany.
In the Bundesliga, Bayern Munich hosts FC Koln at Allianz Arena, and into the evening NASL action kicks off, as the Fall Season winds to a close.
If you will be watching today's soccer, please feel free to share your thoughts, opinions and some play-by-play in the comments section below.
Enjoy the action (Today's TV schedule is after the jump):
SOCCER SATURDAY
FIFA U-17 WORLD CUP
3 p.m. — Fox Sports 2/Fox Sports Go/Fox Soccer 2Go/NBC Deportes en Vivo Extra — Ecuador vs. Belgium
3 p.m. — Fox Soccer Plus/Telemundo/Fox Soccer 2Go/NBC Deportes en Vivo Extra — Mali vs. Honduras
6 p.m. — Fox Soccer Plus/Fox Soccer 2Go/NBC Deportes en Vivo Extra — Argentina vs. Australia
6 p.m. — Fox Sports 2/Fox Sports Go/Fox Soccer 2Go/NBC Deportes en Vivo Extra — Germany vs. Mexico
ENGLISH PREMIER LEAGUE
10 a.m. — NBC Sports Live Extra — West Ham United vs. Chelsea
10 a.m. — NBC Sports Live Extra — Aston Villa vs. Swansea City
10 a.m. — USA Network/NBC Sports Live Extra — Leicester City vs. Crystal Palace
10 a.m. — NBC Sports Live Extra — Norwich City vs. West Bromwich Albion
10 a.m. — NBC Sports Live Extra — Stoke City vs. Watford
12:30 p.m. — NBC/NBC Sports Live Extra — Arsenal vs. Everton
SPANISH LA LIGA
10 a.m. — beIN Sports USA/beIN Sports en Español/beIN Sports Connect — Celta de Vigo vs. Real Madrid
12:15 p.m. — beIN Sports en Español/beIN Sports Connect — Granada vs. Real Betis
2:30 p.m. — beIN Sports en Español/beIN Sports Connect — Sevilla vs. Getafe
4:05 p.m. — beIN Sports en Español/beIN Sports Connect — Málaga vs. Deportivo La Coruña
GERMAN BUNDESLIGA
9:30 a.m. — Fox Sports 2/Fox Sports Go — Bayern Munich vs. Cologne
9:30 a.m. — Fox Soccer Plus/Fox Deportes/Fox Soccer 2Go — Bayer Leverkusen vs. VfB Stuttgart
9:30 a.m. — Fox Soccer 2Go — Darmstadt 98 vs. VfL Wolfsburg
9:30 a.m. — Fox Soccer 2Go — Mainz vs. Werder Bremen
9:30 a.m. — Fox Soccer 2Go — Hannover 96 vs. Eintracht Frankfurt
12:30 p.m. — Fox Sports 2/Fox Sports Go/Fox Deportes/Fox Soccer 2Go — FC Ingolstadt vs. Hertha Berlin
ITALIAN SERIE A
9 a.m. — beIN Sports Connect — Empoli vs. Genoa
Noon — beIN Sports USA/beIN Sports Connect — Carpi vs. Bologna
2:45 p.m. — beIN Sports USA/beIN Sports Connect — Palermo vs. Inter
FRENCH LIGUE 1
11 a.m. — beIN Sports Connect — Lorient vs. Stade de Rennes
2 p.m. — beIN Sports Connect — Gazélec Ajaccio vs. Nice
2 p.m. — beIN Sports Connect — Angers vs. Guingamp
2 p.m. — beIN Sports Connect — Montpellier vs. Bastia
MEXICAN LIGA MX
6 p.m. — Univision Deportes/Univision — Club América vs. Querétaro
8 p.m. — Univision Deportes — Monterrey vs. Tijuana
9:06 p.m. — NBC Universo/NBC Deportes en Vivo Extra — Pachuca vs. Morelia
9:30 p.m. — Azteca America — Atlas vs. Guadalajara
10 p.m. — ESPN Deportes — Dorados vs. Tigres UANL
ENGLISH LEAGUE CHAMPIONSHIP
7:30 a.m. — beIN Sports USA/beIN Sports en Español/beIN Sports Connect — Blackburn Rovers vs. Burnley
10 a.m. — beIN Sports Connect — Charlton Athletic vs. Brentford
NASL
7:30 p.m. — ESPN3/WatchESPN — Tampa Bay Rowdies vs. Carolina RailHawks
7:30 p.m. — ESPN3/WatchESPN — Indy Eleven vs. Fort Lauderdale Strikers
8 p.m. — ESPN3/WatchESPN — Minnesota United vs. Atlanta Silverbacks
8:30 p.m. — ESPN3/WatchESPN/One World Sports — San Antonio Scorpions vs. New York Cosmos
NCAA MEN
1 p.m. — ESPN3 — Milwaukee vs. Cleveland State
1 p.m. — ESPN3 — Green Bay vs. Northern Kentucky
7 p.m. — ESPN3 — Appalachian State vs. Georgia Southern
7 p.m. — ESPN3 — North Florida vs. Jacksonville
7 p.m. — ESPN3 — Detroit vs. Wright State
NCAA WOMEN
1 p.m. — ESPN3 — Valparaiso vs. Detroit
7 p.m. — ESPN3 — Illinois-Chicago vs. Youngstown State
7 p.m. — ESPN3 — Oakland vs. Cleveland State
7 p.m. — ESPN3 — Saint Peter's vs. Canisius