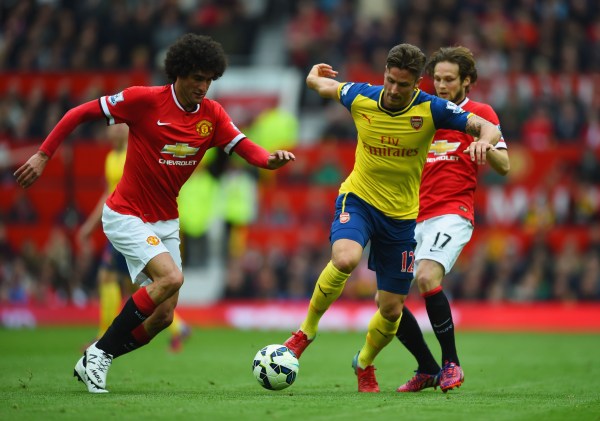 By SBI SOCCER
If you are dreading a two-week absence of European club soccer with the international break looming, there is a silver lining. Sunday will offer enough high-profile matches to help tide you over until the European leagues return.
Key rivalries all across the continent will headline today's stacked card of matches, starting in England, where Arsenal and Manchester United renew their contentious rivalry. Also, Tim Howard and Everton face Liverpool in the latest installment of the Merseyside Derby.
In Germany, reigning champion Bayern Munich take on an impressive-looking Borussia Dortmund side that has aspirations of knocking off the Munich powerhouse.
Meanwhile, in Spain, the Madrid Derby will grab the headlines as Diego Simeone look to continue their success against Cristiano Ronaldo and the rest of the Galacticos.
MLS helps close things out, with reigning MLS Cup champion LA Galaxy taking on familiar foe Seattle Sounders in what should be an entertaining encounter.
If you will be watching today's action, please feel free to share your thoughts and opinions in the comments section below.
Enjoy the action (Click here for today's soccer TV schedule):
SOCCER SUNDAY
ENGLISH PREMIER LEAGUE
8:30 a.m. — NBCSN/NBC Sports Live Extra — Everton vs. Liverpool
11 a.m. — NBCSN/NBC Sports Live Extra/Telemundo — Arsenal vs. Manchester United
11 a.m. — NBC Sports Live Extra — Swansea City vs. Tottenham Hotspur
SPANISH LA LIGA
6 a.m. — beIN Sports Connect — Rayo Vallecano vs. Real Betis
10 a.m. — beIN Sports en Español — Athletic Bilbao vs. Valencia
12:15 p.m. — beIN Sports en Español — Levante vs. Villarreal
2:30 p.m. — beIN Sports USA/beIN Sports en Español — Atlético Madrid vs. Real Madrid
GERMAN BUNDESLIGA
9:30 a.m. — Fox Sports 1/Fox Soccer 2Go — Schalke 04 vs. Cologne
11:30 a.m. — Fox Sports 2/Fox Soccer 2Go — Bayern Munich vs. Borussia Dortmund
11:30 a.m. — Fox Soccer 2Go — Bayer Leverkusen vs. Augsburg
ITALIAN SERIE A
9 a.m. — beIN Sports USA — Sampdoria vs. Inter
Noon — beIN Sports USA — Juventus vs. Bologna
FRENCH LIGUE 1
3 p.m. — beIN Sports Connect — Paris Saint-Germain vs. Marseille
OLYMPIC QUALIFYING
4:30 p.m. — Telemundo/NBC Deportes En Vivo Extra — Costa Rica vs. Honduras
7 p.m. — NBC Universo/NBC Deportes En Vivo Extra — Haiti vs. Mexico
MEXICAN LIGA MX
1 p.m. — Univision/Univision Deportes — Pumas UNAM vs. Guadalajara
6 p.m. — Univision Deportes — Puebla vs. Morelia
ENGLISH LEAGUE CHAMPIONSHIP
7 a.m. — beIN Sports USA — Charlton Athletic vs. Fulham
MLS
5 p.m. — ESPN2/ESPN Deportes/WatchESPN — FC Dallas vs. Houston Dynamo
7 p.m. — Fox Sports 1/Fox Soccer 2Go — Colorado Rapids vs. Real Salt Lake
9:30 p.m. — Fox Sports 1/Fox Soccer 2Go — Seattle Sounders vs. LA Galaxy
NASL
3 p.m. — ESPN3/WatchESPN — Ottawa Fury vs. Edmonton
5 p.m. — ESPN3/WatchESPN/One World Sports — New York Cosmos vs. Atlanta Silverbacks
NCAA MEN
1 p.m. — ESPN3 — Notre Dame vs. NC State
1 p.m. — Big Ten Network — Michigan State vs. Ohio State
2 p.m. — ESPN3 — Virginia Tech vs. Duke
7 p.m. — Pac-12 Network — California vs. Stanford
10 p.m. — Pac-12 Network — Washington vs. UCLA
NCAA WOMEN
2 p.m. — Pac-12 Network — Arizona vs. Stanford
3 p.m. — Big Ten Network — Maryland vs. Michigan State