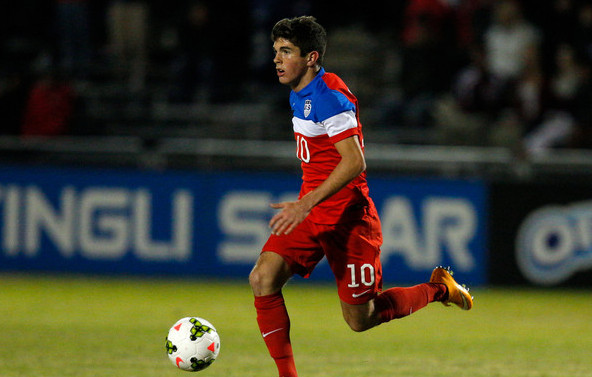 After a disappointing tournament-opening loss to Nigeria, the U.S. Under-17 Men's National Team looked well on their way to victory Tuesday while maintaining a two-goal advantage.
That advantage evaporated in a 12-minute span, as Croatia found two second half finishes to earn a 2-2 draw with the U.S. in the second game of the Under-17 World Cup group stages.
With the draw, the U.S. sits on just one point through two games and will need a victory against Chile to maintain any hope of sealing advancement. As of the final whistle, the U.S. sits two points behind Nigeria and level with hosts Chile, who are set to face-off Tuesday evening.
Nursing a 2-0 lead, the U.S. finally broke in the 65th and 77th minutes, as Karlo Igor Majic and Luka Ivanusec each found goals to pull Croatia level. Majic kickstarted the Croatia comeback on a close-range finish following a cross into the box, while Ivanusec's finish from the top of the box doomed the U.S. to just one point.
The U.S. was dangerously close to being saddled for a loss, but a pair of Croatia shots in the game's final seconds caromed off the post as the U.S. escaped with a draw.
Christian Pulisic provided the game's opener in the 20th minute, giving the U.S. the team's first goal of the tournament. Played in by Luca de la Torre, Pulisic found himself on the left side of the box with room to run. The Borussia Dortmund playmaker darted past a slipping defender before smashing a shot to the far post, giving the U.S. the 1-0 lead.
The lead was doubled in the 40th minute, with Pulisic once again playing a major part.
This time, Pulisic provided the assist via a cross, placing a ball right onto the head of Brandon Vasquez for the U.S.'s second goal of the afternoon. Driving down the right side of the box, Pulisic lofted a right-footed cross to the penalty spot. Vasquez was one of two American players waiting, and his header smashed the hands of Croatia goalkeeper Adrian Semper on the way into the back of the net.
On the other side of the ball, William Pulisic proved every bit as vital as his attacking cousin, making several diving saves to protect the U.S. lead. The U.S. goalkeeper's best stops came in the first half, though, as William Pulisic's stop of Neven Djurasek set the tone for the first half. The goalkeeper also made several crucial saves earlier in the second half, but was powerless in preventing Croatia's two comeback goals.
Following the draw, the U.S. returns to action Friday evening against hosts Chile at 7 p.m.