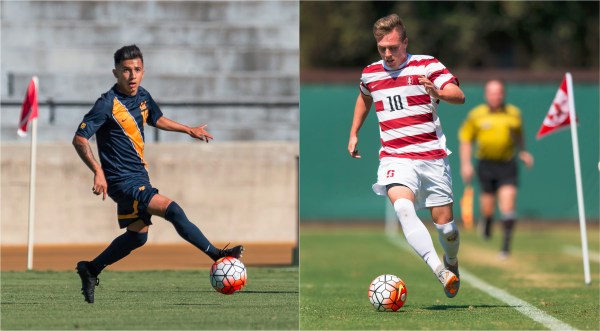 Photos by GoldenBearSports.com and StanfordPhoto.com
By AARON CRANFORD
SBI No. 3 Stanford has cruised through the 2015 season with relative ease, but a meeting with an intrastate rival is on the schedule Sunday, and a U.S. international won't be there to help.
U.S. Under-23 Men's National Team forward Jordan Morris, who recently tallied two goals against Canada Thursday, is trying to help the Americans qualify for the 2016 Olympics in Rio de Janeiro. He will miss the Cardinal's important affair with California, and the Golden Bears will hope to pounce.
Morris has a team-leading four goals, but sophomore forward Foster Langsdorf has proven he can find the back of the net, as he's scored twice this season. Corey Baird and Eric Verso will be the playmakers creating the chances. On the other side of the ball, the Golden Bears will be hoping to bounce back from a 2-1 loss to Santa Clara last Friday.
Jose Carrera-Garcia, who has two goals and six assists, Paul Salcedo and Christian Thierjung are having exceptional years so far and will the lead the charge for California Sunday.
On the east coast, No. 14 Xavier and No. 9 Georgetown face off in an important Big East battle Saturday in order to keep pace with No. 1 Creighton.
The Bluejays improved to 9-0-0 during the week and will play a struggling DePaul side. The Muskateers currently sit second in the conference, but the Hoyas, led by Brandon Allen, Arun Basuljevic and Alex Muyl, have not lost since Sept. 4, winning five out of their last six games.
Here is a rundown of where all of the top teams will be playing during the fifth weekend in men's college soccer:
THIS WEEKEND'S COLLEGE SOCCER SCHEDULE
FRIDAY
1 p.m. – (7) Virginia vs. Louisville
5 p.m. – (6) Clemson vs. Virginia Tech
7 p.m. – Pittsburgh vs. (2) North Carolina
7 p.m. – Boston College vs. (5) Wake Forest
7 p.m. – Marshall vs. (23) South Carolina
7 p.m. – Duke vs. Syracuse
9 p.m. – (11) Denver vs. IUPUI
9 p.m. – (19) Washington vs. San Diego State
10 p.m. – (13) Seattle vs. UMKC
10 p.m. – UNLV vs. Houston Baptist
SATURDAY
2 p.m. – Temple vs. (25) South Florida
3 p.m. – Massachusetts-Lowell vs. (20) New Hampshire
7 p.m. – Florida Atlantic vs. (12) Old Dominion
7 p.m. – James Madison vs. (15) UNC Wilmington
7 p.m. – (24)Elon vs. Northeastern
7 p.m. – William & Mary vs. (22) Hofstra
7 p.m. – (14) Xavier vs. (9) Georgetown
7 p.m. – (16) Florida International vs. Charlotte
8 p.m. – (1) Creighton vs. DePaul
8 p.m. – UAB vs. (10) Akron
SUNDAY
1 p.m. – (21) North Carolina State vs. (4) Notre Dame
2 p.m. – (8) Coastal Carolina vs. Campbell
4 p.m. – (13) Seattle vs. Air Force
4 p.m. – UNLV vs. UT-Rio Grande Valley
7 p.m. – California vs. (3) Stanford
8 p.m. – (17) New Mexico vs. Kentucky
10 p.m. – (19) Washington vs. UCLA