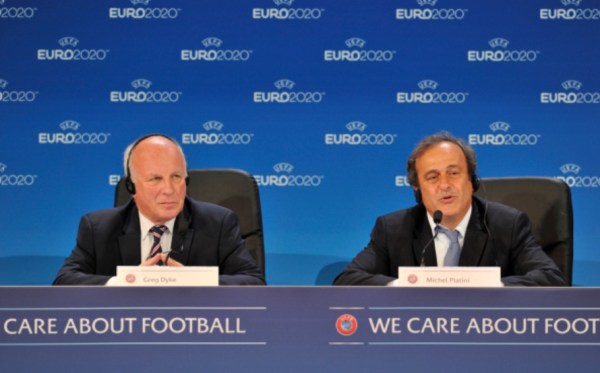 By SBI SOCCER
Current UEFA president Michel Platini may be in the running to become the next FIFA president, but one of his key backers is suspending its support of him.
The English Football Association announced its suspension of support for Platini, as he is currently being investigated for a payment he received from FIFA in 2011.
"The FA wishes Mr Platini every success in fighting these charges and clearing his name, and has no interest in taking any action that jeopardises this process," a statement from the FA reads.
"However, notwithstanding the above, at the UEFA meeting on Thursday, The FA learnt more information relating to the issues at the centre of this case from Mr Platini's lawyers."
The FA initially came out in support of Platini, but it has since changed its mind, stating that information learned at a UEFA meeting Thursday swayed its decision to change its stance.
"As a result of learning this information, The FA Board has on Friday morning concluded that it must suspend its support for Mr Platini's candidature for the FIFA Presidency until the legal process has been concluded and the position is clear.
"A decision can then be taken on who to support in the Presidential election on 26 February 2016."
Here are more news and notes:
NEYMAR'S FATHER CONFIRMS MANCHESTER UNITED BID
According to Neymar Santos Sr., his star son did receive an offer to join Manchester United during the summer, but Barcelona turned the English giant away.
The Brazilian playmaker moved to the Spanish powerhouse in 2013 from Santos, and he has performed admirably since then, scoring 39 goals the following year while helping the team win the league crown and the UEFA Champions League title. His numbers and play reportedly drew the interest of Manchester United during the summer, but Barcelona did not want to see Neymar go, according to the player's father.
"The offer reached Barcelona and the club contacted us saying they were not going to sell (Neymar)," Neymar Sr. told Boa Tarde Fox. "They asked if we were interested, but that wasn't the case. Barcelona are not selling, he has three years still to go on his contract.
"It was Manchester's deal, but that offer is not on the table now, it has fallen through."
LEWANDOWSKI SAYS KLOPP IS THE PERFECT MAN FOR THE LIVERPOOL JOB
Jurgen Klopp has yet to lead Liverpool since his hiring as head coach, but one of his former star players has no doubt that he will succeed in England.
Polish striker Robert Lewandowski played under Klopp for four seasons at Borrussia Dortmund before leaving for Bayern Munich in 2014. He considers his former boss to be a "great guy, a great coach," and he's confident that Klopp can lead Liverpool, no matter the challenges he may face along the way.
"Kloppo fits perfectly with the (English) Premier League. At Liverpool he can make a difference with his positive thinking and sweep the players along with him," he told Goal.com.
"They will play really well and they will win. I can only wish him the best of luck. I don't know the team that well, but Kloppo definitely knows what to do and how to make them win as a team. This is the optimal club for him – and league also!"
Klopp and Liverpool will kick off Saturday on the road against Tottenham.
QUICK KICKS:
Chelsea head coach Jose Mourinho will launch an appeal after he was fined for his comments following the team's recent loss to Southampton. (REPORT)
Gerard Deulofeu says Everton could play in Spain because the club's style of play is "not so English." (REPORT)
Sergio Aguero out at least a month, according to Manchester City head coach Manuel Pellegrini. (REPORT)