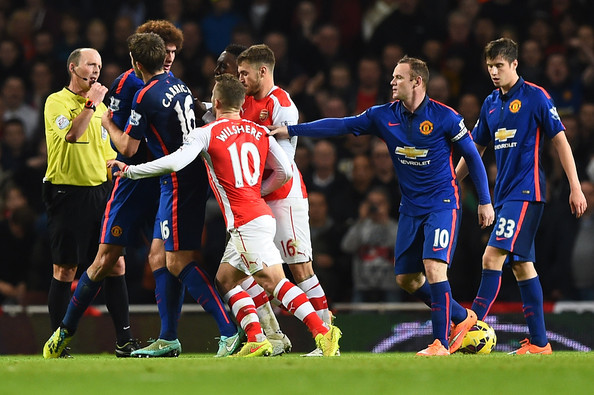 By MICHAEL PENG
Rivalries will be renewed across European soccer this weekend as a slew of old enemies are scheduled to square off to claim a new set of bragging rights.
Most of the action will take place on Sunday, beginning in the morning with the Merseyside derby featuring Everton and Liverpool at Goodison Park. Following right after will be Arsenal hosting the English Premier League-leading Manchester United.
Meanwhile, Bayern Munich will welcome Borussia Dortmund to Allianz Arena for battle of the top two Bundesliga table leaders in Der Klassiker.
Putting a bow on all the rivalry matches will be an afternoon viewing of the Madrid derby with Atlético taking on Real at the Estadio Vincente Calderón at 2:30 p.m. Eyes will be on Cristiano Ronaldo in that one, as he looks to break the tie with Raúl as Real's all-time leading scorer and chase after goal No. 324 for Los Blancos.
Also to be featured on TV will be the continuation of the Olympics qualifying matches, as the United States looks to build off its 3-1 win over Canada in Thursday's opener when it take on Cuba on Saturday at 5 p.m.
Here is a rundown of all the weekend's soccer action on TV:
FRIDAY
MLS
7 p.m. — YES Network/UniMás/MLS Live — D.C. United vs. New York City FC
SPANISH LA LIGA
2:30 p.m. — beIN Sports en Español — Celta de Vigo vs. Getafe
GERMAN BUNDESLIGA
2:30 p.m. — Fox Sports 1/Fox Soccer 2Go — Darmstadt 98 vs. Mainz 05
MEXICAN LIGA MX
8:30 p.m. — Univision Deportes – Querétaro vs. Tijuana
OLYMPIC QUALIFYING
9 p.m. — NBC Universo/NBC Deportes En Vivo Extra — Honduras vs. Haiti
11:30 p.m. — Telemundo/NBC Deportes En Vivo Extra — Mexico vs. Costa Rica
ENGLISH LEAGUE CHAMPIONSHIP
2:45 p.m. — beIN Sports USA — Rotherham United vs. Burnley
NCAA MEN
1 p.m. — ESPN3 — Virginia vs. NC State
4:30 p.m. — Pac-12 Network — Oregon State vs. UCLA
5 p.m. — ESPN3 — Virginia Tech vs. Clemson
7 p.m. — ESPN3 — Syracuse vs. Duke
7 p.m. — ESPN3 — North Carolina vs. Pittsburgh
7:30 p.m. — ESPN3 — Wake Forest vs. Clemson
8 p.m. — ESPN3 — Gonzaga vs. Bradley
8 p.m. — ESPN3 — Notre Dame vs. Miami
NCAA WOMEN
7 p.m. — ESPN3 — Florida Gulf Coast vs. Jacksonville
7 p.m. — SEC Network + — Kentucky vs. Florida
7 p.m. — Pac-12 Network — Oregon State vs. Utah
7:30 p.m. — SEC Network + — Ole Miss vs. Missouri
8 p.m. — SEC Network + — Vanderbilt vs. LSU
8 p.m. — SEC Network + — South Carolina vs. Arkansas
8 p.m. — SEC Network + — Mississippi State vs. Texas A&M
SATURDAY
ENGLISH PREMIER LEAGUE
7:45 a.m. — NBCSN/NBC Sports Live Extra — Crystal Palace vs. West Bromwich Albion
10 a.m. — NBC Sports Live Extra — Norwich City vs. Leicester City
10 a.m. — NBCSN/NBC Sports Live Extra — Manchester City vs. Newcastle United
10 a.m. — NBC Sports Live Extra — Aston Villa vs. Stoke City
10 a.m. — NBC Sports Live Extra — Bournemouth vs. Watford
10 a.m. — USA Network/NBC Sports Live Extra — Sunderland vs. West Ham United
12:30 p.m. — NBC/NBC Sports Live Extra — Chelsea vs. Southampton
SPANISH LA LIGA
10 a.m. — beIN Sports USA/beIN Sports en Español — Sevilla vs. Barcelona
12:15 p.m. — beIN Sports en Español — Granada vs. Deportivo La Coruña
2:30 p.m. — beIN Sports Connect — Espanyol vs. Sporting Gijón
4 p.m. — beIN Sports Connect — Las Palmas vs. Eibar
4:05 p.m. — beIN Sports Español — Málaga vs. Real Sociedad
GERMAN BUNDESLIGA
9:30 a.m. — Fox Sports 1/Fox Soccer 2Go — Borussia Mönchengladbach vs. VfL Wolfsburg
9:30 a.m. — Fox Soccer 2Go — Hannover 96 vs. Werder Bremen
9:30 a.m. — Fox Soccer 2Go – Hertha Berlin vs. Hamburg SV
9:30 a.m. — Fox Soccer 2Go — Hoffenheim vs. VfB Stuttgart
9:30 a.m. — Fox Soccer 2Go — FC Ingolstadt 04 vs. Eintracht Frankfurt
OLYMPIC QUALIFYING
2:30 p.m. — Telemundo/NBC Deportes En Vivo Extra — Canada vs. Panama
5 p.m. — Telemundo/NBC Deportes En Vivo Extra — Cuba vs. United States
ITALIAN SERIE A
Noon — beIN Sports USA — Carpi vs Torino
2:45 p.m. — beIN Sports USA — Chievo Verona vs. Hellas Verona
MEXICAN LIGA MX
6 p.m. — Univision/Univision Deportes — Club América vs. Chiapas
8 p.m. — Azteca America — Santos Laguna vs. Toluca
8 p.m. — Univision Deportes — Monterrey vs. León
9:30 p.m. — Azteca America — Atlas vs. Tigres UANL
10 p.m. — ESPN Deportes — Dorados vs. Veracruz
ENGLISH LEAGUE CHAMPIONSHIP
7:30 a.m. — beIN Sports USA — Wolverhampton Wanderers vs. Huddersfield Town
MLS
5 p.m. — MLS Live — Toronto FC vs. Philadelphia Union
7 p.m. — MSG/MLS Live — New York Red Bulls vs. Columbus Crew
7:30 p.m. — MLS Live — Orlando City SC vs. Montreal Impact
8:30 p.m. — MLS Live — Chicago Fire vs. New England Revolution
10:30 p.m. — MLS Live — San Jose Earthquakes vs. Vancouver Whitecaps
10:30 p.m. — MLS Live — Portland Timbers vs. Sporting Kansas City
NASL
7:30 p.m. — ESPN3/WatchESPN — Jacksonville Armada vs. Indy Eleven
8 p.m. — ESPN3/WatchESPN — Minnesota United vs. Tampa Bay Rowdies
8:30 p.m. — ESPN3/WatchESPN — San Antonio Scorpions vs. Fort Lauderdale Strikers
NCAA MEN
1 p.m. — ESPN3 — Northern Kentucky vs. Detroit
6 p.m. — ESPN3 — Youngstown State vs. Milwaukee
7 p.m. — ESPN3 — Oakland vs. Northern Kentucky
7 p.m. — ESPN3 — Detroit vs. Cleveland State
7 p.m. — ESPN3 — Valparaiso vs. Oakland
7 p.m. — ESPN3 — Fairfield vs. Canisius
8:30 p.m. — ESPN3 — Valparaiso vs. Milwaukee
SUNDAY
ENGLISH PREMIER LEAGUE
8:30 a.m. — NBCSN/NBC Sports Live Extra — Everton vs. Liverpool
11 a.m. — NBCSN/NBC Sports Live Extra/Telemundo — Arsenal vs. Manchester United
11 a.m. — NBC Sports Live Extra — Swansea City vs. Tottenham Hotspur
SPANISH LA LIGA
6 a.m. — beIN Sports Connect — Rayo Vallecano vs. Real Betis
10 a.m. — beIN Sports en Español — Athletic Bilbao vs. Valencia
12:15 p.m. — beIN Sports en Español — Levante vs. Villarreal
2:30 p.m. — beIN Sports USA/beIN Sports en Español — Atlético Madrid vs. Real Madrid
GERMAN BUNDESLIGA
9:30 a.m. — Fox Sports 1/Fox Soccer 2Go — Schalke 04 vs. Cologne
11:30 a.m. — Fox Sports 2/Fox Soccer 2Go — Bayern Munich vs. Borussia Dortmund
11:30 a.m. — Fox Soccer 2Go — Bayer Leverkusen vs. Augsburg
ITALIAN SERIE A
9 a.m. — beIN Sports USA — Sampdoria vs. Inter
Noon — beIN Sports USA — Juventus vs. Bologna
FRENCH LIGUE 1
3 p.m. — beIN Sports Connect — Paris Saint-Germain vs. Marseille
OLYMPIC QUALIFYING
4:30 p.m. — Telemundo/NBC Deportes En Vivo Extra — Costa Rica vs. Honduras
7 p.m. — NBC Universo/NBC Deportes En Vivo Extra — Haiti vs. Mexico
MEXICAN LIGA MX
1 p.m. — Univision/Univision Deportes — Pumas UNAM vs. Guadalajara
6 p.m. — Univision Deportes — Puebla vs. Morelia
ENGLISH LEAGUE CHAMPIONSHIP
7 a.m. — beIN Sports USA — Charlton Athletic vs. Fulham
MLS
5 p.m. — ESPN2/ESPN Deportes/WatchESPN — FC Dallas vs. Houston Dynamo
7 p.m. — Fox Sports 1/Fox Soccer 2Go — Colorado Rapids vs. Real Salt Lake
9:30 p.m. — Fox Sports 1/Fox Soccer 2Go — Seattle Sounders vs. LA Galaxy
NASL
3 p.m. — ESPN3/WatchESPN — Ottawa Fury vs. Edmonton
5 p.m. — ESPN3/WatchESPN/One World Sports — New York Cosmos vs. Atlanta Silverbacks
NCAA MEN
1 p.m. — ESPN3 — Notre Dame vs. NC State
1 p.m. — Big Ten Network — Michigan State vs. Ohio State
2 p.m. — ESPN3 — Virginia Tech vs. Duke
7 p.m. — Pac-12 Network — California vs. Stanford
10 p.m. — Pac-12 Network — Washington vs. UCLA
NCAA WOMEN
2 p.m. — Pac-12 Network — Arizona vs. Stanford
3 p.m. — Big Ten Network — Maryland vs. Michigan State