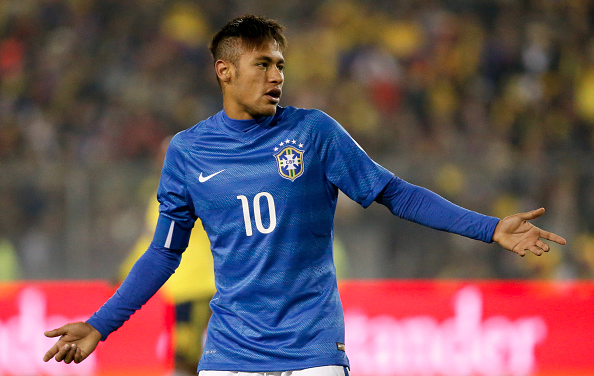 By SBI SOCCER
Brazilian club Santos has long taken issue over the team's sale of Neymar to Barcelona, and now they want FIFA to take action.
Santos has reportedly asked FIFA to issue Neymar a six-month suspension for what the club is calling non-compliance of contract terms stemming from his transfer to Barcelona. The club is seeking $85 million in damages while alleging that Neymar did not stick to conditions of the transfer.
The club is reportedly invoking Article 17 of the FIFA transfer rules, a law regarding the consequences of ending a contract without cause. A FIFA committee will reportedly decide if the offense is suspend-able.
Santos' complaint comes in the aftermath of a Brazilian court's decision to freeze the assets of Neymar, his family and their related businesses after allegedly evading taxes from 2011-13.
Here are some more news and notes to kick off your Thursday morning:
OSORIO 'DIDN'T THINK TWICE' ABOUT ACCEPTING MEXICO JOB
Juan Carlos Osorio was unveiled as Mexico's manager Wednesday, and he couldn't be happier.
Osorio, whose contract runs through the 2018 World Cup, heaped praise on El Tri as he was unveiled as the club's new manager. Osorio replaces interim coach Ricardo 'Tuca' Ferretti, who led El Tri to a defeat of the U.S. Men's National Team Saturday to secure a berth in the Confederations Cup.
"Mexico is a team that goes on the front foot and looks for results," Osorio said. "With full respect to other nations that asked for us, when the opportunity came with Mexico, we didn't think about it twice.
"We understand the great responsibility there is with the Mexican people," he added. "We will give everything possible."
Osorio went on to suggest that Mexico would typically play a 4-3-3 formation while stating that he would give looks to nationalized players. In addition, Osorio praised the growth of Liga MX, while also stating that he expects Rafa Marquez to continue to play a part in the national team.
"Rafa Marquez will be considered in the team and he will let us know how far he can go," said Osorio. "He has to maintain his best form. He is a great player with a great trajectory and experience."
Osorio's first game in charge of El Tri will come on November 13 against El Salvador in Mexico City.
PRINCE ALI SUBMITS BID FOR FIFA PRESIDENCY
After falling to Sepp Blatter in the previous FIFA election, Prince Ali bin al-Hussein is seizing a second opportunity at pursuing FIFA's presidency.
The Jordanian has submitted his candidacy for the upcoming FIFA elections, although he has not named the five nominators who have backed him. Elections are currently set for February, with Ali speaking out earlier this week that the change must not be delayed for the good of FIFA.
"This time of crisis at FIFA is an opportunity for positive change," Prince Ali said of his candidacy." Many good ideas have emerged in the current discussion over FIFA's future.
"A better future will only come if ideas turn into action – and that will only happen if FIFA has the right leadership. I am confident that FIFA can emerge from this difficult period with its reputation restored and become (an) organization that is once again viewed with respect."
QUICK KICKS
Jose Mourinho has been fined and given a one-match suspension for his comments following Chelsea's loss to Southampton. (REPORT)
An Italian referee has been suspended after halting a U-14 match with the scoreline of 31-o. (REPORT)
Liverpool's Joe Gomez has reportedly suffered a torn ACL. (REPORT)
Manchester City has reportedly turned a profit for the first time since being bought by Sheikh Mansour. (REPORT)
Arsenal is reportedly unlikely to make a January move for midfielder William Carvalho. (REPORT)
—
What do you think of the Neymar transfer issues? How will Osorio fare with Mexico? Does Ali have a chance at winning FIFA's presidency?
Share your thoughts below.