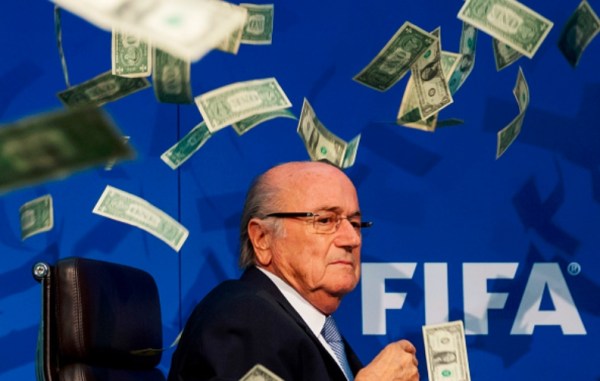 By SBI SOCCER
For weeks and months, FIFA president Sepp Blatter has made it clear he does not want to leave soccer's world governing body, but it appears as though the feeling is not mutual.
The adjudicatory chamber of FIFA's Ethics Committee, chaired by Hans Joachim Eckert, announced Friday that effective immediately, Blatter, current UEFA president Michel Platini and secretary general Jerome Valcke are suspended from all football activities for at least 90 days.
"President Blatter was disappointed that the Ethics Committee did not follow the Code of Ethics and Disciplinary Code, both of which provide for an opportunity to be heard. Further, the Ethics Committee based its decision on a misunderstanding of the actions of the Attorney General in Switzerland, which has opened an investigation but brought no charge against the President," a statement from Blatter's lawyer reads. "In fact, the prosecutors will be obliged by law to dismiss the case if their investigation, barely two weeks old, does not establish sufficient evidence."
Former FIFA vice president and current presidential candidate Chung Mong-joon faces a six-year ban and $103,400 fine as well. Chung denied all charges against him, saying FIFA is only suspending him because he questioned "the existing power structure."
"The proceedings against the South Korean football official Chung Mong-joon were opened in January 2015 based on findings in the report on the investigation into the bidding process for the 2018/2022 FIFA World Cups™," a statement read from FIFA about the decision to ban Chung. "He has been found guilty of infringing article 13 (General rules of conduct), article 16 (Confidentiality), article 18 (Duty of disclosure, cooperation and reporting), article 41 (Obligation of the parties to collaborate) and article 42 (General obligation to collaborate) of the FIFA Code of Ethics."
President of the Confederation of African Football and senior FIFA vice president Issa Hayatou will stand in as acting president.
Here are some more news and notes:
RONALDINHO HOPES TO CONTINUE PLAYING CAREER
The world has not seen the last of Ronaldinho, if he has anything to say about it.
The Brazilian star, 35, recently parted ways with Brazilian outfit Fluminense at the end of September, and he failed to register a single assist or goal in his time there. Despite not producing numbers on the scoresheet, he still thinks he can offer something to another team.
"I will continue (playing) for some time," Ronaldinho told Radio Rede Atlantida. "Offers come and go every day. I feel good, my health is good. It's a sign clubs are still interested in me. From the way I have been training, I think I can still perform at the same level as the players today, and that keeps me going."
Ronaldinho left AC Milan in 2011 and has since appeared for four different clubs, including three in Brazil's Campeonato Brasileiro Serie A and one in Mexico's Liga MX. He has previously been linked with a move to the U.S., but no deal was struck to bring him stateside.
SANCHEZ, VIDAL DOUBTFUL FOR CHILE'S CLASH WITH BRAZIL
Chile's CONMEBOL World Cup qualifying campaign starts with a monumental task against heavyweight Brazil, and two of its best players might miss the showdown.
Chile head coach Jorge Sampaoli told reporters that Arsenal attacker Alexis Sanchez and Bayern Munich midfielder Arturo Vidal would be doubtful for Thursday's opening qualifying match.
"Neither Vidal nor Alexis are confirmed for the Brazil game," Sampaoli said.
"Right now I see Arturo Vidal far from fit for the game, at least the first tie," he added.
However, each player did participate in training Wednesday, so chances of an appearance from either player is a little more likely now.
QUICK KICKS:
FIFA confirmed the stadium names for venues hosting games during the 2018 World Cup in Russia. (REPORT)
Bayern Munich midfielder Mario Gotze admits he has no interest in leaving the German club. (REPORT)
Paul Pogba pulls out of French camp due to an ankle injury. (REPORT)
Due to an ankle injury, Wayne Rooney sat out of England training for a third consecutive day. (REPORT)
Chelsea have agreed to sign former AC Milan goalkeeper Marco Amelia, 33. (REPORT)