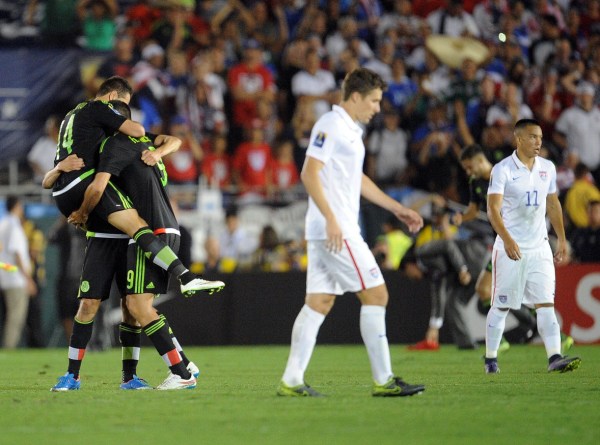 Photo by Gary A. Vasquez/USA TODAY Sports
By RYAN TOLMICH
Saturday's CONCACAF Cup is over, and the U.S. Men's National Team must now turn focus towards an even more vital task.
With Saturday's loss to Mexico, the U.S. was forced to settle for another defeat, one that keeps them out of the Confederations Cup. Now, with World Cup qualifying around the corner, head coach Jurgen Klinsmann and the rest of the USMNT is now tasked with reassessing while avoiding yet another disaster for U.S. Soccer.
"Well, a loss is always difficult to swallow, especially when there is a lot at stake," Klinsmann said. "That means you have to work even harder than you did before to earn the results.
"We have to get our group together and rethink the next couple of months. We have to kind of sit together and discuss things. Who are you counting on? How do we want to build towards the next couple of games? There isn't much time between because World Cup qualifying is World Cup qualifying for both teams, Mexico as well. Obviously there will be a lot of of conversations coming up the next couple of days. "
One of those conversations is where the U.S. stands on the hierarchy in the aftermath of Saturday's loss.
Clearly, the U.S. is unable to claim the status as kings of CONCACAF any longer. Saturday's loss paired with this summer's Gold Cup struggles makes that fact plenty apparent.
Yet, the U.S. still counts itself among the most talented teams in the region. While teams like Jamaica and Costa Rica remain on the rise, the U.S. still feels that they remain a team to beat in North America.
Saturday's loss to Mexico challenges that fact, sure, as the U.S. put forth yet another disappointing performance in a winner-take-all game. However, there is still a belief and confidence that the U.S. is as good as anyone, even the victorious Mexico.
"Listen, we have quality players. They have quality players," goalkeeper Brad Guzan said. "It was always going to be a tight game. It was always going to be a game that was a battle, intense. When you put all those together, it's a game of fine margins."
"I think our players can score even those goals like the third one on a God-given day," added Klinsmann on Paul Aguilar's decisive finish. "Clint Dempsey can do something like that, also Jozy. No, I don't think there is a difference in any way."
No matter the perceptions, the U.S. will kick off World Cup qualifying against Saint Vincent and the Grenadines on Nov. 13 before taking on Trinidad & Tobago four days later.
Starting with Tuesday's friendly against Costa Rica, the USMNT is determined to put the frustrations of the CONCACAF Cup in the rearview mirror as more tests rapidly approaches.
"We have to. We can't look back. You can't change the past," said Guzan. "You can't dwell on results that haven't gone your way. You have to find a way to move forward. It's our job as players along as the staff along with everyone involved with this to keep pushing each other and keep fighting when we represent our country."