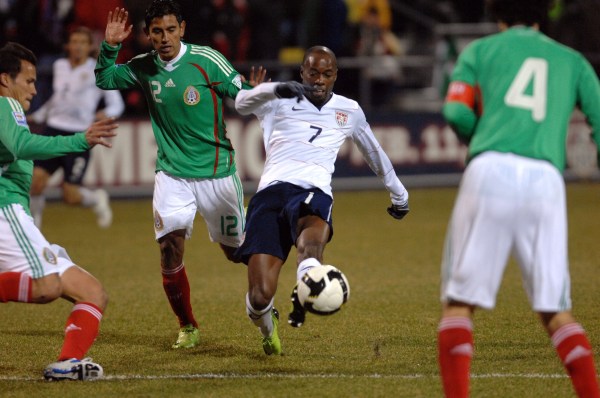 Photo by Jason Miller/USA TODAY Sports
By RYAN TOLMICH
USMNT head coach Jurgen Klinsmann has brought a veteran-heavy lineup to camp ahead of Saturday's CONCACAF Cup against Mexico. Looking to lean on big-game experience, Klinsmann is fully aware now isn't the time to try new faces.
That time is fast approaching though, and Klinsmann has already made it clear that Saturday's match could be the national team swan song for several of the team's older players.
Does that mean veterans are treating this camp, and Saturday's match differently? Not quite.
"That's always the case with the national team. It's always a tryout," said midfielder Kyle Beckerman. "Every game, every call-up, it's always about getting to the next one.
"It feels like a normal camp," Beckerman added. "We're coming in and we know there's a lot riding on the game. It's not a friendly, but that's been the case before. I think we're just excited to be in camp. When you come in, of course its an honor and we're just wanting to put in the work so we're ready for Saturday."The rivalry between the two has taken many twists and turns in recent seasons, with players like Beckerman and DaMarcus Beasley each playing their part.
There was the 2011 Gold Cup final at the Rose Bowl, Saturday's site, in what was an emphatic Mexico victory. There was World Cup qualifying in Columbus, as well as the USMNT's first win at the Estadio Azteca, in 2012.
Saturday's final carries special significance for DaMarcus Beasley, who has been a regular fixture in the U.S.- Mexico rivalry since the Americans began turning the tide and taking away Mexico's dominant hold on the series.
"Even since I started in 2000, 2001, our national team has gotten better," Beasley said. "You look at how our pool was in the last World Cup. There could have been 35 players on that roster. Before in other World Cups it wasn't like that. You kind of knew who your 23 or 25 players were. Now, our player pool is a lot bigger, a lot better.
"Some guys have played Mexico in friendlies," Beasley added, "but this game means a lot more. It's not just a friendly. You want to win something at the end of the day, so that makes it even more important and more fun for some of the younger guys who may be going into their first time playing against Mexico."
Young or old, rookie or veteran, the mood remains the same in U.S. camp. The task at hand is a great one, especially given the team's recent struggles.
For many, that leaves little time for reflection and admiration of past achievements. Whether Saturday's clash with El Tri is a player's first or last, the goal remains the same: to book a spot in the Confederations Cup.
"Maybe this is our last opportunity or guys might think that, but these are cycles," defender Geoff Cameron said. "Gold Cup, World Cup, Confederations Cup. These are all cycles. Two years, four years, all that kind of stuff. This might be the last kind of go around for guys to play Mexico or in a Gold Cup playoff game or whatever. You never know when it's going to be your last game, so you just have to leave it all on the field, so that's the mentality that we have.
"We want to enjoy it. We want to have fun and we want to wear the national team jersey with pride. We do that every time we come to camp. Nothing has changed. It's a different game, a massive game for the U.S., and for Mexico, but we have a frame of mind that we're going to win."