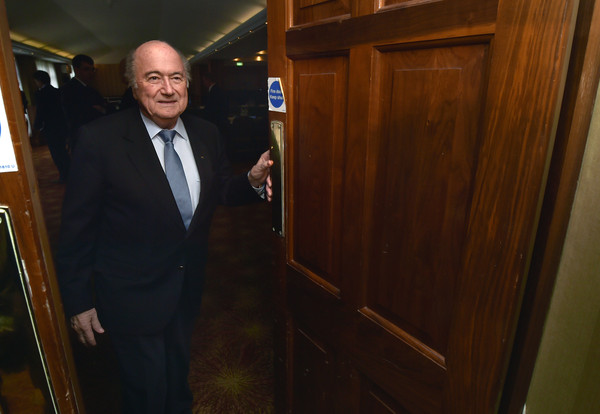 By SBI SOCCER
Sepp Blatter is none too happy with current investigations.
The FIFA president says that the ongoing investigations from the Swiss attorney general are 'outrageous' while insisting that there is no evidence of any wrongdoing. Blatter is currently being looked at for allegedly manipulating FIFA contracts while also being questioned on criminal mismanagement.
"The situation is not pleasant," Blatter said. "I am being condemned without there being any evidence for wrongdoing on my part. That is really outrageous. This is just an investigation, not an indictment. I'm dealing with it and I'm co-operating with the authorities.
"I'm feeling good. I'll survive it. FIFA is still functioning well and the selected president remains in office. I will fight until February 26 (the FIFA presidential election date), for myself, for FIFA. I am convinced that evil will come to light and good will prevail."
Here are some more news and notes to kick off your Wednesday morning:
KLOPP NEARS LIVERPOOL DEAL
Liverpool appear to be inching ever closer to signing the manager they covet.
Jurgen Klopp is reportedly expected to fly to Liverpool on Thursday with the aims of finalizing a deal between the two sides. Liverpool is expected to unveil Klopp as soon as this weekend.
The former Borussia Dortmund is expected to a sign a three-year deal to manage the club. Klopp will have a full week to prepare for his debut as the club's manager, as Liverpool returns to action on October 17 against Tottenham.
FIFA CANDIDATE CHUNG VOWS TO SUE BLATTER
FIFA presidential candidate Chung Mung-joon is ready to take the fight to Sepp Blatter.
The former FIFA Vice President says that Blatter was paid a secret salary that was not agreed to by FIFA's executive committee. As a result, the South Korean says he will sue Blatter as FIFA "has become a corrupt organization serving the interests of a few."
"Like the dungeon in the FIFA HQ, FIFA has become a very secretive place," Chung said. "In an age when can find out the salary of a company president or a PM any time, we still don't know president Blatter's salary. For Blatter to get paid without authorization of the executive committee is embezzlement. I plan to sue Mr Blatter on his embezzlement in court."
"Mr. Blatter, in short, is a hypocrite and a liar. Whenever I speak to football leaders, most of them agree that Mr. Blatter is corrupt. FIFA is in total meltdown and his dynasty is coming to an end, yet still few dare to speak up against him."
ANCELOTTI EXPECTS RONALDO TO STAY WITH REAL UNTIL END OF CAREER
Cristiano Ronaldo has been linked with plenty of big-money moves in recent years, but his former Real Madrid manager doesn't expect any of them to come to fruition.
Carlo Ancelotti, who managed the Portuguese star from 2013-15, says that he believes that Ronaldo will end his career with Real Madrid. Ronaldo is under contract with the club until 2018.
"He etched his name into the record books at Real Madrid the other day when he equaled Raul's goalscoring record," Ancelotti said. "I cannot imagine him leaving Real Madrid.
"I think he will stay at Madrid until the end of his career. Everybody at the club loves him."
QUICK KICKS
Basel have rejected a $28 million offer from Wolfsburg for forward Breel Embolo. (REPORT)
Barcelona is set to appeal to the Court of Arbitration for Sport over the registration denial of Arda Turan. (REPORT)
Wayne Rooney is a doubt for England upcoming Euro 2016 qualifiers against Estonia and Lithuania. (REPORT)
Everton midfielder Tom Cleverly and his family were threatened by burglars in a home invasion. (REPORT)
—
What do you think of the latest Blatter news? How will Klopp fare at Liverpool? What do you expect from Ronaldo in the coming years?
Share your thoughts below.