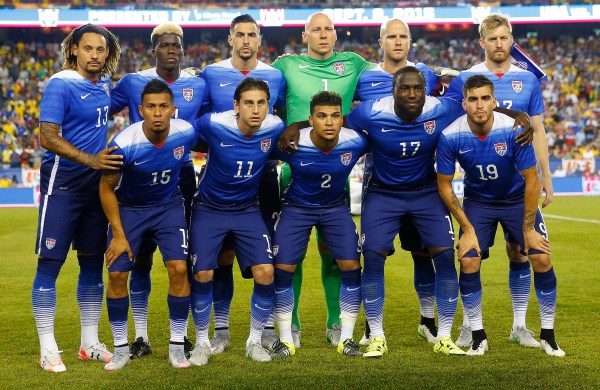 photo by Winslow Townson/USA Today Sports
By FRANCO PANIZO
Jürgen Klinsmann's lineup decisions have been discussed and analyzed ad nauseam in recent months.
Do not expect that to stop any time soon.
The U.S. Men's National Team and Mexico will meet in their highly anticipated CONCACAF Cup showdown on Saturday (9:30 pm ET, Fox Sports 1/Univision) at the Rose Bowl in Pasadena, Calif. A ticket to the 2017 Confederations Cup is up for grabs, as are bragging rights between these heated rivals and regional powerhouses.
For Klinsmann, the pressure has been cranked up a few notches. The U.S. head coach has struggled for results as of late, and needs to bounce back with a win against El Tri to placate the growing number of supporters that are none too pleased about the Americans' disappointing fourth-place finish at the recent CONCACAF Gold Cup.
The good news for Klinsmann is that he has almost his entire first-team of regulars available, including the returning Clint Dempsey. The tricky part is that he has to figure out how to piece it all together for a one-off, do-or-die match that will be played in front an intense crowd of 90,000-plus.
Which players will we see Klinsmann start and how will he line them up? Here's the starting XI we could see: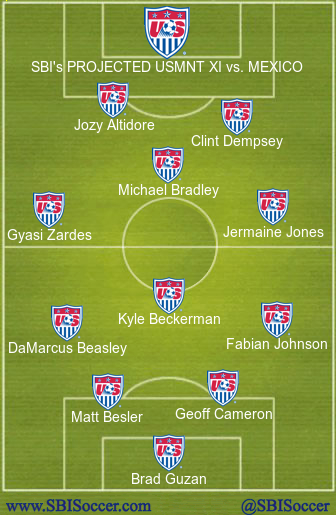 Some thoughts:
The first thing Jürgen Klinsmann has to figure out going into this one is how to get captain Michael Bradley and fellow veteran staple Jermaine Jones on the field together to help lead the charge and slow down Mexico's technical attackers. In the last game against Brazil, Klinsmann went with a three-man midfield that had the duo in more advanced positions and Alejandro Bedoya sweeping up from deeper. It was an unmitigated disaster.
Klinsmann has preferred to deploy Bradley in more advanced positions for much of the past year and some change, and Jones does not have the tactical discipline to stay back strictly in a No. 6 role. As such, a diamond midfield could be used here. Bradley would serve in the hole while Jones is used as a right midfielder that would tuck in and allow the right fullback — in this case, Fabian Johnson — to bomb forward.
Someone would have to do the dirty work behind them for this to work against a quick El Tri side, and that is where Kyle Beckerman could step in. Beckerman looked a step slow at the CONCACAF Gold Cup when he played, but his work rate, experience, defensive grit, and unselfishness to move the ball quickly are all reasons why Klinsmann may go with him over someone like Danny Williams.
The other positions of real uncertainty are the two centerback spots. Klinsmann has gone with Ventura Alvarado often recently, but the young defender has admittedly had his share of struggles. Making things even worse is that he has gone from penciled-in starter to bench warmer at Club América, taking away some of his rhythm and sharpness.
If Alvarado were playing regularly these days, Klinsmann might be more inclined to give him the nod against the likes of Javier "Chicharito" Hernández. As things stand, however, the U.S. head coach could prefer to go with a veteran duo in Geoff Cameron and Matt Besler. Cameron and Besler were paired together in the first couple of World Cup games a summer ago, are both starting for their respective clubs right now, and can pass the ball well. All those attributes make them seem like the favorites here.
The rest of the team is more or less decided. Klinsmann has already said Brad Guzan will start in goal, and talked on multiple occasions about how important it is to have now-healthy veterans Johnson and DaMarcus Beasley manning the right and left sides of the defense, respectively.
Gyasi Zardes has been a welcome surprise this year with his consistently-positive play, and there is almost no doubt that the youngster starts vs. Mexico to test the southern rival with his speed and explosiveness.
Jozy Altidore and Clint Dempsey — who like Bradley and Jones are constantly described as part of the U.S.'s spine — figure to start up top. Altidore and Dempsey were the first-choice forwards at the Gold Cup, and them showing decently at their clubs in recent weeks and having a wealth of experience against Mexico makes them the easy choices at the tip of the attack. Altidore would be the one in a more advanced spot, though, as Dempsey drops a little bit more to help pick up the ball and create.
—–
What do you think of this lineup? Is there a player who is not listed here that you think will/should be? How would you get Jones and Bradley together in the midfield? Which formation would you use?
Share your thoughts below.