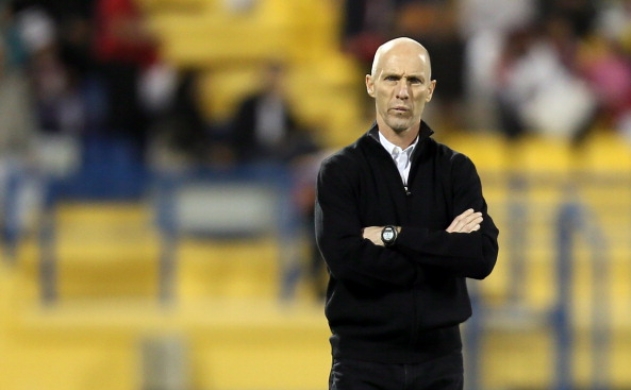 Bob Bradley is just two days away from beginning his new coaching project with Le Havre in France.
Bradley completed his first training session with his new club on Thursday, and all eyes will be on him and the club this weekend. The former U.S. Men's National Team head coach will lead his new club out against Saint-Omer on Saturday in the Coupe de France.
"I know the history of (Le Havre). I know that it's the oldest club in France. I know that it has an excellent academy, and I also realize in the moment that it's an excellent football project," Bradley told the club's website during a press conference on Thursday. "Fantastic stadium, and a team that is motivated to move forward."
Bradley, who coached at the international level with the USMNT and then with the Egyptian national team, brings plenty of experience to Le Havre. Those experiences at a high level will prove vital as he takes on the new project of leading his Ligue 2 side to promotion.
"When you coach in the top tournaments against the best teams, you see what the level of soccer is all about, you face some of the best players in the world, and this gives you a perspective that you always keep with you," Bradley said.
In spite of his wealth of international experience and exposure, Bradley says he considers himself to be a club coach first and foremost. Having attained a breadth of knowledge with the U.S. then Egypt, he decided to head a European club, a task not too many American coaches have attempted before.
"It was a chance to work in club football. It's a small club that hit some difficult times, but I was confident that it was a club where I could show my work and prove myself and do it with good people," Bradley said in response to why he chose to lead Stabaek in Norway after years of coaching at the international level.
In two years, he turned Stabaek into a team to be reckoned with, and the club will now compete in the UEFA Europa League after finishing third in the Tippeligaen under the guidance of Bradley.
Le Havre is currently fourth on the Ligue 2 table, having secured 23 points through 14 games. Bradley won't try building upon that number until Nov. 23, when his side hosts ninth-place Brest. Le Havre is four points shy of first place in the league, but in order to gain promotion into France's top tier, a second-place finish will suffice.
An opportunity to lead Le Havre to the top flight is a project he says is looking forward to, and after Thursday's training, he expects the best from his team and staff.
"I was very pleased with the first training session, excellent tempo and intensity, and this is how we get to know each other and begin good work," Bradley said."So, for the first day, satisfied, but now, every day, more."
What do you think of Bradley's comments? How do you think he will fare in Ligue 2 with Le Havre?
Share your thoughts below.