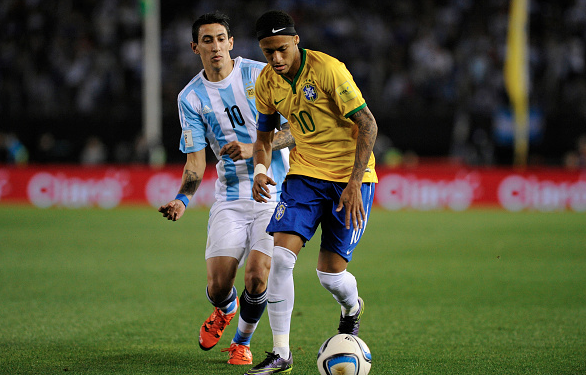 Leo Messi cannot return to action soon enough for his country.
Argentina's abysmal start to 2018 World Cup qualifying continued on Friday, as La Albiceleste were held to a 1-1 draw at home by arch-rival Brazil. Ezequiel Lavezzi opened the scoring at Estadio Monumental with a first-half finish, but the Messi-less Argentina surrendered an equalizer to Lucas Lima just before the hour-mark.
The Matchday 3 fixture, which was postponed a day because of heavy rain in Buenos Aires on Thursday, dropped Argentina to an astonishing ninth place with two points from three games. Brazil, meanwhile, sits in fourth place with four points.
Missing a trio of attackers in Messi, Carlos Tevez, and Sergio Aguero because of injury, Argentina took the lead through a stellar play from another talented threesome in the 34th minute. Angel Di Maria found Gonzalo Higuain making a diagonal run to the right flank, and Higuain collected the pass before hitting an accurate cross that Lavezzi pushed home.
Brazil, which welcomed back star attacker Neymar from suspension, responded through a 58th-minute equalizer. Dani Alves clipped in a ball from the right corner of the penalty area with the outside of his foot to Douglas Costa, whose ensuing head smashed off the bar. The rebound fell to Lucas Lima, and the midfielder made no mistake with his effort on the half-volley.
O Canarinho were forced to finish the match with 10 men, however. Veteran centerback David Luiz lost the plot in the waning moments, receiving a fortuitous yellow card for throwing an elbow in the 87th minute before getting sent off seconds later with a straight red for going studs up on a challenge on Lucas Biglia.
In Friday's other CONMEBOL World Cup qualifier at Estadio Nacional, Peru used a goal from Jefferson Farfan to pick up its first three points of the campaign via a 1-0 win over visiting Paraguay. Farfan found the back of the net for the third time in two games in the 20th minute, collecting a pass from Paolo Guerrero on the left flank and firing a low drive inside the near post.
Farfan earned the plaudits for the goal – which tied him with three others for the CONMEBOL lead in this campaign – but it was young midfielder Renato Tapia who did most of the heavy lifting on the play. Tapia, 20, collected a pass at midfield with a nice spin and dribbled towards goal. He tried to hit a shot that was blocked, but pounced on the loose ball and fought hard to poke it to Guerrero.
While La Blanquirroja enjoyed the better of the play in the first half, the organized and physical Paraguay came out of the intermission much improved. Los Guaranies not only held Peru's attack largely in check, but also began to force turnovers that led to dangerous-looking counterattacks. Unfortunately for Paraguay, Seattle Sounders forward Nelson Haedo Valdez and the rest of the attack never found the equalizer.
The result improved Peru to 1-2-0, but left Ricardo Gareca's side in eighth place Paraguay slipped to fifth with the defeat.
STANDINGS (Round 3)
1. Ecuador (9 points | 3-0-0 | 6 Goals For | 1 Goals Against)
2. Chile (7 points | 2-0-1 | 7 Goals For | 4 Goals Against)
3. Uruguay (6 points | 2-1-0, 6 Goals For | 2 Goals Against)
4. Brazil (4 points | 1-1-1 | 4 Goals For | 4 Goals Against)
5. Paraguay (4 points | 1-1-1 | 1 Goal For | 1 Goals Against)
6. Colombia (4 points | 1-1-1 | 3 Goals For | 4 Goals Against)
7. Bolivia (3 points | 1-2-0 | 4 Goals For | 6 Goals Against)
8. Peru (3 points | 1-2-0 | 4 Goals For | 6 Goals Against)
9. Argentina (2 points | 0-1-2 | 1 Goals For | 3 Goals Against)
10. Venezuela (0 points | 0-3-0 | 3 Goals For | 8 Goal Against)
What do you think of Argentina's struggles thus far? How much a boost will Messi provide when he returns? Does David Luiz deserve a lengthy suspension? See Peru gaining much confidence from its victory?
Share your thoughts below.