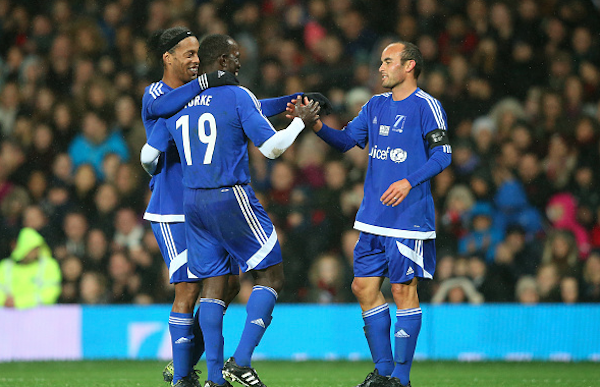 Landon Donovan might have the itch to coach, but he showed on Saturday that he can still play.
Donovan set up the Rest of the World's lone goal in David Beckham's Unicef charity match, cutting a pass back to Dwight Yorke in the 67th minute of a 3-1 loss to Great Britain and Ireland. Donovan, 33, entered the star-studded affair at Old Trafford in the 67th minute, and gave his side a glimmer of hope with the ball   that trimmed its 2-0 deficit in half.
Great Britain and Ireland substitute Michael Owen netted the first of his two goals on the night four minutes earlier, and capped the scoring in the 8th minute. Paul Scholes scored the opener in the 13th minute off a precise cross from Beckham.
There were several nice moments in the match played in front of 75,381 fans, including the one that saw Beckham substituted off in favor of his 16-year-old son, Brooklyn. The elder Beckham reentered the match later when he replaced Sol Campbell, and played a series of passes with his son down the right flank that drew cheers from the crowd.
You can see Donovan's assist (at the 0:15 mark) here:
[youtube https://www.youtube.com/watch?v=r3PMALMpq0U]
What do you think of Donovan's assist? Still wish he was playing in MLS and with the U.S. Men's National Team? How much did you enjoy?
Share your thoughts below.