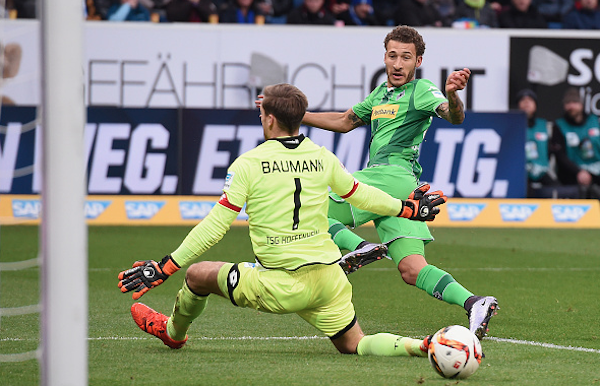 What a week for Fabian Johnson. What a month.
After scoring his second UEFA Champions League goal of the season and delivering an assist on Wednesday, Johnson bagged a brace to help Borussia Moenchengladbach pick up a 3-3 draw in a wild match vs. Hoffenheim. Johnson's goals came at the start and end of the road game, with his first serving as a fifth-minute opener and his second as an equalizer three minutes before the final whistle.
Both of his tallies came via tidy finishes as well. The 27-year-old Johnson initially got on the scoreboard by slotting home a shot off the post after making a well-timed diagonal run to get on the end of a pass played in behind the defense. Johnson then capped his impressive day, and week, with a great individual effort, disposing of two defenders with a fake right-footed shot before using his left to fire home.
Johnson, who played in his customary left midfield spot for Moenchengladbach on Saturday, has been on a torrid run of form since the start of November. Johnson has netted four times across all competitions for his club in the past four weeks, including on a strike on Nov. 3 that made him the first U.S. Men's National Team Player to tally in the UEFA Champions League in more than two years.
He also scored once for the U.S. in a 6-1 World Cup Qualifying rout over St Vincent and the Grenadines on Nov. 13.
Here are the match highlights, including both of Johnson's goals:
[protected-iframe id="b9932ee7400935e5a791d038fc2a45d5-93315145-36554976″ info="http://player.foxfdm.com/sports/embed-iframe.html?videourl=http://link.theplatform.com/s/BKQ29B/p3Gy_RWesdW8?mbr=true&assetTypes=Video&iu=%2Ffscom%2Fsoccer%2Fvideo&feed=Fox%20Sports%20All&policy=51457&player=sportscom-1.7.2&format=SMIL&Tracking=true&Embedded=true&formats=MPEG4,FLV" width="640″ height="360″ frameborder="0″ scrolling="no" allowfullscreen=""]
What do you think of Johnson's two-goal performance for Moenchengladbach? Which strike impressed you more? Is this the best soccer of his career? Do you see him playing this well for the USMNT in 2016?
Share your thoughts below.