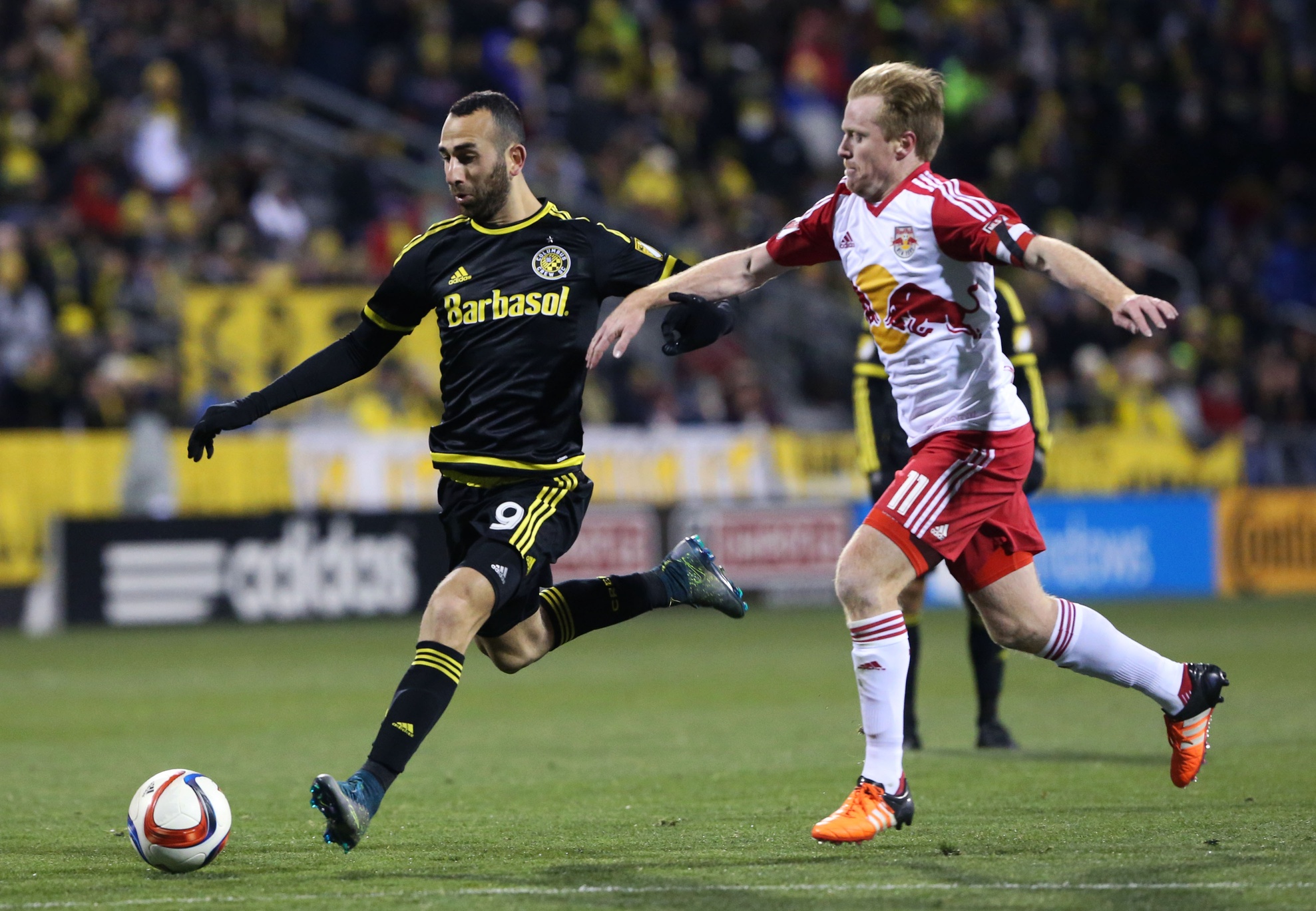 Nine seconds was all it took for the Columbus Crew to put two weeks of preparation into flawlessly-executed practice.
Crew winger Justin Meram scored the opening goal within the game's first 10 seconds, leading the way in a 2-0 defeat of the Red Bulls that seized control of the Eastern Conference Finals. The pair of goals, along with the shutout, earned the Crew a massive advantage in the two-legged tie, with the series' second stanza set to come next Sunday at Red Bull Arena.
While Kei Kamara's late-game finish furthered the Red Bulls' mountain to climb, it was Meram's opening minute tally that set the tone. After a long week spent with the Iraqi national team, Meram sent shockwaves through the Red Bulls defense before many could even find their footing on the MAPFRE Stadium field.
"Well, it's obviously a great start to the game," said head coach Gregg Berhalter of Meram's finish. "It does change the game a little bit because you have intentions of seeing how the game is going to play out, then you get a goal so early and it's like okay, now it's a different game all of the sudden. Nine seconds in, all of the sudden it's a different game."
"It's one of those moments that you wait for in your life," Meram added, "and I'm just blessed and thankful for my teammates and everyone that put me in this position to put that goal in."
While Meram's finish did well to ease the Crew's nerves, both the winger and his head coach argued that it may have eased them a bit too much.
In the aftermath of the opener, the Red Bulls found themselves settling into the game. A series of corner kicks put the Crew under attack, as the Red Bulls battled back in pursuit of what would have been a series-changing away goal.
It never came, but the Red Bulls' deficiencies on the attacking end did little to affect the Crew's pursuit of their own series-changing goal. Kamara's 85th-minute finish provided just that, putting a cherry on top of a spectacular Crew performance while giving the team a massive advantage heading into the second leg.
While Kamara and Meram will deservedly receive plaudits for their two finishes, it was what happened in the 84 minutes between them that sealed the Crew's advantage. Facing off with one of the league's top midfield units, the Crew dominated the center of the park while all but neutralizing the dreaded Red Bulls press.
"I think they did an exceptional job," Meram said of the midfield. "Their trio in the midfield is one of the best in the league and Tony (Tchani) and Wil (Trapp) and Pipa (Federico Higuain) definitely are one of the best as well, so hats off to them and to our defense."
"I think Tony and Wil did a great job being around (Sacha Kljestan) and second balls," Ethan Finlay added. "Mike (Parkhurst) and Tyson (Wahl) did a fantastic job of winning a lot of balls with (Bradley Wright-Phillips) being on the front and back of them. A striker like (Wright-Phillips) fits more to our strengths versus a Drogba, who is a little more physical. We like the matchup right now and we put ourselves in a good position.
While Finlay and co. understand that their position is certainly a favorable one, the Crew know that there is still much work to be done. An MLS Cup final appears to be on the horizon, but 90 minutes against a desperate Red Bulls team remains in the team's path.
The lead is surely nice, especially knowing the fact that an away goal will all but seal the team's advancement. Still, Berhalter's side is in no way expecting to look any further than Sunday's conference finale at Red Bull arena.
"It changes a little bit but it's going to be taking stock this week, coming up with a game plan," Berhalter said. "We're still going to have to play. This series is not over, trust me. They're going to come out hot in Harrison. It's going to be a tough game. We're going to do our best to try to score a goal. We've been scoring away from home, virtually, all year. So, we're going to try and do that again and put some pressure on them.
'We're focused. I don't have to keep the focus of this group. They're focused on the game already so that's not going to be challenging. I think just in terms of the game, the Red Bulls will be gunning for the first goal, they need to get it. We need to be patient, we need to keep moving the ball around and match their intensity early in the game."