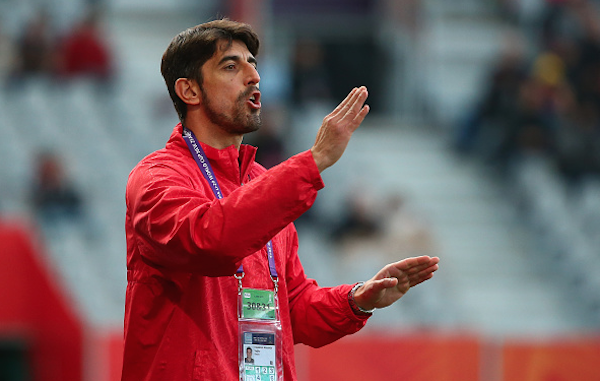 The Chicago Fire know that history has not been kind to foreign coaches in MLS, but they are convinced Veljko Paunovic has all the qualities and enough familiarity with the league to be a rare success story.
In fact, the Fire were so impressed with Paunovic during their coaching search that they began to compare other candidates to him. That is what helped them determine that he was the man for the job.
Paunovic was named the Fire's new head coach on Friday, and the hire came as a surprise to most on the outside given that more recognizable names like Tab Ramos, Mike Petke, Richie Williams, and Kerry Zavagnin had been linked with the position. What made the 38-year-old Paunovic stand out above the rest of the pack, however, was that he knew about MLS's intricacies from his playing days and was a world champion after helping Serbia lift the Under-20 World Cup trophy this past summer.
While that package of traits is unique, Paunovic has no coaching experience at the club level. He has only been at the helm of Serbia youth teams since retiring as a Philadelphia Union player in 2011. Nonetheless, the Fire are confident that Paunovic has what it takes to make the jump and turn around the fortunes of a prestigious MLS team that has fallen on hard times in recent years.
"He can handle it because he's incredibly thoughtful and incredibly detailed in his thinking of how players need to be led, how players need to be coached, and how teams need to be built and developed," said Fire general manager Nelson Rodriguez in a teleconference on Tuesday. "One of the most impressive things that arose of the process of interviewing and spending time with Pauno was really a little bit of a different way of thinking than I have seen from most other coaches, which is a commitment to individual improvement.
"We are going to embark on creating almost a business plan, if you will, for every one of our players, and those are going to be tied in together to how to build a winning team and how to build a championship program. I am convinced that his interpersonal skills, the clarity of his soccer methods will be well-received by any player that has an interest in competing."
Paunovic, who Rodriguez said got a job offer from Panathinaikos during the Fire's coaching search, has his work cut out for him. The Serbian manager is taking over a Fire side that finished the 2015 campaign in last place in the Eastern Conference, with no road victories, and a league-worst 58 goals conceded.
What will surely help him in his quest to bring the club back to respectability is that he will have a say in the Fire's roster construction going into the 2016 season. Whether that will equate into major turnover this winter has yet to be determined, but Rodriguez and the rest of the Fire's current staff will give Paunovic as much input as possible to help him make decisions.
"I know that Pauno believes that there is (currently) enough there for this team to be better than it was, and the goal of any offseason is to improve and we'll look to do that," said Rodriguez. "We'll identify what we believe are our current gaps in the team, and then we'll work to fill those gaps in a very systematic and disciplined fashioned."
Paunovic is not currently in Chicago, but is expected to arrive in the coming days. He will be introduced officially next week, remain with the rest of the Fire's staff for a bit, and then it is full speed ahead for him.
A schedule has already been laid out of Paunovic, who will scout the remaining NCAA games, attend the MLS Cup Final to meet other individuals from around the league, and participate in club-driven activities.
"He's all in already," said Rodriguez.
Even so, the Fire will readily admit that it was not the "obvious choice" to hire Paunovic. Not when there were available American coaches out there with more MLS experience, and not when the track record of foreign coaches in the league has been so poor.
Nonetheless, the Fire believe Paunovic has all the qualities and sufficient knowledge of the league to thrive and steer the Fire's ravaged ship back on course.
"His first-hand experience as a player I think is a huge advantage," said Rodriguez. "He understands what it is to live as a Major League Soccer player, he understands the nuances and difficulties of our league on the player: playing across four different time zones, playing in very varied climactic conditions, playing at altitude, playing in the heat and humidity on a summer afternoon and playing on artificial turf and grass.
"That familiarity gave us a lot of confidence, but in the process of spending time with him, he shared copious notes on players with Major League Soccer. He had video files on nearly every team in our league. He even knew about some players who had come through our academy and are playing at the universities. I have zero doubt about his ability to adapt."