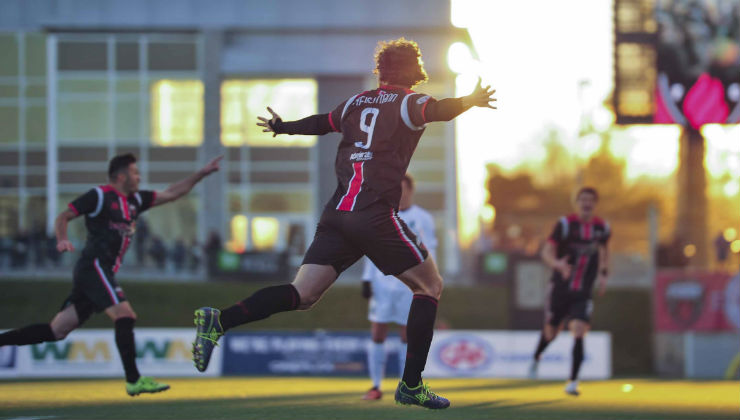 Ottawa Fury FC extended their stellar sophomore NASL season on Sunday, defeating Minnesota United in extra time to secure a spot against the New York Cosmos in the 2015 Soccer Bowl.
It was Fury forward Tom Heinemann who made the difference for the home side, scoring both goals in the 2-1 come-from-behind victory in Ottawa. Christian Ramirez put away an early penalty as United took the lead, but a second-half strike from Heinemann took the match into extra time, where Heinemann put the game to bed in front of more than 9,000 fans.
Heinemann was destined for greatness in the match from the very start. The goalscorer put a bullet of a header on frame from close range in just the second minute of play, but United goalkeeper Sammy Ndjock made a talented block to keep it scoreless.
Despite that early Fury chance, it was United that got on the board first in this semifinal. In the fifth minute, Ibson played a ball into the box for Daniel Mendes, who was taken down to earn a penalty. Ramirez perfectly placed his shot to the top-right corner to beat Romuald Peiser and put United up, 1-0.
Marc Dos Santos' halftime chat was all that Ottawa needed, though, as the Fury managed to equalize just moments after the restart.
Winger Paulo Junior cut in and whipped a ball to the top of the box in the 47th minute. Heinemann then chested it down and into open space before firing a hard left-footed shot to the near post.
Neither team could find a breakthrough after that, though, and extra time was needed to declare a winner.
It was Heinemann who similarly popped up with the crucial goal just moments after the second period of extra time started.
In the 108th minute, substitute Mauro Eustaquio provided a tremendous looping ball in from near half-field to set up Heinemann for the game-winning strike. The goalscorer ran onto the ball and hit a spectacular left-footed half-volley to the far post to send TD Place into pandemonium.
The Fury were the deserved winners in this matchup, putting eight shots on target to United's three. While possession was evenly distributed, it was Dos Santos' men who put on a more attractive attacking performance on Sunday evening.
The New York Cosmos will host the Fury at Shuart Stadium next Sunday at 5 p.m. (One World Sports) as the two sides vie for the Soccer Bowl trophy.