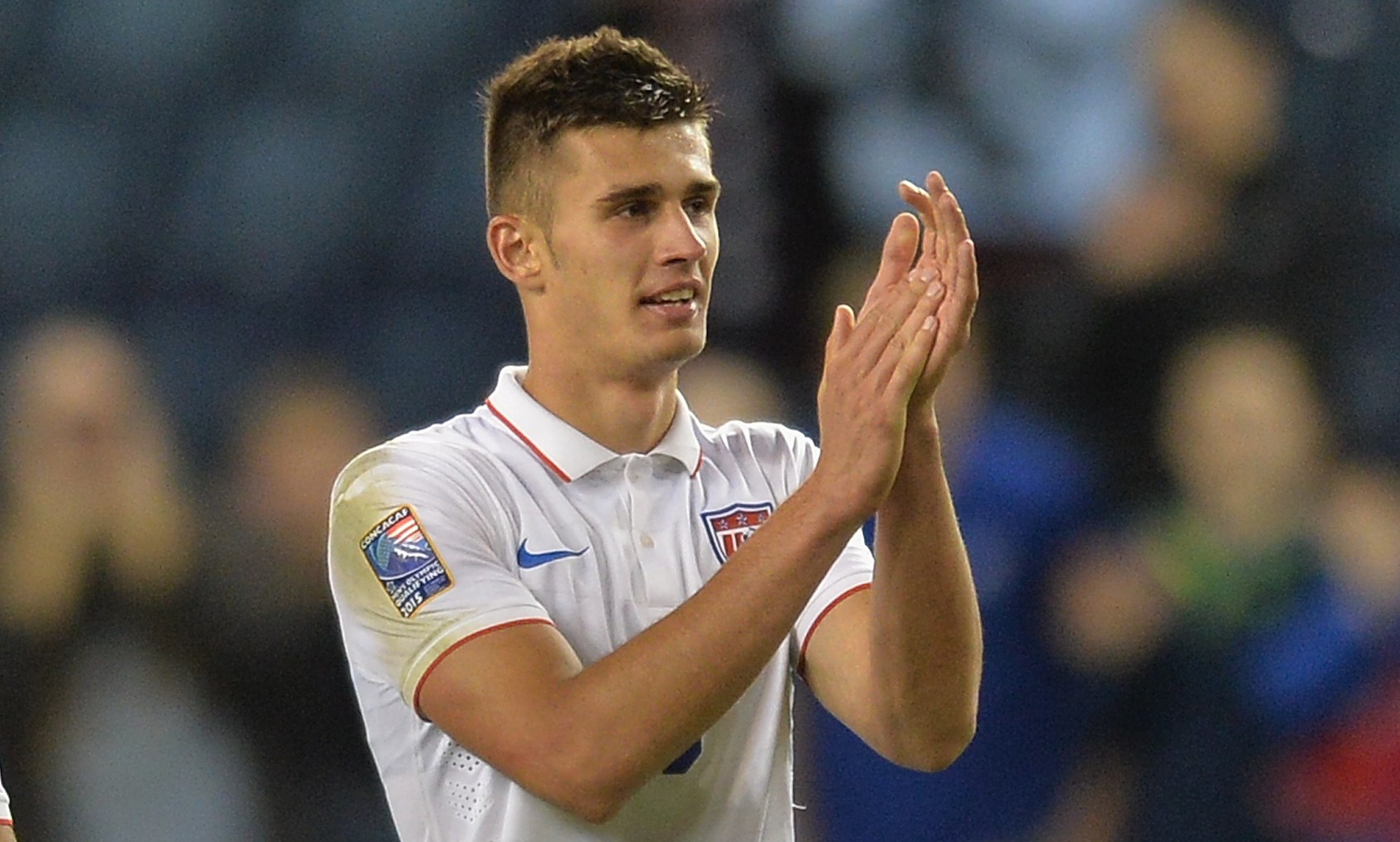 While the decision to bring in a few fresh faces to the U.S. Men's National Team roster came as a surprise to some, head coach Jurgen Klinsmann has been keeping a close eye on all U.S. players, including the young ones.
Klinsmann named his 23-man roster on Friday for the USMNT's upcoming World Cup qualifying matches against St. Vincent & the Grenadines and Trinidad & Tobago on Nov. 13 and 17, respectively. While 11 players Klinsmann decided to bring in went with the head coach to Brazil during the 2014 World Cup, there were a pair of eye-opening inclusions.
Portland Timbers midfielder Darlington Nagbe, who only received his U.S. citizenship in September, earned his firs call-up. Matt Miazga, meanwhile, has been highly involved with U.S. Soccer in 2015, competing at the U-20 and U-23 levels.
Miazga climbed another level in the U.S. Soccer system on Friday, as Klinsmann gave the New York Red Bulls defender his first senior call-up. Those additions may seem atypical given that qualifying games lie ahead, but Klinsmann has had an eye on both of them for some time now.
"Those are two players that have been on our radar for a long time," Klinsmann said. "Matt is a youngster coming through our system. He played for the Under-20's and he played for the Olympic team. In Darlington Nagbe we have a player who we've been following for quite a while and he finally became eligible for the United States.
"We are looking forward to having them with us. They will get their first taste of the senior national team. I'm pretty sure they will be excited and want to do well. It's good to see that we have players coming through and give us more of an option."
Klinsmann also decided to bring along another youngster in the attack, choosing to call in college standout Jordan Morris while leaving out Seattle Sounders forward Clint Dempsey.
"At this point in time, I want to give the younger strikers a chance to prove themselves and this is a good stage to do it," said Klinsmann. "I communicated with Clint about it and it's all fine."
The U.S. head coach added that injuries and illnesses forced his hand in making some of his decisions, with FC Nantes midfielder Alejandro Bedoya being one of the regular players left off of this month's roster.
The U.S. is meeting in Miami, Florida, to begin training for next Friday's contest against St. Vincent & the Grenadines, a team Klinsmann thinks provides a unique challenge because of its status as a relative unknown.
"You're not very familiar with that team," said Klinsmann. "You watch their previous games, you analyze their individual players as much as you can, but you don't have that detailed picture that you have for teams like T&T, who played in the Gold Cup, or the usual powerhouses in CONCACAF that you know pretty well.
"This is a bit tricky. We have a lot of respect for them like we always have with our opponents, and we expect a lot of work against St. Vincent and the Grenadines."
Trinidad & Tobago is more familiar to the U.S. and is expected to cause more problems than its Caribbean counterpart. The Soca Warriors have flashed their talent, strength and skill this year, and forward Kenwyne Jones has been a hassle to deal with for most teams that have played against T&T.
Klinsmann sees T&T, as well the humidity down in the Caribbean, as huge challenges for the Americans, but he expects results no matter what.
"It's a team full of players coming out of the English Championship – difficult players, and players that know how to play their game," Klinsmann said of Trinidad & Tobago. "They did tremendously well in the Gold Cup. It's going to be a challenge and that's what we are preparing for.
"It's going to be a difficult game, but we are ready to jump that hurdle and get a good result against T&T."