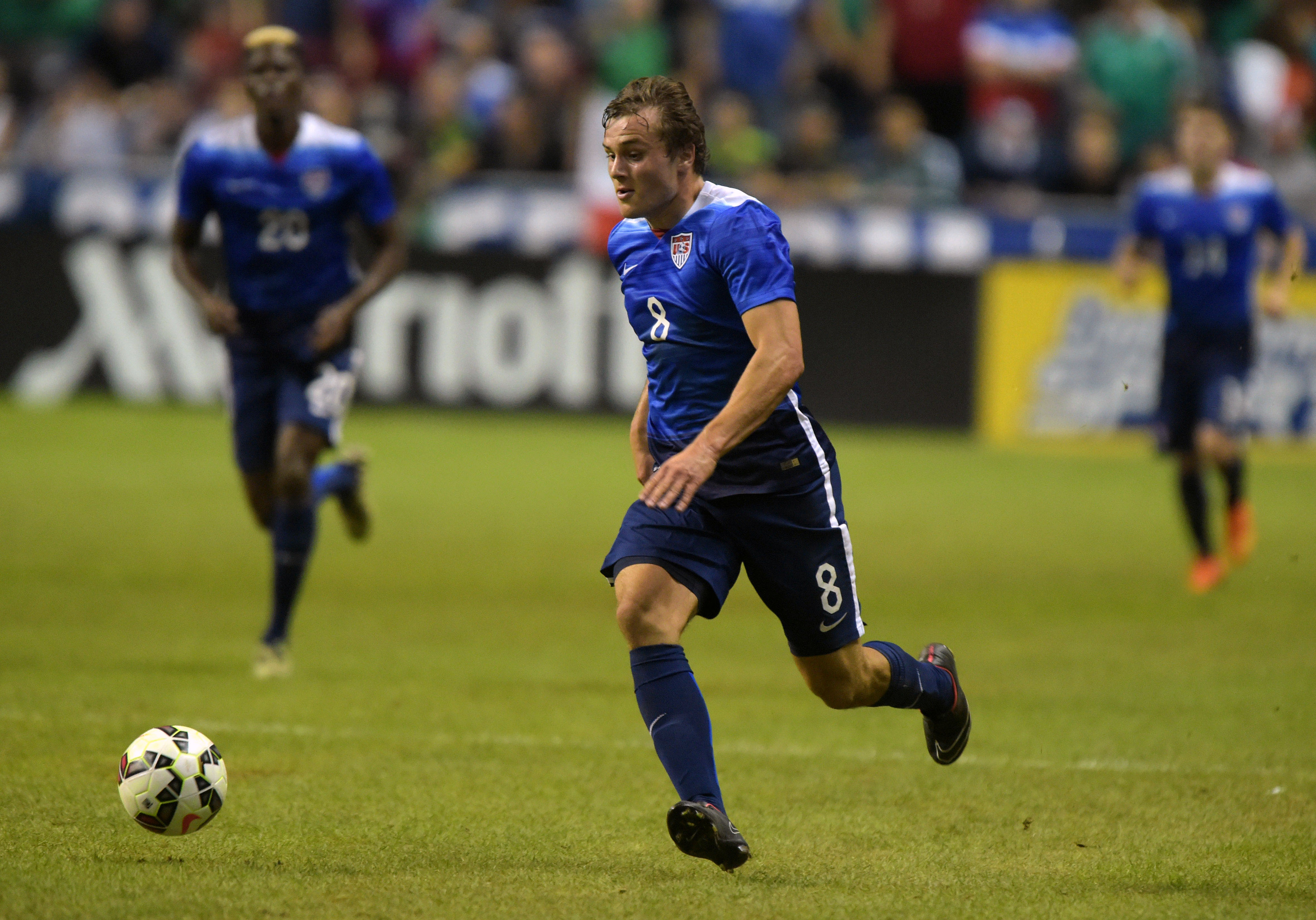 Juggling the need to win now with the responsibility of building for the future has been Jurgen Klinsmann's challenge since the end of the 2014 World Cup. Klinsmann has taken turns counting on his seasoned veterans to lead the U.S. Men's National Team in some stretches, and pushed them aside in others to gauge the young and inexperienced.
Klinsmann's latest roster for the first two World Cup qualifiers of the cycle is the latest example of the latter, especially up top, where reliable scorer Clint Dempsey has made way for a largely-unproven crop of prospects.
The road to Russia 2018 will begin in earnest for the Americans this Friday, as they host St Vincent & the Grenadines at Busch Stadium in St. Louis, Missouri. The U.S. enters the match as the heavy favorite, but with several fresh faces that have never been through a World Cup qualifying cycle before.
Forward is a position with several of those faces. While veterans like Jozy Altidore and Alan Gordon who have been through the rigors of qualifying have been included on the squad, the forward corps also includes the likes of Jordan Morris, Bobby Wood, and Gyasi Zardes. Klinsmann's objective is to get some of them playing in matches of high importance, even if it means sacrificing somone as prolific and dependable as Dempsey for the time being.
"The thought process is simply to get our younger players into this situation where they now have to step it up," Klinsmann told reporters after training in Miami, Florida this week. "We want them to come out of their shell more and more, and make a point. We know Clint inside out and we know what he brings to the program because he is always there.
"We also have to have a bigger picture towards Russia 2018. We need the Bobby Woods, the Jordan Morrises, the Gyasi Zardeses out there to make an impression and fight their way through and prove it in World Cup qualifying. We cannot start that process two years from now. That's why I talked to Clint and said I'll leave him out of the roster now because I want the younger ones to step up."
Klinsmann may want to test out some of his brightest forward prospects, but it is unlikely that he starts two neophytes together in either of the upcoming qualifiers vs. St Vincent & the Grenadines and Trinidad & Tobago. It might be tempting to do so at home against an opponent like St Vincent & the Grenadines that is nowhere near as talented as the U.S., but this fourth round of CONCACAF World Cup qualifying leaves little room for error.
That is why it is more probable that Klinsmann opts to pair Altidore with one of Zardes, Wood, or Morris on Friday. All three of the U.S. newcomers are still learning what the international level is all about, and each provides a different skillset. Morris, however, might be the most promising of the bunch given that he has shown promise in games under Klinsmann despite still being a collegiate player.
"I think Jordan Morris is one of our most promising talents that we have in the United States," said Klinsmann. "His decision to stay with Stanford for the time right now is totally supported by us. We try to give him kind of as many high-quality games as we can. With the (U.S. Under-23 Men's National Team), he went through the qualifying process there and he did well. I brought him in whenever I could to give him minutes there.
"Now, obviously, it comes closer to a decision for him if he goes pro at the end of the college season now. Where does he go? What does he want to do? I think, so far, it went okay. It went the right direction for him. He knows the tempo, the speed. Everything within the pro game, especially the different levels of the pro game, is another kind of dimension. He got that feel over the last one-and-a-half-years with us.
"Again, he's a player that can make a difference," Klinsmann said. "He's a player that has some tools in his portfolio, like speed, like taking people on 1-against-1, like having a nose for the goal, finishing things off or being the one that gives the final assist, things that we're looking for in young players, especially young strikers. He's well equipped for the pro game and sooner or later he has to step it up and do it."
Morris might need to further prove his worth this week. The Americans are coming off a rough few months in which they failed to place at the CONCACAF Gold Cup in July before losing to Mexico in the CONCACAF Cup in October. The results have not been stellar, and the performances have also left plenty to be desired.
The pressure is on the U.S. as a whole to perform and deliver two wins in these upcoming World Cup qualifiers, regardless of age or experience.
"Sooner or later you've got to force these pieces, and you have make difficult decisions and you have to communicate it," Klinsmann said. "At the same time, obviously, when you go in the process like World Cup qualifying, you have to get results. This is about getting the points. You've got to win your games at home and you have to get points also on the away side."