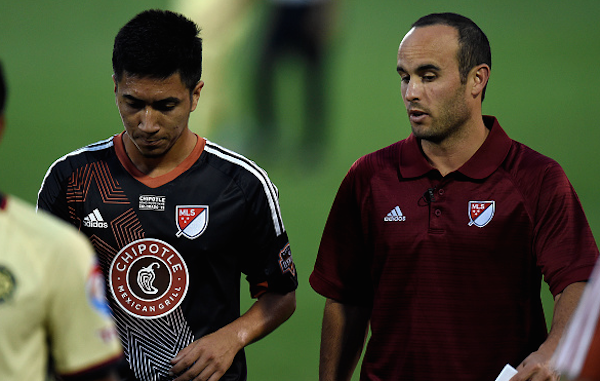 Landon Donovan has no real interest in returning to the game as a player.
Coming back as a head coach is a whole different story.
It has almost been a year since Donovan decided to hang up his cleats, but his love for soccer could see him make his way back to the field in a coaching capacity. Donovan, 33, has found himself wanting to manage a team in recent weeks, and already had discussions with his agent and wife about it.
"I'm not sure what that means and at what level, but I've started to get that itch," Donovan told Goal.com. "I think what it evolves from is being able to help, and being able to improve the game in a way. What all of us want to do when we get out of the game is we want to have the ability to go back and make an impact and help others. I didn't have anybody at 16, 17, 18, 19 that was telling me what to do or how to react or how to act in certain situations, and I wish I would have had that.
"Having been through these experiences when you're on the outside usually you can see it a lot more clearly than when you're in it, and I want to have the ability to impact people in that way and to affect change in a positive way. I think I have a lot to give in that way, so I'm going to start considering that path a lot more seriously and see where it ends up."
Donovan has already dabbled in coaching. He led the 2015 MLS Homegrown Team during the All-Star festivities in July, and admittedly had a lot of fun coaching some of the league's most promising youngsters in a penalty-kick loss to Club America's Under-20 side.
Prior to that, Donovan spent time with the U.S. Under-20 Men's National Team at the World Cup in New Zealand in an unspecified role in late May and early June.
The five-time MLS Cup champion and U.S. legend said before retiring that he was interested in grooming young prospects after his playing career. Donovan also stated that he did not want to coach adults because of the egos and personalities that tend to exist at the pro level, but his stance on that has since changed.
"Before I thought I wouldn't want to be a coach of grown men, but now that I've been out of it for a while, I see it differently," said Donovan. "I think when you're in it it's easy to want to get out of it quickly and remove yourself because it was such a huge part of my life for so long that I needed time to step back and get away from it. But now I would consider it.
"It would obviously have to be the right scenario, and there's a lot of work that would need to be done before I would be ready for that. But I think my experiences have taught me a lot, and I think I'd be able to surround myself with the right people to be successful, so we'll see what happens."
What do you think about Donovan getting the itch to coach? Think he would be better suited to coach at the club or international level? Are his characteristics better suited for a different role? Is Donovan just secretly hoping to be replace Klinsmann before the 2018 World Cup as payback for what happened last year?
Share your thoughts below.