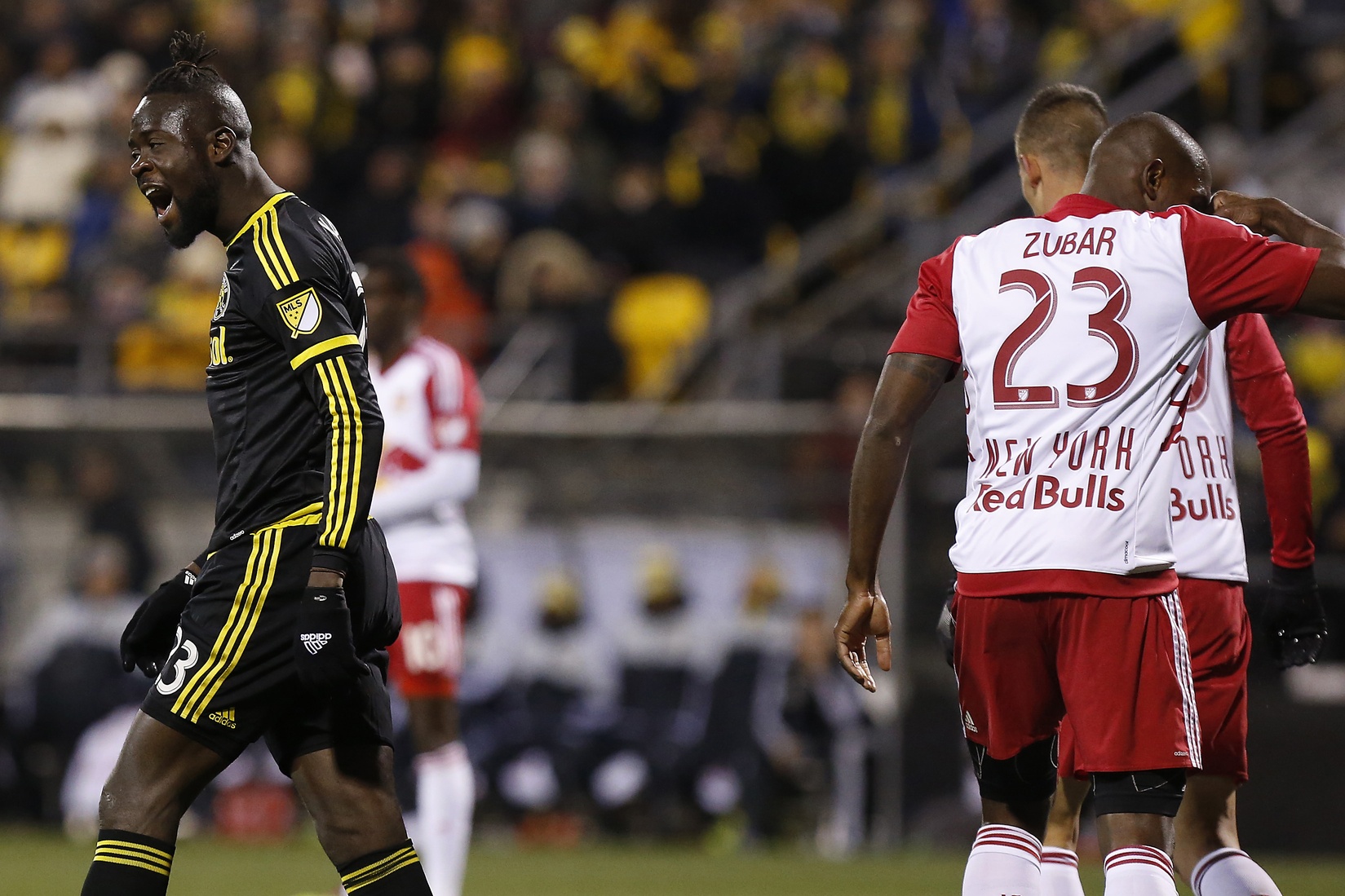 The Columbus Crew couldn't have hoped for a better start to the Eastern Conference Finals.
Spurred on by goals from Justin Meram and Kei Kamara, the Crew toppled the New York Red Bulls, 2-0, on Sunday at MAPFRE Stadium to earn a massive advantage in the tie's opening leg.
Before many at MAPFRE Stadium could blink, the Crew found themselves up a goal on the Supporters' Shield winners via a record-breaking Justin Meram finish.
Starting with the opening kickoff, the Crew played direct, as Kei Kamara headed a pass into the path of Ethan Finlay. Finlay proceeded to tap one to Meram, who fired home to give the Crew the lead just nine seconds in to Sunday's clash.
Meram's tally truly set the tone, even if the Crew had to wait 85 full minutes before registering the team's second goal through Kamara.
Driving towards the endline, Cedrick Mabwati darted past several Red Bulls defenders before rifling a shot on net. Red Bulls goalkeeper Luis Robles parried admirably, but Kamara proceeded to pounce on the ensuing rebound. With the entire Red Bulls defense ball-watching, Kamara responded with a mere tap-in, giving the Crew the vital two goal lead heading into the second leg.
The Crew proved to be the better team on both the attacking and defensive ends throughout the full 90 minutes. Taking advantage of several Red Bulls giveaways, the Crew tested Robles several times while putting a few further efforts just off frame.
The Red Bulls' best look of the second half came via Sacha Kljestan, who was played in by Bradley Wright-Phillips following a long ball over the top. Kljestan's shot from close range went just wide, though, smashing into the side netting to end the Red Bulls chance.
Chances like that proved to be few and far between for the Red Bulls, who will have a mountain to climb in the second leg after failing to register a vital away goal. In total, the Red Bulls registered 16 total shots, with only two proving to be on frame.
The two teams will return next Sunday for the second leg, which will be held at Red Bull Arena.