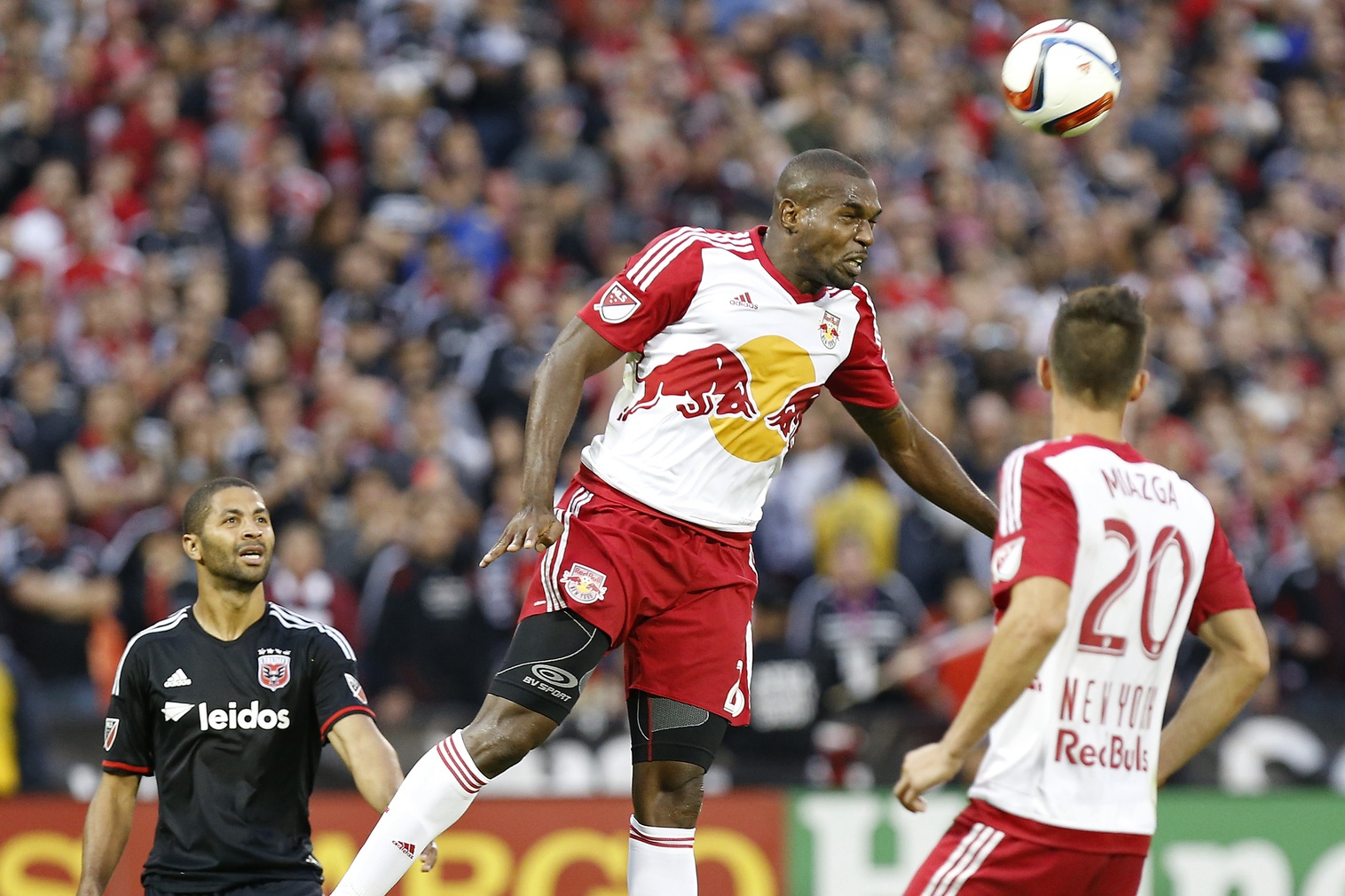 Devastated.
That was the word New York Red Bulls head coach Jesse Marsch used to describe the recently revealed injury to centerback Damien Perrinelle.
The Red Bulls announced Tuesday that Perrinelle will miss the rest of the postseason after suffering a knee injury in Sunday's victory over D.C. United. The injury was one that sent shockwaves through the Red Bulls locker room, dampening what should have been a celebratory atmosphere after a hard-earned 1-0 road victory.
Perrinelle, who played 28 regular-season games this season, is expected to miss at least 6-7 months.
For all the damage the injury did to the team's psyche, Perrinelle's absence will be equally difficult to manage on the field. Expected to fill in is Ronald Zubar, who will join Matt Miazga in forming a centerback pairing that was seldom used throughout the regular season.
"It's obviously a big loss," Miazga told reporters Tuesday. "Damien has had a great year and been an important part of our team and the way we do things, but that's soccer. We have to move on, but we have guys that can fill in. All year we did that. We had suspensions and injuries, so nothing changes. A lot of guys are ready to come in. Ronald did a great job when he came in against D.C., so we're looking to continue that."
"It's time for everyone else to step up," added Red Bulls head coach Jesse Marsch. "Whenever you have a guy, you first feel for him, but everybody has got to now be ready to help cover for the job that has been done and make sure that the next guy that steps in is ready to go and that we're not phased as a group. I know that we're strong and we know that we'll handle it the right way.
Both Zubar and Miazga will need to play a major part going forward, although the two will have to be as cautious as ever in Sunday's second leg.
The two centerbacks are both on yellow cards, and are one caution away from earning a suspension should the Red Bulls advance.
Marsch admitted that some precautions may be made in Sunday's clash. Should the Red Bulls have an established lead, Marsch would not be opposed to taking one of his centerbacks off to preserve their eligibility heading into a potential conference finals appearance.
However, like his partner Zubar, Miazga admitted that it would be "a little bit difficult" to deal with the potential suspension on his mind, but the 19-year-old centerback vowed it wouldn't change how he played.
"We want them to be slightly cautious, but not so cautious that it hurts us," Marsch said. "They have to go out and play. If neither one of them is ready to go, we have Karl Ouimette and Roy Miller that are ready to step in.
"That's the way that teams work. It's the way that our team works. Whoever is called in on that day, we'll believe that they'll step in and do the job."
That job will be all the more difficult given the duo's unfamiliarity. Hampered by suspensions, injuries and international call-ups, Zubar and Miazga have played less than 300 minutes together heading into the D.C. series.
Still, the Red Bulls are plenty confident in the duo's chemistry, even if chemistry at the centerback position is among the hardest, and most vital, to develop.
"It's nothing really, to be honest," Zubar said. "We've been training a lot together and we've played a few games. He's a good guy and he tries to get better and better all the time. When he steps on the field, he does a good job. I'm sure now we're going to have success together doing the same thing and make sure we keep the same mentality and remain really strong the rest of the games."
"If you don't feel confident, you're not going to do well," Miazga added. "We're not overconfident but we're confident in the way we play. We're focused on ourselves and we're going to come out and play our game and try and close it out. It's only halftime, so we have another half to play."