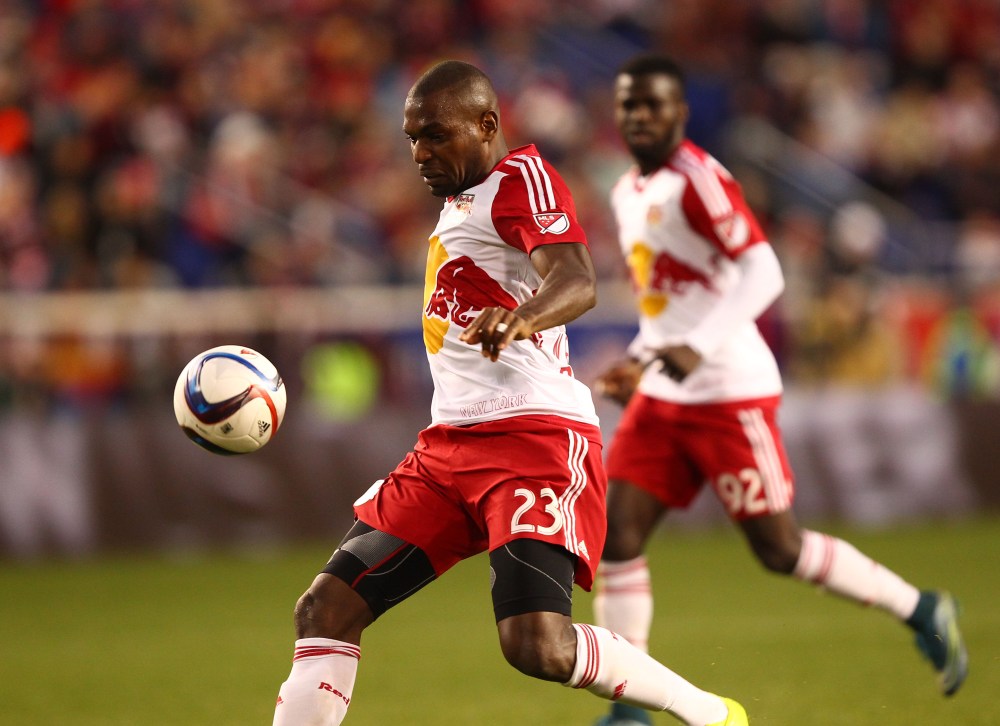 HARRISON, N.J. — Overcome a major injury? Check. Avoid yellow card accumulation? Check. Post a second straight shutout? Check.
The New York Red Bulls advanced to the Eastern Conference finals on Sunday with a 1-0 win over D.C. United that gave them a 2-0 aggregate victory. Dax McCarty and Bradley Wright-Phillips made the difference on the scoreboard in the semifinals series, but it was the defense that really stepped up during the course of the 180 minutes.
The Red Bulls lost reliable starter Damien Perrinelle early in the second half of the first leg at RFK Stadium, but Ronaldo Zubar filled in at centerback adequately in his 129 minutes despite having a few nervy moments sprinkled in here and there. Just as important was that Zubar and fellow central defender Matt Miazga avoided picking up second yellow cards on Sunday while helping to prevent D.C. United from finding a series equalizer.
"Certainly to get a shutout over two games is a testament to the whole team, but definitely the back line in their ability to make it hard on the attacking players," said Red Bulls head coach Jesse Marsch. "I think for the whole series none of (Fabian) Espindola, (Alvaro) Saborio or (Chris) Rolfe got in behind our defense to cause problems."
There were a handful of instances in which D.C. United came close to scoring, but it was mostly on lightning-quick counterattacks. Even so, D.C. United finished with just two shots on goal in the entire series, with the first one coming after the hour-mark of the second leg.
That goalkeeper Luis Robles was barely tested was down to a combination of D.C. United's tactical approach and the Red Bulls' defense, which did a good job of staying compact and organized the few times Ben Olsen's side had possession of the ball.
Makeshift right back Sal Zizzo also helped out by continuing to look like a natural at that position, while Kemar Lawrence provided his steady defensive presence and more attacking bite than usual at left back.
"The defense did well," said Miazga. "Luis didn't have much saves this series, but Luis is always there. We can always rely on him and trust him in the back, but overall the whole team performance defensively was good. Everyone knows we can defend well as a team and now we look forward to two weeks."
A stiffer test awaits in the Eastern Conference finals, where the Red Bulls will meet the Columbus Crew. The Crew have a much more potent attack than D.C. United and had much success this year through Kei Kamara and Ethan Finlay. In fact, the duo was key to the Crew's semifinals second leg victory over the Montreal Impact on Sunday.
The Red Bulls' back line will have its hands full in that upcoming series vs. the Crew, but it showed against D.C. United that it can deliver even when things get tough.
"Yeah, I would think things are going to be tight," said Marsch. "It might not be as physical because D.C. plays a very physical style, but there will probably be more football. I think that the way that they play and spread the field, and the way that our style kind of contrasts with their style, kind of sets up for a really good series."