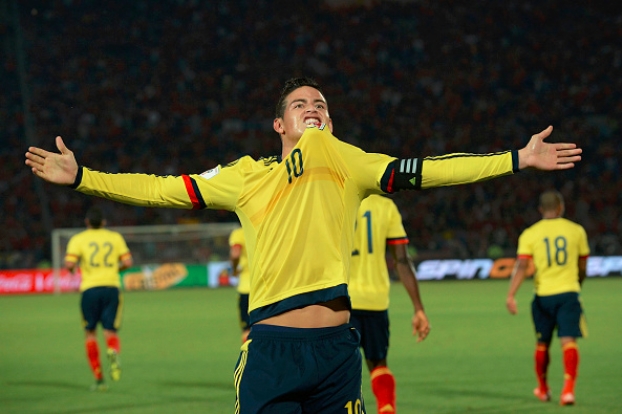 While the U.S. searches for a result against Trinidad and Tobago tonight, a plethora of international action can keep viewers busy ahead of that contest.
On the World Cup qualifying front, Colombia and Argentina provide an appealing matchup in the afternoon along with Honduras-Mexico. Uruguay-Chile and Brazil-Peru, meanwhile, will add a bit more CONMEBOL flavor later in the evening.
Elsewhere, the Euro 2016 field will be set when the final two participants are determined following the second leg matchups between Slovenia-Ukraine and Denmark-Sweden. Ukraine and Sweden are holding 2-0 and 2-1 aggregate leads, respectively, heading into today's contests on the road.
Not to be lost in the shuffle will be a couple of international friendlies that include Germany hosting the Netherlands and England welcoming an emotional French squad at Wembley.
Here is a rundown of all the action today:
FIFA WORLD CUP QUALIFYING
2:30 p.m. — beIN Sports Connect/NBC Deportes en Vivo Extra — St. Vincent and the Grenadines vs. Guatemala
3:30 p.m. — beIN Sports en Español/beIN Sports Connect — Colombia vs. Argentina
4 p.m. — beIN Sports USA/beIN Sports Connect/Telemundo/NBC Universo/NBC Deportes en Vivo Extras — Honduras vs. Mexico
4 p.m. — beIN Sports Connect — Venezuela vs. Ecuador
6 p.m. — beIN Sports en Español — Uruguay vs. Chile
6 p.m. — beIN Sports Connect — Haiti vs. Jamaica
6 p.m. — beIN Sports Connect — Paraguay vs. Bolivia
6:30 p.m. — beIN Sports USA/beIN Sports Connect/NBC Universo/NBC Deportes en Vivo Extra — Trinidad and Tobago vs. United States
7 p.m. — beIN Sports en Español/beIN Sports Connect — Brazil vs. Peru
8:30 p.m. — beIN Sports USA/beIN Sports Connect/NBC Universo/NBC Deportes en Vivo Extra — El Salvador vs. Canada
8:30 p.m. — beIN Sports Connect/NBC Deportes en Vivo Extra — Panama vs. Costa Rica
UEFA EURO QUALIFYING
2:45 p.m. — Fox Sports 2/Fox Sports Go/Fox Soccer 2Go — Slovenia vs. Ukraine
2:45 p.m. — ESPN2/ESPN Deportes/WatchESPN — Denmark vs. Sweden
INTERNATIONAL FRIENDLY
11 a.m. — ESPN3/ESPN Deportes +/WatchESPN — Russia vs. Croatia
2:45 p.m. — ESPN3/ESPN Deportes +/WatchESPN — Germany vs. Netherlands
2:45 p.m. — ESPN3/ESPN Deportes +/WatchESPN — Slovakia vs. Iceland
2:45 p.m. — beIN Sports Connect — Poland vs. Czech Republic
2:45 p.m. — ESPN3/ESPN Deportes +/WatchESPN — Italy vs. Romania
2:45 p.m. — ESPN3/WatchESPN — Austria vs. Switzerland
3 p.m. — Fox Sports 1/Fox Sports Go/Fox Deportes/Fox Soccer 2Go — England vs. France
UEFA EURO U-21 QUALIFYING
12:30 p.m. — ESPN Deportes/ESPN3/WatchESPN — Italy vs. Lithuania