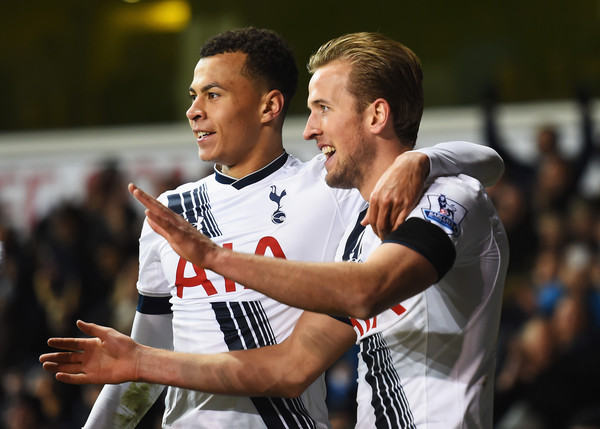 Tottenham and West Ham started the day fifth and sixth on the English Premier League table, but Sunday's London derby was completely one-sided.
Harry Kane and co. controlled the action from the opening whistle at White Hart Lane. West Ham scored once on the day, but the Hammers' lone goal from Manuel Lanzini came after Tottenham put four into the back of the net to secure a 4-1 result.
Kane, Tottenham's regular creator and producer this year, tallied twice — the game's first and third goals. Meanwhile, Toby Alderweireld and Kyle Walker each added another to give their side a three-point gap on the table.
Here are some more of Sunday's news and notes:
RONALDO: IT'S EITHER ME OR BENITEZ
Cristiano Ronaldo is not a happy man following Real Madrid's disappointing 4-0 loss to Barcelona on Saturday, and he has apparently issued an ultimatum.
According to La Gazette Dello Sport's original report, Ronaldo told club president Florentino Perez that he is ready to pack his bags and leave the Spanish club if current head coach Rafa Benitez does not leave first.
"It's either Benitez, or me," Ronaldo is reported as saying.
Following the team's 2-1 win against Watford, Manchester United head coach Louis Van Gaal intriguingly said that he is hoping to add the 30-year-old star to his side.
"We are looking at all players, not just Ronaldo. But these players are mostly ungettable," Van Gaal said. "With Ronaldo, let's wait and hope."
These developments come on the heels of a report last week that stated either Ronaldo or Gareth Bale will likely be sold next summer.
ARSENAL'S COQUELIN COULD MISS THREE MONTHS
Arsenal just lost to West Bromwich Albion, but that apparently is not the worst news for the Gunners this weekend.
According to reports, the London club is expecting midfielder Francis Coquelin to be sidelined for the remainder of 2015 after suffering a knee injury during Saturday's 2-1 loss.

Scans showed substantial ligament damage to the 24-year-old's knee, but Arsenal's medical staff will not issue an exact date of expected recovery until swelling has subsided.
Here are more results from the top leagues in Europe:
GERMAN BUNDESLIGA
Hertha Berlin 1, TSG Hoffenheim 0.
FC Ingolstadt 3, SV Darmstadt 1.
SPANISH LIGA BBVA
Sporting Gijon 0, Levante 3.
Villarreal 1, Eibar 1.
Granada 2, Athletic Bilbao 0.
Real Betis 0, Atletico Madrid 1.
ITALIAN SERIE A
Hellas Verona 0, Napoli 2.
Fiorentina 2, Empoli 2.
Udinese 1, Sampdoria 0.
Atlanta 0, Torino 1.
Genoa 2, Sassuolo 1.
Inter Milan 4, Frosinone 0.
Carpi 1, Chievo Verona 2.
Lazio 1, Palmero 1.
FRENCH LIGUE 1
Bastia 1, GFC Ajaccio 2.
Caen 0, Angers 0.
St Etienne 0, Marseille 2.
Stade Rennes 2, Bordeaux 2.
—
Expect Tottenham to keep hold of fifth in the EPL? Who will depart Real Madrid first?
Share your thoughts below.