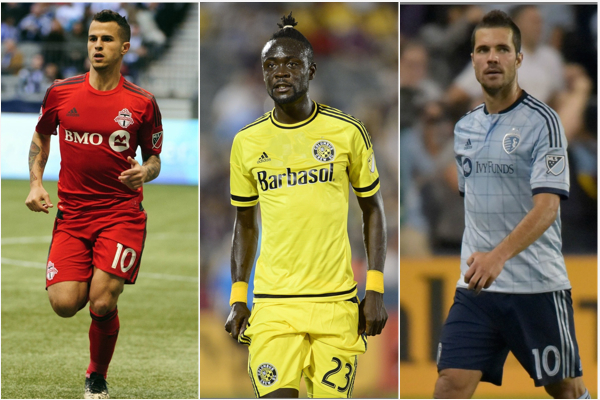 If you are wondering just how representative the MLS conference finals are of the best talent in MLS, consider the fact that seven players taking part in this weekend's playoff proceedings made the 2015 SBI MLS Best XI.
No, playoff performances didn't factor into the selections of the 11 best players in MLS this season, but it shouldn't be a surprise that so many players who were among the league's best during the regular season are now helping their teams make runs at the MLS Cup title.
The league's best player in 2015, Sebastian Giovinco, isn't still going in the postseason, but any Best XI you build has to start with the Italian sensation, who led the league in goals and assists.
The Columbus Crew led the way with three selections, including MLS goals co-leader Kei Kamara.
Here is the 2015 SBI MLS Best XI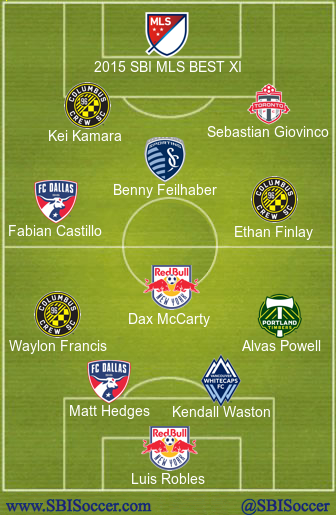 Some thoughts on the SBI MLS Best XI
Matt Hedges was the only member of the 2014 SBI MLS Best XI to be a repeat selection.
There were a total of five unanimous selections: Giovinco, Feilhaber, Finlay, McCarty and Waston.
Unlike last year, we stuck with natural positions in our selections. We felt this was the most fair way to honor the league's best players at all positions. Obviously not all teams play the same formations, but the Best XI we settled on was a fair representation of the league's best at every position.
There were some very close calls, particularly at goalkeeper, where Robles narrowly edged out David Ousted, and centerback, where Hedges edged out Laurent Ciman.
Here is the SBI MLS Best XI 2nd Team:
SECOND  TEAM
——-David Villa———Robbie Keane—-
—————–Sacha Kljestan—————-
Mike Grella—————Darlington Nagbe
——————Matias Laba—————–
Chris Tierney——————Tyrone Mears
——Chad Marshall—-Laurent Ciman—–
—————–David Ousted—————–
———
What do you think of our selections? Who do you feel was the biggest stub from first team? Who are you happiest to see be given recognition?
Share your thoughts below.