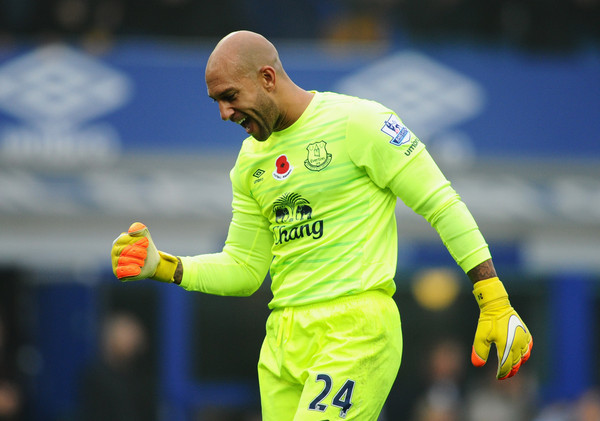 Tim Howard has come a long way since the first time he put on an Everton jersey in 2006. Now, nearly 10 years later, the U.S. Men's National Team goalkeeper has reached a milestone that only 16 players in history had achieved before him.
The 36-year-old goalkeeper made his 400th appearance for the club in Saturday's 6-2 Premier League victory against Sunderland, becoming just the fourth goalkeeper in Everton history to reach the 400 appearance mark.
"It's amazing," Howard said in a video released by the club. "I remember my first game for Everton and the fact that I've pulled that shirt on 400 times, it's hard to wrap my head around. It's am impressive target and something that means a lot to me because I've enjoyed every minute of being an Evertonian and being here and being a part of this famous club. It's special to me."
Howard's journey with Everton began in 2006 upon a loan move from Manchester United. From the very start, Howard said he was determined to impress those around him, especially teammates like Leon Osman and Tony Hibbert.
Success soon followed, as Howard led the way as Everton topped Liverpool, 3-0, in the goalkeeper's first Merseyside derby. Most memorable, Howard says, was the team's 2009 FA Cup final run, even if the Toffees fell just short of lifting the illustrious trophy.
Now, alongside fellow veterans like Leighton Baines and Phil Jagielka, Howard is regarded as an elder statesman, one respected mightily with the club.
"David Moyes brought me here and promised me a lot of things, all of which came true," Howard said of his time with the club. "He said this would be just a great club. The fanbase, when we travel away from home, is second to none, and they are. It's just a really family-oriented, hard-working atmosphere here, one that I could really come to grips with and enjoy.
"Roberto Martinez came after such a long period with David Moyes and it was a lot of what ifs, but he put that to bed immediately and stamped his authority and his owrk on the club. It's been a breath of fresh air to work for ROberto, someone who I have the utmost respect for and love and enjoy the way he manages the team and the players. It's been a fantastic transition and this is now his club."
With 400 appearances now behind him, Howard remains focused on the immediate future, namely this weekend's clash with West Ham.
Still eying future seasons with both Everton and the USMNT, Howard just wants to continue playing at a high level while doing the same things he has done since the first time he put on an Everton jersey.
"It's fun to talk about landmarks when you pass them," Howard said, "but I've never really spoken ever about them when they're on the horizon. They come with hard work and dedication to your craft.
"You have to go out there every day and try to make your mark. In the course of days and weeks and months and years, you pick your head up and see where you are, but it's hard to put your finger on it."