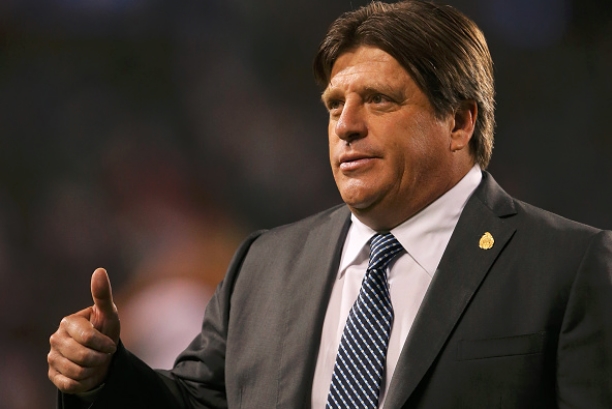 Months after leading Mexico to a Gold Cup final victory, Miguel Herrera has finally found a new team to lead.
Herrera, 47, signed a two-year contract with Liga MX side Club Tijuana and will take charge of the Xolos ahead of the 2016 Clausura tournament.
"First of all, I want to thank the team President Jorgealberto Hank Inzuza for offering me the job," Herrera told the club's website. "I am very happy. This is a great administration that is always thinking about having a winning project, a successful project that connects with the people. There are important people within the organization that in a short time has grown a lot. I am committed to together working to bring plenty of success."
Just two days after leading the Mexican national team to a 2015 Gold Cup title during the summer, Herrera was relieved of his duties as head coach of El Tri. Following his departure from Mexico, Herrera was reportedly linked with a move to the Chicago Fire in MLS, but he ultimately decided to make a return to the league he is most familiar with — Liga MX.
Herrera has coached multiple teams in Mexico, but his best moments came at the helm of Club America, where he won the 2013 Clausura title and also claimed the runner-up finish in the following tournament.
Here are some more news and notes:
GERMAN POLICE RAID COUNTRY'S FOOTBALL HEADQUARTERS
The search for hard evidence against the German Football Federation (DFB) escalated on Tuesday.
Prosecutors, who began to explore possible fraud, breach of trust and corruption offenses in October, said German police raided DFB's headquarters in Frankfurt on Tuesday. With suspicion of tax evasion, police searched the homes of officials linked to the German bidding committee, which helped bring the 2006 World Cup to the country.
"Prosecutors in Frankfurt have opened investigations on suspicion of serious tax evasion linked to the awarding of the football championship in 2006 and the transfer of 6.7 million euros of the organising committee for the German Football Association (DFB) to the FIFA football association," the prosecutor said in a statement.
According to a report in mid-October, the 2006 World Cup was played in Germany because of bribes, with a "slush fund" reportedly created by the bidding committee.
FABREGAS DENIES CLAIMS THAT HE'S UNHAPPY WITH MOURINHO
In spite of being left out the game-day lineup against Liverpool on Saturday, Cesc Fabregas says there is no rift between he and head coach Jose Mourinho.
After Chelsea's loss to the Reds over the weekend, John Mikel Obi said the team was in full support of their manager, and Fabregas confirmed that notion on Tuesday.
"I would like to clarify that contrary to a few reports from some websites, I am extremely happy at Chelsea and have an excellent relationship with the manager," he said in a statement.
"There may be certain individuals from the outside trying to destabilise this club but I strongly believe that we will bounce back and come good again."
Chelsea has suffered six losses this English Premier League season, but for the moment, Mourinho and the team are focused on a UEFA Champions League match against Dynamo Kiev at Stamford Bridge on Wednesday. A loss to the Ukranian side would put the Blues on the verge of bowing out of the tournament.
QUICK KICKS:
UBS, a Swiss financial services company, has been approached by law enforcement regarding accounts related to FIFA. (REPORT)
Manchester City head coach Manuel Pellegrini says supporters have the right to boo the UEFA Champions League anthem. (REPORT)
Chelsea head coach Jose Mourinho expects to finish out his current contract with the club. (REPORT)