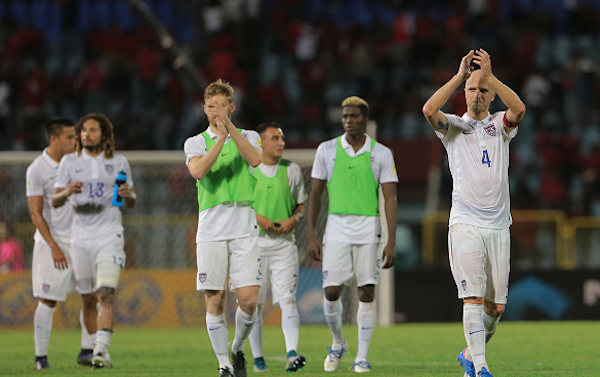 It may not have been ideal and it certainly wasn't pretty, but the U.S. Men's National Team is more than happy with the result of Tuesday's clash with Trinidad & Tobago.
Tasked with traveling to face the tough Soca Warriors, the USMNT emerged from Hasely Crawford Stadium with a point in hand following a scoreless draw. The point keeps the U.S. atop its World Cup Qualifying group, where it will sit until play resumes in March.
"As we expected, it was a tricky game," said head coach Jurgen Klinsmann. "I think T&T started well in the first 20-25 minutes. I think after 20-25 minutes, we took over and chances were on both sides. I think we had the clearer ones. Wished we could have put one of those in, but overall a tie is alright. It keeps us in first place in the group and I give a compliment to the guys.
"It was what we expected: a very tough Trinidad team to play against. This is what you get here when you come down and, at the end of the day, if you take one point away, that's alright."
Facing a dangerous T&T attack spearheaded by Kenwyne Jones, the U.S. remained defensively stout throughout the match after emerging from a 20-minute rough spell at the start. With Matt Besler and Geoff Cameron paired at centerback, Jones' impact was limited. U.S. midfielder Jermaine Jones also helped out, cleaning up any messes coming from second balls.
"He's strong, he's powerful, but I thought we did well tonight," Cameron said of the Soca Warriors forward. "We battled and I thought defensively we were good. Our shape was good. I think they had only one really solid chance, but other than that, I thought we were solid. We defended well and kept it organized. It's a good point on the road."
Added goalkeeper Tim Howard: "I think they have a strength and I think they play to that strength. They've got some talented guys on the ball for the most part. If you keep them in front of you, it's no problem. Their biggest threat is Kenwyne and the knockdowns. I think they've gotten better for sure."
Out wide in defense, both Tim Ream and Michael Orozco contributed as well, but the former was forced to leave early with a head injury.
While the defense performed admirably, the attack sputtered on the heels of a commanding 6-1 win over St. Vincent & the Grenadines.
In the midfield, the partnership of Michael Bradley and Jones continued to look a bit awkward, while DeAndre Yedlin and Fabian Johnson didn't quite get involved as much as they did last time out.
With Jozy Altidore holding up play from the forward position, Gyasi Zardes was presented with the best chances of the night. Zardes whiffed on a good look in the first half, and a second-half header caromed off the crossbar in what was the Americans' brightest look at a winner.
"I think Gyasi, as long as he gets on the end of those balls, that means he has the smell for it, and makes the right runs and knows how to move," Klinsmann said. "Then, he gets the opportunity to score, so next time he will score those ones. They didn't go in today."
Added Cameron: "We got unlucky. We didn't take our chances. We had two opportunites, two clear opportunities, two crossbars or whatever, and we could have done better in the final third, but that will come. It's still a great point on the road. This is qualifying. This is what happens. They always make it difficult when we're playing away, and they did. They had a great crowd tonight. For me, it was a great performance."
Now with four points through two games, the U.S. can all but lock up a spot in the final round of qualifying when March's games roll around. Facing off with Guatemala in back-to-back matches, the Americans have put themselves in a position to survive and advance.
That's all Klinsmann could ask for. Despite all of its recent struggles, the U.S. remains favorites to qualify should business be taken care of in four months' time.
"We want to go into Guatemala in March and get three points and beat them at home and make it clear that we finish the group as the No. 1 team," Klinsmann said. "I think this is our understanding. We know that it's not easy in no place going away here in CONCACAF, but our goal is to take a huge step there in March with six points and then go through this group.
"It's important that you don't give anybody an advantage here by tying this game, even if you wanted to win it. Getting a tie here means you can leave it behind you and I think this is very important."