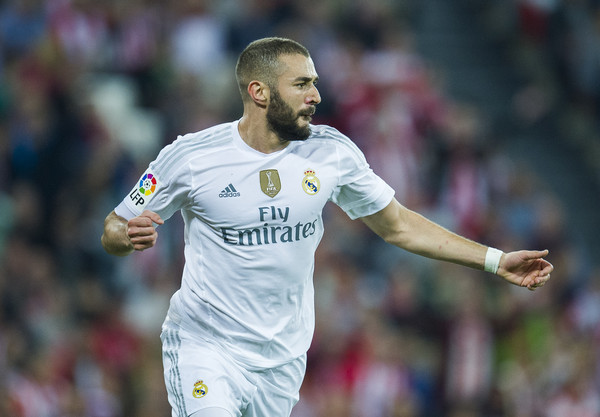 Karim Benzema finds himself in some major trouble over an alleged blackmail incident.
The Real Madrid and France striker was arrested on Wednesday as part of an investigation into a blackmail case regarding a sex tape involving fellow French star Mathieu Valbuena. Former Liverpool forward Djibril Cisse was questioned last month with regards to the case, which regards an attempt to extort roughly $163,000 from Valbuena. Three others were charged in the case in mid-October.
"He wants to put an end as soon as possible to this controversy that rose from a case he did not take part in," Benzema's lawyer, Sylvain Cormier, said in a statement.
Benzema, who was put into custody after being summoned to a Versailles police station, was previously involved in a sex scandal alongside fellow French star Franck Ribery after the two were charged with soliciting an underage prostitute. The duo were acquitted after a three-year investigation.
Here are some more news and notes to kick off your Wednesday morning:
PSG OWNER DENIES RONALDO TALKS
Paris Saint-Germain owner Nasser Al-Khelaifi does not deny his interest in acquiring Cristiano Ronaldo, but he does deny that any approach has been made in that effort.
Following PSG's 1-0 defeat to Real Madrid on Tuesday, Al-Khelaifi stated that he "respects" Ronaldo's deal with the Spanish club and denied that any type of contact has been made between the two parties.
"Ronaldo has a contract with Real Madrid and we respect that," Al-Khelaifi told beIN Sports. "If there were negotiations they would be in secret. But right now we don't have any negotiations with Ronaldo at all."
PLATINI INTEGRITY CHECK PUT ON HOLD
FIFA is set to carry out integrity checks on six of the seven presidential candidates in the near future. The one missing? Michel Platini.
Platini's integrity check has been put on hold until after the disciplinary process regarding an alleged $2 million payment is concluded. Platini is currently serving a provisional 90-day suspension. The $2 million payment was made to Platini by FIFA in 2011, but the French official insists that it was money paid for work carried out for now-outgoing FIFA president Sepp Blatter.
An announcement regarding the integrity checks of the other six candid dates will be released by the end of the week.
QUICK KICKS
Gareth Bale will miss Wales' clash with the Netherlands but is hopeful to return for the Nov. 21 Classico against Barcelona. (REPORT)
Leeds United supporters say that owner Massimo Cellino has gone back on a promise to sell the club to the fans. (REPORT)
Former German FA president Theo Zwanziger welcomes the investigation against him regarding tax evasion. (REPORT)
Real Madrid fullback Marcelo is a doubt for the upcoming Classico. (REPORT)
—
What do you think of Benzema's arrest? Expect Ronaldo to ever leave Real Madrid? How do you see Platini faring in the FIFA election should he make it to that point?
Share your thoughts below.