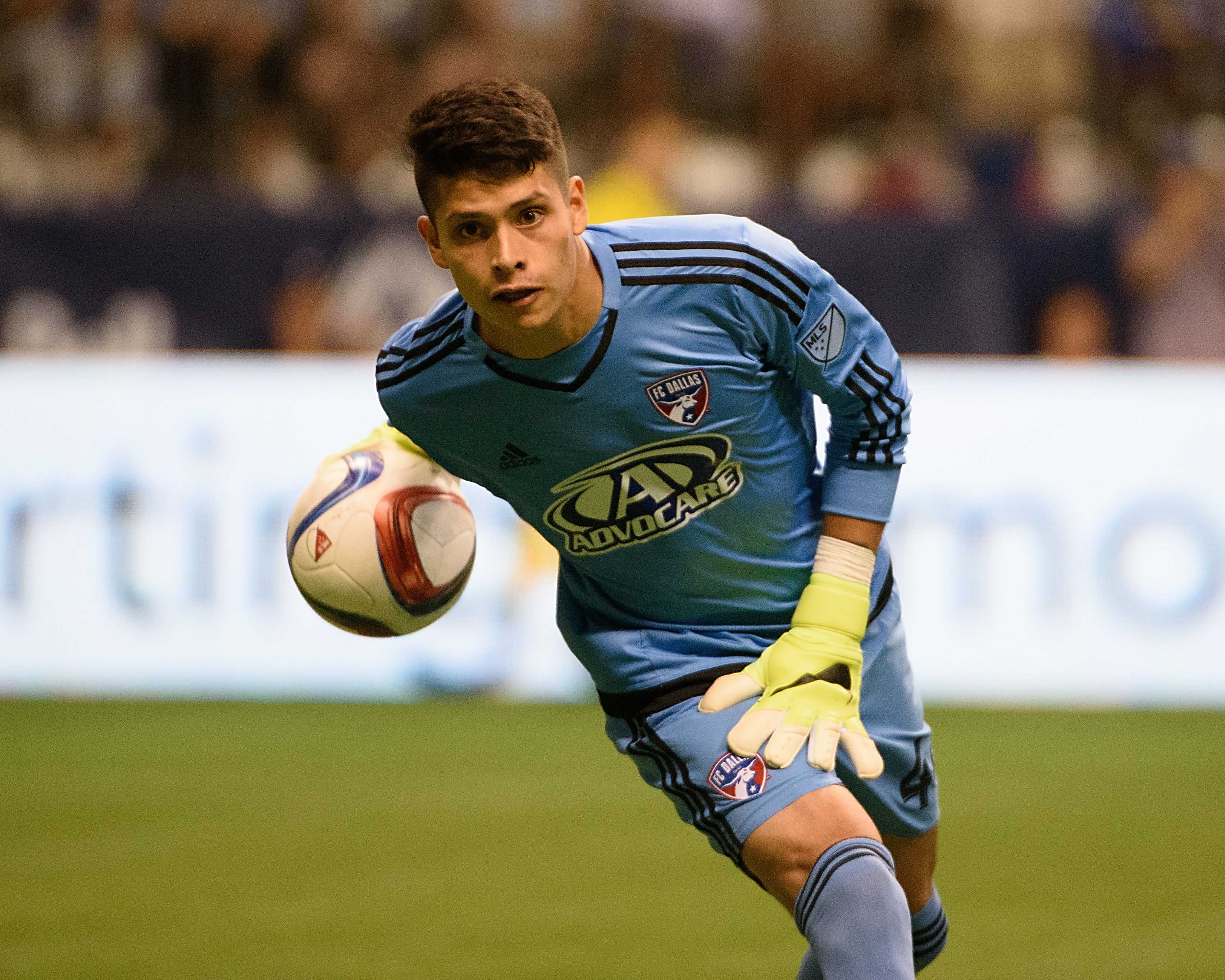 Beaten to the near post on a free kick, committing a foul for a penalty kick, and having been scored on three times, Jesse Gonzalez could have wilted after FC Dallas' 3-1 loss vs. Sporting Kansas City on Sept. 18. It was the type of game that could demoralize a goalkeeper, especially one as young and inexperienced as Gonzalez.
Gonzalez did not let that get to him, however. In fact, that was the game that assured him that he could be a starting goalkeeper in MLS.
The MLS Playoffs are set to resume this weekend with the start of the conference championships, and the player that might have been the most unlikely hero in the last round is FC Dallas' Gonzalez. Just 20-years old, Gonzalez helped FC Dallas keep its postseason dreams alive by coming up with a pair of big saves in a penalty kick shoot-out against the veteran-heavy Seattle Sounders. He could have crumbled under the intense pressure of the moment, but stood tall with the poise of a seasoned pro.
Gonzalez never even had any nerves during the penalty kicks, which FC Dallas won, 4-2, after the youngster stopped Andreas Ivanschitz and Chad Barrett. Gonzalez was confident all along that his club would prevail, and he played a big part in making that happen.
"It was a very proud moment," Gonzalez told SBI. "It was something special to be able to help the team to reach this next phase in the playoffs. It went by so quickly but was full of emotions. I waited as much as I could on their run-ups and I looked at the way they were moving and I guessed."
Few could have guessed months ago that Gonzalez would be the standing in between the pipes for FC Dallas as it makes a deep run at MLS Cup. Yet there he is with his impressive 6-foot-4 frame, coming up with timely saves and avoiding the type of blunders that are a natural part of a young player's career.
Gonzalez has had his share of hiccups along the way, but has taken the good and the bad, learning from it all. That's exactly what he did following that regular season road defeat to Sporting KC back in September.
"That game against Kansas City, aside from the fact that I made a mistake, was when I knew I could be in goal and succeed at this level," said Gonzalez. "I made several saves in the game that were important, and that game helped me fix my mistakes and build on my successes."
While that game was just the Homegrown Players' fifth start of the season and in MLS, he had already realized that it was vital to put any individual gaffes in the rearview mirror quickly. It was just days after he found out he would be starting for the injured Dan Kennedy back in late August that Gonzalez was partially at fault for the goal that gave the Vancouver Whitecaps a 1-0 win over FC Dallas.
On the play, Kekuta Manneh made a diagonal dribbling run before hitting a low shot towards the six-yard box. Gonzalez was unable to get to it despite being in position, and Cristian Techera pounced on the ball for the easy finish.
Gonzalez was admittedly sad after the match because it wasn't the dream debut he had envisioned, but his teammates and coaches pushed him on. That support and encouragement paved the way for him to post back-to-back shutouts in the next two matches, which raised his confidence and helped him maintain a good level for the remainder of the season.
"The biggest thing that I've seen from him is just his maturity off the field and in the locker room," said FC Dallas midfielder Victor Ulloa. "Just how much he's grown in that part, I think it's helped him on the field. On-the-field-wise, his communication has just gotten so much better and he's so confident in there. That's the most important thing for a player: to have the confidence from the coach. That's helped him a lot."
FC Dallas head coach Oscar Pareja, perhaps the leader in MLS in the trusting-young-players department, has maintained confidence in Gonzalez even when there have been growing pains. Pareja knows that Gonzalez – a Mexican youth international who grew up idolizing U.S. Men's National Team villain Osvaldo Sanchez – has immense potential and needs to go through rough moments in order to develop into a top player.
Pareja's faith has been rewarded, as Gonzalez's play has been clean more often than not lately.
"Jesse has shown on the year that he is growing and growing," said Pareja. "We can see that during the week. For me, training is very important and how they behave because that's huge. What I analyze a lot is how they behave in training. Now, in the games, we as coaches have to be prepared and there are (moments) that aren't going to be good. We have to be prepared to keep giving them confidence. The personality that Jesse has shown is what kept him with the opportunity."
For Gonzalez, this opportunity means everything to him. He grew up watching the club back when it played at the Cotton Bowl as the Dallas Burn, and hoped that one day he could be standing in goal for the first team, stopping shots and helping win games.
He is doing that now, and can move FC Dallas one step closer to winning its first MLS Cup if it can knock off the Portland Timbers in the Western Conference Finals. Gonzalez knows there is a real chance to add to what has been a special year for him, and wants to capitalize on it just as he did with his opportunity in goal.
"It's something that I've dream about and still dream about to this day," said Gonzalez. "It would be big for me, but also for the club, the teammates. Getting to a final would be enormous."