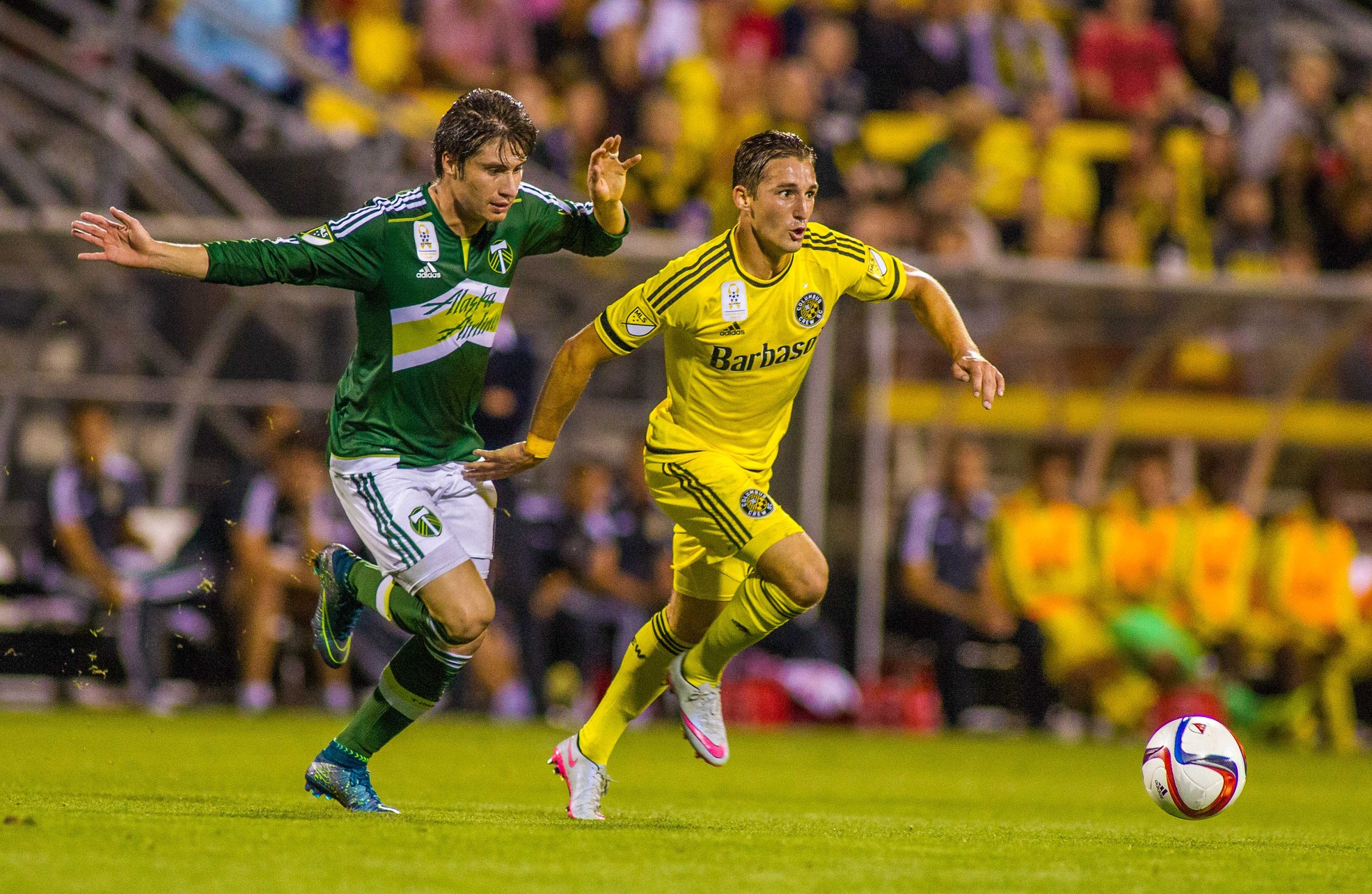 Throughout the buildup to Sunday's MLS Cup finale, much of the focus has been on bruising forwards Kei Kamara and Fanendo Adi, but it may just be the battle taking place on either side of them that makes all the difference.
Heading into the league final, both the Portland Timbers and Columbus Crew have relied very much on wide play, as both sides boast dynamic sets of wide midfielders to go with fullback pairings that are arguably the two most sturdy in the league.
While Kamara and Adi may very well be the difference makers in Sunday's all-important clash, the men charged with providing both service and cover down the outside will likely be the ones regarded as those that changed the game.
"I think the flanks are key with Columbus. It's no mystery," said Timbers head coach Caleb Porter. "They look to get crosses in to Kei Kamara and he's arguably the best box striker in the league. They've built their style of play and their attack to get balls into him. We need to do a good job defending the flanks and they will get crosses in even if we do defend well on the flanks."
"The wide game is going to be key," added Crew winger Justin Meram. "They've got two athletic guys that can whip in a pretty nice ball. We've just got to tire them on the defensive side and make them go forward as little as possible."
Throughout the 2015 season, Crew winger Ethan Finlay has established himself as a force down the right side of the field while earning a Best XI selection in what proved to be his breakout campaign. Frequently beating his defender with a combination of speed, dribbling and intelligent runs, Finlay has displayed the ability to either cut in and shoot, as evidenced by his 12 goals on the season, or play the ball in to Kamara via the cross.
On Sunday, Finlay will go up against Jorge Villafana, a player that was originally a winger himself before making the conversion to fullback under Porter. Yet, after taking time to adjust to his role within the Timbers' system, Villafana has flourished in 2015 while shutting down some of the league's top wide players throughout the team's run through the postseason.
"Maybe the most underrated player in the league, honestly," Porter said of Villafana. "It seems like every team we play against likes the matchup and wants to attack him, but if you look at the players that he's dealt with, look at last series with (Michel) Barrios, who was hot but had very little impact. Prior to that, (Cristian) Techera, same thing, and the list goes on and on. Prior to that it was Graham Zusi and Kansas City. Prior to that it was (Gyasi) Zardes with the LA Galaxy.
"He's faced some of the best wingers in the league, guys that are, on paper, more athletic, they think, but he's one of those guys that is a lot more athletic then you think and he's been an unbelievable one-on-one defender. That's the part of the game that has evolved."
While Finlay and Villafana do battle on their half of the field, Meram will take on Alvas Powell down the Crew's left side.
A star for the Iraqi national team, Meram has developed consistency throughout the last two seasons, contributing a total of 14 goals after scoring just five in the three years prior. Meram's contributions proved vital for the Crew in slipping past the New York Red Bulls, as the 27-year-old winger made a major statement by scoring just nine seconds into the Eastern Conference final clash.
In Powell, Meram will now encounter a strong, disciplined and capable defender that can and will cause some problems while getting up the field. Yet, Powell's best attribute, at least on Sunday, may be his confidence, a factor that was built up in the previous round after a successful clash with FC Dallas star Fabian Castillo.
"I'm here to defend. My job is to stop those wingers," Powell told SBI. "It's nothing different in this game. (Fabian Castillo) is one of the dangerous wingers in this league and I had a good game against him. Going into this Columbus game, I'm just going to do what I've been doing all season.
"We've been doing it all season: defending the other team and managing to shut down players. One of the big things for me is to try and keep that clean sheet, and we're pretty ready for this game and we hope the result goes our way. We're pretty excited for this game and we're ready."
With battle lines drawn, Finlay, Meram, Villafana and Powell enter Sunday with high expectations, as all four know that the Crew's ability to dictate the game out wide will be a major factor in who lifts the MLS Cup trophy.
"Going forward, I think, on both sides, Villafana and what he's done this year has been fantastic for their team," Finlay said. "Powell is an athletic guy who can get up and down. On the defensive side of it, they're very responsible. They do a very good job and it's a tough role to play. Our guys will tell you on our team that it's not an easy thing to do: to go up and down and still be accountable defensively. It's going to be a battle to watch."
"We're mentally ready for this game," Powell told SBI. "We've been preparing for this moment all season. We're pretty ready for this game and pretty focused."