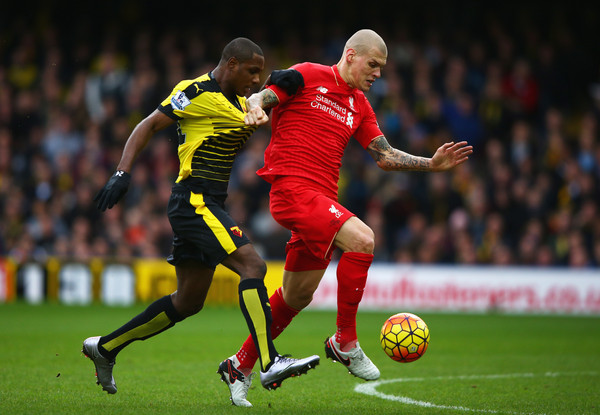 Goal-line technology's introduction into the game of soccer has paved the way for other technological advances to be implemented, and it appears as though more changes are on their way.
According to the Associated Press, FIFA is preparing to test video replays for the first time and will also discuss various rule changes in January.
In addition to replay, the International Football Association Board (IFAB) will also discuss the possibility of allowing teams to use sin-bins, temporary substitutions for injuries that require "momentary treatment." Along those same lines, IFAB will talk about the prospects of allowing teams to have a fourth substitution in the event that a match goes beyond regulation.
While these discussions will take place in January, there is a possibility that they will lead to a vote in March at the annual IFAB meeting.
Here are some more news and notes:
SKRTEL SET TO MISS SIX WEEKS WITH HAMSTRING INJURY
Liverpool defender Martin Skrtel will miss six weeks after sustaining a tear in his hamstring and tendon.
Speculations originally pinned the 31-year old out of action for three months, but the Slovakian centerback spoke out on Tuesday clarifying his injury status.
"After all (the) rumors going around, I want to say the time I will spend on (the) sideline won't be three months," he wrote.
"After I suffered (a) tear in my hamstring and tendon I will be out for six weeks. I will work hard on my recovery and will do everything to come back as soon as possible and even stronger than before. Thanks for your support."
Given the projected timetable, Skrtel could potentially miss two matches against English Premier League leaders Leicester City, including Saturday's Boxing Day clash with the Foxes.
AYOZE PEREZ CLAIMS INTEREST FROM MANCHESTER UNITED
Spanish youngster Ayoze Perez has been one of the few bright spots this season for Newcastle United, which currently sits 17th in the English Premier League and is in the heat of the competition's relegation battle.
The 22-year old forward confirmed with Radio Club Tenerife that there has been interest from the Red Devils along with fellow English Premier League side Tottenham while also proclaiming his devotion to Newcastle.
"There is truth in the talk about interest in me. It's rewarding for me. There is much truth in the interest from Tottenham and Man United, but my place is at Newcastle," Perez claimed.
Perez has tallied four goals in 14 Premier League matches this season for the Magpies.
QUICK KICKS
Liverpool target Marko Grujic will wear Steven Gerrard's legendary number 8 kit. (REPORT)
Chelsea and Vitesse have been cleared of any wrongdoing by the Dutch football association. (REPORT)
Wolverhampton Wanderers has acquired Poland international Michael Zyro. (REPORT)
Former Ajax and Juventus star Edgar Davids praises Neymar's work ethic in pursuit of standard set forth by Lionel Messi and Cristiano Ronaldo. (REPORT)