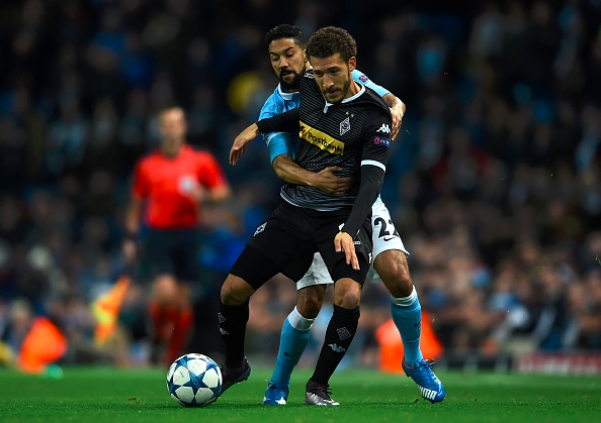 For a while now, it seems as though at least one Borrussia Monchengladbach goal per game is created or scored by U.S. international Fabian Johnson.
That statement remained true in Tuesday's UEFA Champions League battle against Manchester City.
The U.S. Men's National Team fullback and winger started and had another superb showing during the 72 minutes he was on the field at City of Manchester Stadium. While he was only credited with one assist during his side's 4-2 loss to Manchester City on the evening, Johnson played a key part in both Borussia M'Gladbach goals.
After going down a goal, the 27-year-old combined with Lars Stindl in the center of the field before storming down the left wing in the 19th minute, rushing past two Man City players before sending a low cross back in the direction of Stindl. The forward's heel deflected the ball right into the path of Julian Korb at the back post, who blasted it in for the visitor's first goal.
The German club took the lead just before halftime, and once again, Johnson played a key part in the play. Again, Johnson, who also completed 24 of 28 passes during the game, began the attack from the midfield before running into the box. The ball deflected to the left wing where Oscar Wendt sent a quick cross to the feet of the American, and he opened up his body perfectly, redirecting the ball towards the bottom-right corner with his right foot. However, the ball bounced off onrushing teammate Raffael and into the net.
The assist is Johnson's third across all competitions for the Bundesliga club, while he has also scored six goals.
With the loss, Borussia M'Gladbach ends its 2015-16 UCL campaign at the bottom of Group D behind Man City, Juventus and Sevilla. However, the German club was officially ruled out of the knockout phase of the competition before Tuesday's contest.
Here are the highlights of the UCL game (Johnson's run at :54 and Johnson's assist at 1:12):
[protected-iframe id="0b3832f627f391ac9a48286db6aa2962-93315145-72036208″ info="http://player.foxfdm.com/sports/embed-iframe.html?videourl=http://link.theplatform.com/s/BKQ29B/Xk6NzBFMFce9?mbr=true&assetTypes=Video&feed=Fox%20Sports%20All&iu=/fscom/soccer/video&policy=51457&player=sportscom-1.7.2&format=SMIL&Tracking=true&Embedded=true&formats=MPEG4,FLV" width="640″ height="360″ frameborder="0″ scrolling="no" allowfullscreen=""]