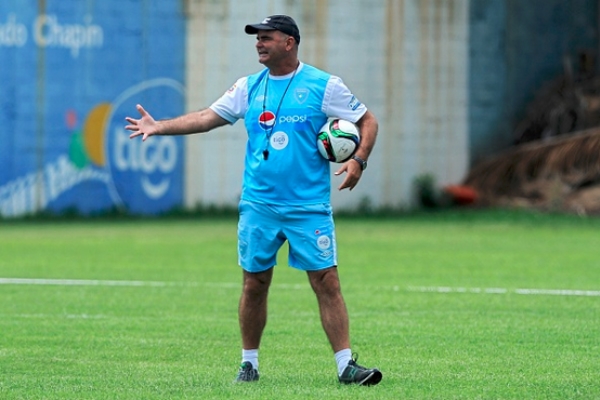 Come March, Guatemala will likely be missing its all-time leading goal-scorer in Carlos Ruiz, and on Thursday, it was revealed that it would also be without its head coach since 2014.
On Thursday, Ivan Franco Sopegno resigned from his position as manager of the national team. He steps down with a 8-10-5 record as the national team head coach.
"In accordance with the recent events our soccer has gone through, we feel that the conditions aren't present for us to be able to develop ourselves in a professional manner like we like and as our national team needs," a news release by the federation said.
Before taking the post in May 2014, he coached Guatemala's largest club team, Comunicacions from 2008-2014.
In CONCACAF World Cup qualifying, Guatemala will host the U.S. Men's National Team on March 25 before playing in Columbus, Ohio, four days later.
Here are some more news and notes:
BAYERN MUNICH STARS EXTEND STAY
A quartet of talented individuals will be with Bayern Munich for years to come.
On Friday, Bayern announced that it had come to terms with German internationals Thomas Müller and Jerome Boateng, as well as Spanish internationals Javi Martinez and Xabi Alonso.
Müller, 26, had recently been linked to a move in the English Premier League ahead of the January transfer window, but he put those rumors to bed with his signature on Friday.
"I have the feeling and am convinced that FC Bayern can play very successful football over the next few years. I'm proud and delighted about extending my contract," Müller said in a release.
Müller, Martinez and Boateng have all extended until 2021, while Alonso, 34, signed a new contract that expires in June 2017.
REPORTS: MARCO FABIAN HEADING TO THE BUNDESLIGA
While Javier 'Chicharito' Hernandez continues to take the German Bundesliga by storm, it appears as though another Mexican international wants to test his skills in the league.
According to multiple outlets, Mexican international Marco Fabian has received an offer from Eintracht Frankfurt. Chivas Guadalajara will reportedly receive $4-4.5 million for the transfer fee.
A source told Record that the deal was 90 percent done.
Fabian, 26, is a product of the C.D. Guadalajara Youth Academy and has been a member of Chivas since 2007, spending only two Liga MX seasons away from the club.
His last appearance for El Tri came in Chile during the Copa America, but he has not scored a goal for the senior team since before the 2014 World Cup.
QUICK KICKS:
Wayne Rooney is likely to return for Manchester United after recovering from an ankle injury. (REPORT)
Spanish national team head coach Vicente del Bosque says he expects to step down from his position after Euro 2016. (REPORT)
Guus Hiddink is in London to discuss taking over the vacant Chelsea head coaching position. (REPORT)
Real Madrid president Florentino Perez says Jose Mourinho is "not coming back" to the club. (REPORT)