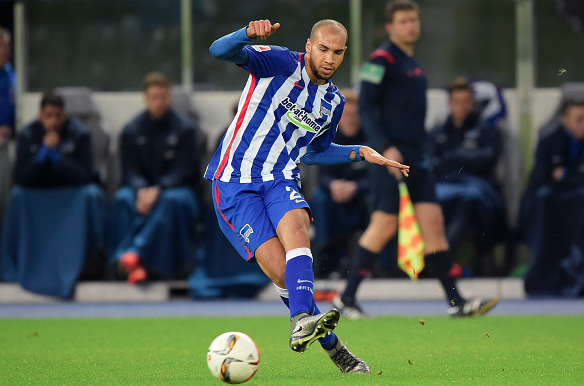 If Jurgen Klinsmann is thankful for something this holiday season, it is the form that both John Brooks and Fabian Johnson are showing with some of the German Bundesliga's top teams.
Brooks and Johnson have both been demonstrating a high level in recent weeks, scoring goals and finding other ways to make impacts for their respective clubs. Brooks' Hertha Berlin and Johnson's Borussia Moenchengladbach are heading into the Bundesliga's winter break in top four spots, with the former club in third place and an automatic UEFA Champions League spot and the latter in fourth and in a qualifier position for next season's prestigious tournament.
Johnson, 28, has been grabbing more headlines because of his goal-scoring performances, but the 22-year-old Brooks has also found the back of the net recently. The centerback scored a winner and ended a personal goal-scoring drought earlier this month, and then struck again in DFB Pokal play. Just as important, he's impressed with his solid defensive work.
"John Brooks over the last few weeks has become really consistent, and this is I think the biggest learning curve for him right now," said Klinsmann, the U.S. Men's National Team head coach. "He's still a very young player, and he not only earned his spot back in the starting line up at Hertha Berlin, but now he's now really performing week in and week out on a very high level. I've been talking to his manager and his club over the last couple of weeks, and they are very impressed about his learning curve, about his focus, and hopefully can keep that up.
"We are very proud that he's doing well in Berlin right now."
Johnson has also made Klinsmann very proud these last couple of months. The Moenchengladbach midfielder has scored five times for his club since November, including twice in Champions League play, and been involved in setting up several others.
Johnson is playing arguably the best soccer of his career right now, and that combined with Brooks' stout outings at the back for Hertha Berlin have Klinsmann nodding in approval as a busy 2016 that includes World Cup qualifiers and the Copa America Centenario approaches.
"This means a lot to us because they get challenged week in and week out with very, very good team, especially for Fabian," said Klinsmann. "Having played in the Champions League was a tremendous experience for him as well, so we are proud that they are doing well, but they have to confirm it week in and week out and hopefully they continue that way."