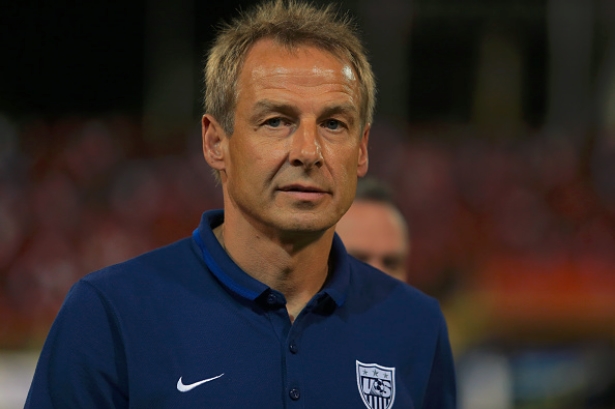 The question of whether or not 2015 was a positive year for U.S. Soccer appears to have been answered by the U.S. Men's National Team head coach.
Jurgen Klinsmann shared his thoughts on how U.S. Soccer fared as a whole this year, and while he says there were some definite "downs" to the year, there were also plenty of "ups." Overall, though, Klinsmann saw 2015 as a "learning curve" for each and every level of the federation.
The U.S. Soccer technical director points to the historic road wins against Netherlands and Germany, as well as beating Peru — which finished third in this year's Copa America — as being positives for the senior team.
He also saw the U.S. Under-20s performance at this year's U-20 World Cup as a major success, but make no mistake: the losses and failures still weigh on his mind.
"Looking at 2015, obviously there have been some ups and downs no doubt about it," Klinsmann said. "We wanted to win the Gold Cup and we didn't end up winning it. We wanted to qualify for the Confederations Cup through the CONCACAF Cup final with Mexico at the Rose Bowl, and we lost that game in the 118th minute, so two disappointments to swallow. They were not easy to swallow and people got very critical, and rightfully so."
Klinsmann said the U.S. U-17s performance at the U-17 World Cup in Chile was "disappointing," but what must not be forgotten is the U.S. Women's National Team, which won the Women's World Cup over Japan in July.
Taking everything into account, though, Klismann saw the year of 2015 as a "learning curve" for not only U.S. Soccer but himself as well.
"For a coach it becomes very challenging to analyze every piece of it, what went right and what went wrong. From that point of view, 2015 was a good learning curve for us," Klinsmann said. "We saw what went the right way and what went the wrong way. What's important in looking at the bigger picture is to see if this team is maturing.
"Is it progressing? Are there enough younger players pushing into that pool that will hopefully also raise the quality of that pool? Are they challenging themselves in their club environments to play in the highest club possible that they can play at? So from the coaching perspective, it's been an interesting year."
An interesting year it was, especially during the summer as the USMNT struggled and failed to reach the CONCACAF Gold Cup final for the first time since 2003. The U.S. eventually finished fourth after Panama won the third-place game in penalties.
That experience, failing at the Gold Cup, is one that will stay with Klinsmann and the players as the team moves into the next year. World Cup qualifying takes center stage, so players, and even coaches, must learn to improve from their mistakes.
"The learning curve for 2015 was that you can never rest, you can never be sure, you can never take things lightly," Klinsmann said. "The fact that we lost the semifinal to Jamaica in the Gold Cup – no matter how you can argue with the referee's decisions – was an experience that the players need to go through. They need to be – and we coaches as well – critical about what we did, what mistakes did we make individually and as a whole team, and what led to the disappointment in not winning it."
"This is a very important learning curve that the players also say 'I have to admit and respect that I made a mistake on a particular goal or this incident on the field' and we coaches say 'maybe there we could have made a different substitution or done something different.' This is important for a team to grow, but most importantly with negative results you learn about a team in terms of the chemistry, in terms of the camaraderie, in terms of who is there when things go wrong."
Next year proves to be another jam-packed one for U.S. Soccer, especially with Copa America Centenario being hosted on U.S. soil. However, Klinsmann hopes that the U.S. U-23s can produce one of the biggest and best results of the year: reaching the 2016 Olympics in Rio de Janeiro, Brazil.
After failing to automatically qualify during the CONCACAF Olympic Qualifying tournament, a home-and-away series in March against Colombia's U-23s is the only thing standing between the Americans and a trip to Brazil.
"Having our U-23's qualify for the Olympics is huge because we want them badly to go to Rio in 2016. It's crucial to them to have that experience and to challenge themselves with the top teams down there and to go through that learning curve," Klinsmann said.
"If they are not making it, it simply will be a bummer because they need that learning curve. If they can make it to the Olympic tournament, it will make them mature faster in the process to become a Senior National Team player. Our support will be 1,000 percent with the Olympic team at the end of March, and I'm sure our fans will back them up."
What do you think of Klinsmann's comments? What are your thoughts on U.S. Soccer's performance in 2015?
Share your thoughts below.