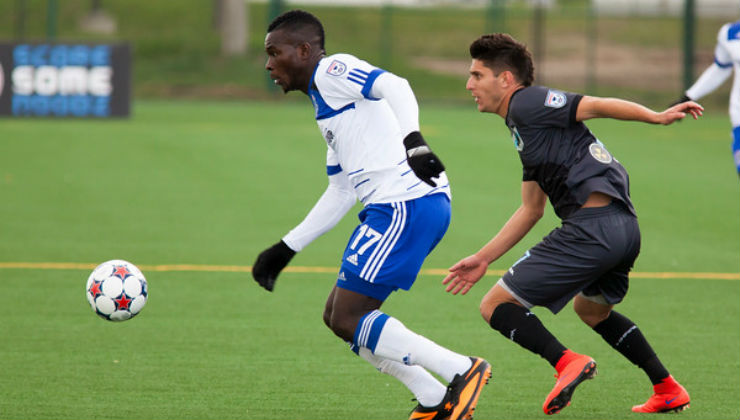 On Oct. 29, 2011, Lance Laing saw his best chance at an NASL title dashed. A member of the Fort Lauderdale Strikers, Laing's pursuit of a league crown fell short, as the Jamaican star watched the then Minnesota Stars celebrate on the field of Lockhart Stadium in what has proven to be his one shot at an NASL final.
Five years later, Laing is a three-time NASL Best XI selection, but a championship is the one box still left unchecked on the 27-year-old's ever-expanding NASL resume. With that in mind, Laing has taken the opportunity to join the club that dashed his dreams all those years ago.
Laing was unveiled by Minnesota United on Tuesday, signaling the club's latest major move in pursuit of an NSAL crown. Alongside reigning league MVP Stefano Pinho, Laing is expected to be a signing to push the club to the next level, one which Laing himself is excited to reach.
"The main reason I chose Minnesota was because it will be my sixth year next year," Laing told SBI. "I've been in the league since the modern era kicked off in 2011 and I'm here to win a championship. I went there in 2011 and I was beaten by Minnesota, so now we could win a championship together.
"I admired the football that they play and their fans are pretty good. They beat me in the only NASL championship that I could have won in my five years. In 2011, they beat me 3-1 in the final, and I think every year, you can win a championship with Minnesota, and going into next season, there's a good chance that this club can pull one off next year."
In joining the Loons, Laing, who admitted that he had several other offers on the table, puts an emphatic stamp on a 2015 season that may just have been his best yet.
As the only player from a non-playoff team named to the league's Best XI, Laing was dominant for an FC Edmonton side that very much saw him as a focal point in the attack. Statistically, Laing finished in the top 10 in goals and assists, contributing eight and seven respectively.
Laing's banner year saw him advance to the next level with Jamaica, earning appearances against the likes of Argentina, Uruguay and Paraguay in the Copa America. Those lessons learned on the international level, Laing said, were a bright spot in his career and demonstrated that he was more than capable of showing in major tournaments.
Still, Laing is far from satisfied and was determined to push for even more, even if it meant leaving something special behind in the process.
"It was difficult. I'd been there for three years," Laing said of leaving FC Edmonton. "We literally formed a family there. It was just a very good team chemistry between the guys that had been there from 2012 to 2015. We were like brothers and I'll definitely miss those players, but I was looking at my life and where it was going.
"I think I might have been settling in too easily and getting too comfortable, which I've learned that I don't want to get too comfortable anywhere anymore. I want to always be wanting more and to push myself to the limit. I think in Minnesota, I will. I'll be pushing myself to the max. We left on good terms, so it will be fun seeing them again and actually playing against them."
In acquiring Laing, Minnesota United head coach Carl Craig sees a player that has the ability to push the club to a level yet unreached while also bringing back the feeling of years past.
Citing the departure of Miguel Ibarra, Craig says the 2015 Minnesota United team lacked a bit of speech and creativity in linking defense to the attack. Alongside Pinho, Laing is seen as a player that is as fast as he is powerful, as well as a player that will contribute significantly to the team's goal tally.
Craig says that the team struggled to break defenses down last season, and said Laing is expected to provide a "different" way of solving that issue. Overall, Laing is viewed as a major piece of a puzzle that was just one step away from reaching an NASL title game.
"I love footballers who can run with the ball and dribble," Craig told SBI. "Not only can he do that, he can serve a cross and he can finish. We haven't had many guys who do that. Khalif Alhassan could control the ball closely. Ibson has wonderful close control, but doesn't necessarily have the pace to drive into space behind. I know Lance can do that and that's what we're looking for from him."
Minnesota United knows exactly what the Laing of yesteryear brings to the table, but the player himself is moreso looking forward to what the Laing of the future can bring to the table.
At 27, Laing finds himself in the prime of his career, and the Jamaican international is glad to be spending that prime with a team that gives him a real shot at achieving something that he believes can be very special.
"I'm a very keen player to learn. That helps me adjust to anywhere I need to go," Laing said. "I've been around many teams in North America, whether it's on trials or playing with them. I normally get along with everyone fine, so chemistry on the pitch usually is no problem at all. I'm looking to get my playing time, but I definitely expect to contribute even more next year.
"Personally for me, it's exciting, man. This is a very big club that is looking to go places that I dream of playing. They've been a great club so far in the NASL and I just think it's the right move to make."