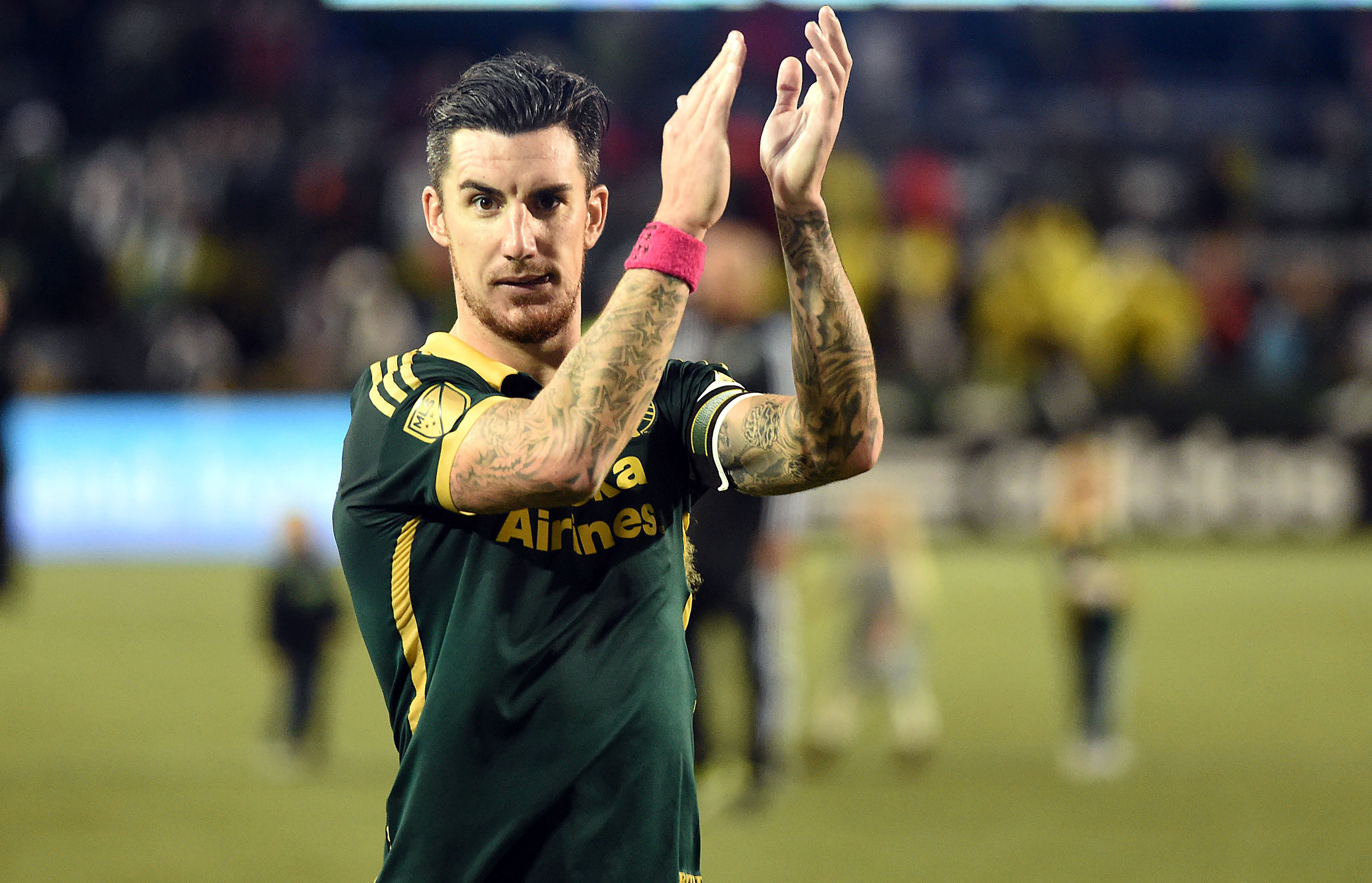 COLUMBUS, Ohio — Sitting out the decisive leg of the Western Conference Finals was one of the toughest points in Liam Ridgewell's career. That is how bad he wanted to be on the field.
Ridgewell will apparently not have to worry about enduring another rough moment this weekend, however.
The Portland Timbers arrived in Ohio on Thursday evening ahead of Sunday's MLS Cup Final against the Columbus Crew, and with the visiting squad was a healthy and optimistic Ridgewell. The Timbers' captain and starting centerback has been dealing with a right calf strain that kept him out of this past weekend's 2-2 draw vs. FC Dallas, but he resumed full training on Wednesday and is eager to make his return to the field in the championship bout at Mapfre Stadium.
"Yeah, feeling very well. Fit and ready to be selected and ready to go, to be honest," said Ridgewell. "It's been a bit of a rough 10 days, missing out on the game last week. Just been concentrating on getting my calf right and trying to make sure I'm fit. It's been a bit of a struggle, but hopefully I'll be there."
Ridgewell sustained the injury in the second half of the opening leg of the Western Conference Finals vs. FC Dallas on Nov. 22. The 31-year-old defender, who scored the first goal in that 3-1 win in Portland, was forced off the field after 61 minutes.
He tried his hardest to recover in time for last Sunday's 2-2 draw in Frisco, Texas, but fell just short of completing his comeback.
"I think once I tried it on Saturday and it didn't work for me, it's probably one of the toughest points in my career to date, to be honest," said Ridgewell. "I thought I was going to be fine, and I was trying to get through it, get through it, but it just wouldn't allow me to go any further. It was a difficult thing, but the boys were fantastic. When those two (FC Dallas) goals went in it was a bit touch-and-go, but they pulled through very well and I think we fully deserved to go through."
While Timbers head coach Caleb Porter said on Thursday that Ridgewell is day-to-day, reserve centerback Norberto Papparato told SBI that Ridgewell would return to the lineup this weekend next to fellow central defender Nat Borchers.
Nonetheless, Papparato is preparing just in case he has to fill in again for the veteran Englishman.
"I'm prepared. I'm always prepared," Papparato, who played all 119 minutes in Ridgewell's absence, told SBI. "I didn't get to play too many games this season, but the team did well in the games I did play. I think I've played nine games, and we haven't lost any of them. I felt comfortable and at a good level in all the games I played.
"I thought I'd be missing some fitness in the last game because I hadn't played 90 minutes in two-and-a-half months, but, in all honesty, I didn't. I played the entire game, and finished it in good shape."
Regardless of who starts, the Timbers' centerbacks will have the tough task of going up against the athletic Kei Kamara. That has proven no easy challenge for defenders throughout 2015, but the Timbers know that stymieing him is imperative to their chances of lifting the MLS Cup trophy on Sunday.
"He's an animal," said Paparatto. "He's a very big guy, physically, we can see he has qualities to spare, because he's fast, strong, and can jump really well. I think his No. 1 trait is his leaping ability, because he stays elevated up in the air and he gains a big advantage over any centerback that is retreating. He always goes forward and he jumps high and they cross in good balls to him.
"It's complicated. You have to try and be on top of him and not let him jump comfortably. Liam and Borchers will have to be attentive, because they are going to play, and try to prevent him from jumping comfortably and also try to cut off the crosses that can assist him."