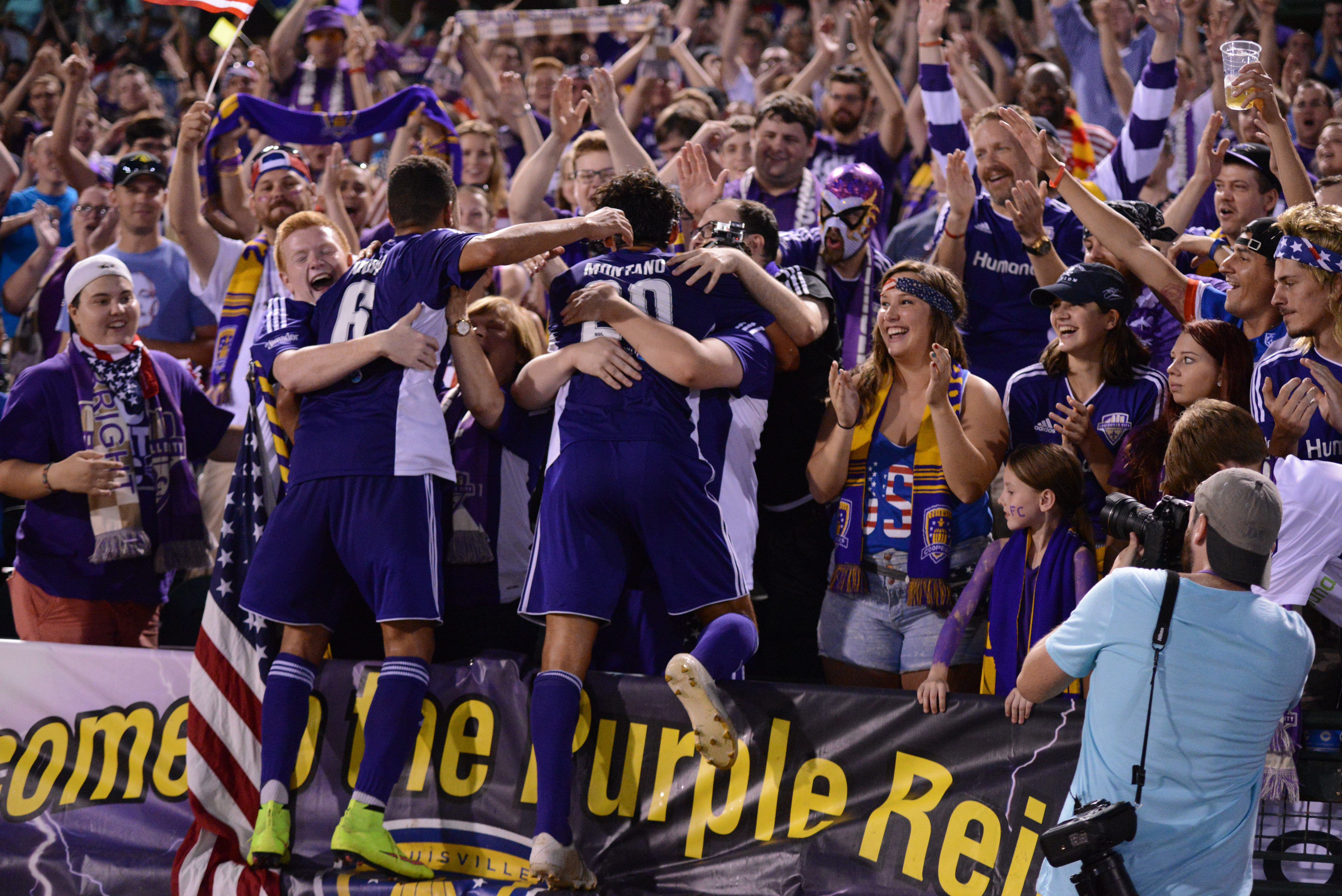 When looking through the stands of Louisville Slugger Field throughout Louisville City's inaugural campaign, it was not uncommon to see the face of Mayor Greg Fischer among the various government officials scattered throughout the crowd. Now heading into year two as a franchise, Louisville City, with Fischer's assistance, is making the push for a new stadium and a spot in Major League Soccer.
Louisville City was among the top clubs in attendance in the United Soccer League on both a season ticket and per-game basis in its inaugural season. On the field, the club reached the Eastern Conference finals, signaling a strong sporting debut to the club's first season.
Yet, despite all of the club's successes, there is a desire for more. Specifically, there is a desire for MLS and a sports atmosphere that would energize and ignite a city that is so desperate for representation on the professional level.
"They kind of got a lay of the land and how they see the market and where it's going," Fischer told SBI regarding contact with MLS. "Just sort of a general conversation about the state of the league and different cities that they're looking at. We're doing all kinds of due diligence in terms of USL growth and MLS growth. It's what you would expect from us."
"Everything has been very preliminary," added Amanda Duffy, Louisville City's president, "whether it's with Major League Soccer executives or other MLS owners who have helped us create that path and what it's going to take for us to get to the MLS level. We understand where that focus needs to be and the critical components to taking it to the next level.
"We still maintain a great relationship with Orlando City, even without the affiliation, and we have relationships with owners in USL and MLS owners that can help us with our plan, with our path and give us the best advice to get to where we want to be."
In order to make that step, Louisville City knows the top priority is securing a stadium project.
Following a recent announcement that MLS is looking to expand to 28 teams in the very near future, a series of markets have emerged as potential expansion sites. A fellow USL club, Sacramento Republic, appears to be leading the charge, while markets like San Antonio and St. Louis have long been on the list of cities viewed as expansion candidates.
What Louisville will need to set itself apart will be a stadium, and a following to match. For a club that Duffy says has tapped into just five to 10 percent of the city's 1.2 million person population, the latter will come with time, as fans and corporate sponsors continue to attach themselves to the club.
Miami's expansion project has demonstrated just how difficult the stadium process can be. Disconnects between clubs, communities and lawmakers seem to be the norm, as impasses and hurdles can multiply when it comes to stadium construction in the country's current climate.
According to Fischer, the club and local government have worked "extremely well together", as both sides understand how vital the partnership will be when it comes to a stadium deal.
As things stand, Fischer and the city continue to study the scenarios at hand, with the mayor stating that he expects reports to flow in within the next few months. The key, Fischer says, is finding a situation that works for all, from the club to the politicians to the Louisville taxpayer that is just hoping to see the city grow and expand into a more vibrant and close-knit community.
"We want to keep that energy downtown," Fischer said, "but that restricts the number of sites that you're looking at, but that's important. We know some preferred locations and then you get into the economics of a deal and you want to make sure whatever you build today can expand for MLS in the future if it's not MLS-ready from Day One. You want to program that facility well to keep it busy when there's not soccer activity taking place there. There are some moving pieces there and we're looking at all of it.
"I'd like to have one team that the whole city can rally around," Fisher added. "Right now, you have Kentucky fans, Louisville fans, Indiana fans but there's not one team that everybody gets behind and says 'they're ours'. I would really love to see that happen and we're certainly large enough as a metropolitan area with our TV market and with us just being a one professional sports town, having that capacity to support is there as well.
"We're beyond saying soccer is the sport of the future, right? It's the sport of today and it's got a lot of wind on its back and people love it, so that's the bottom line. If people didn't love it, I wouldn't be interested in it, but there's a great acceptance here."
With or without MLS, both the city and club are hoping to work towards the stadium project. Even if USL remains the club's destination, the overarching belief is a stadium is key for the sport's growth and sustainability in the city. Whether it's a 10,000 seat venue for USL or an expansion-ready park with an eye toward an MLS move, the process of building a stadium will remain a focal point in the coming years.
While that process irons itself out, the club will keep playing at Louisville Slugger Field, home of the Louisville Bats minor league baseball team. Duffy says that the club is hoping to move into a new home "the sooner the better", but would ideally spend only two or three more seasons confined to the baseball park.
In moving out, Duffy says opportunities for the club would skyrocket. A new stadium would offer fans a place to call home, while also demonstrating credibility in the form of increased community relations and corporate partnerships.
But to prove that point, both the Duffy and Fischer expressed the importance of year two. It's not hard to captivate a community with something new, something fresh, but keeping their hold on those around them will be vital going forward.
Unlike future expansion markets like Miami, Los Angeles and Atlanta, Louisville doesn't have the blessing of being a major media market with an international reputation. Stationed just under 50th in the nation when it comes to television markets, Louisville isn't quite ranked among the most glamorous options for a professional club.
Because of that, the city fully understands its path, one that has been forged by markets like Orlando and Minnesota. To catch the eye of MLS, the club will need to bully its way in by showing that, as a grassroots movement, the game of soccer and the club have taken hold within a community that is yearning for a spot in the top tier.
"We have a unique opportunity here, not just in Louisville, but in the state of Kentucky to be very well positioned to move to the major league level," Duffy said. "Geographically, with Columbus, Chicago, Sporting KC and Atlanta coming in in the next few seasons, we're in a very good geographic location to fit this region and create some good local regional rivalries and fill in geographically where MLS has identified an area of growth going forward."
"When you look at what MLS wants to see," Fischer added, "they want to see excited fans in the stadium and a city behind it with full throttle support and confidence that a great team can be built there. When you look at year one with us, they can see that they can answer yes to all of those questions."