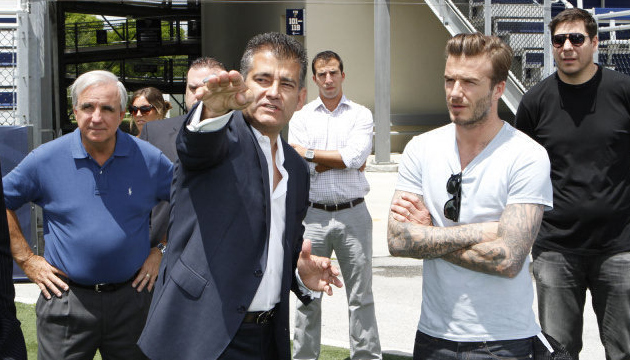 There is still some work to be done, but David Beckham has secured a stadium site in Miami at long last.
Miami Beckham United, the Englishman's group of investors for an expansion MLS franchise, announced on Friday that it has acquired some land in Overtown on which to build a soccer-specific stadium. The development comes a day before Miami Beckham United is to meet the MLS Board of Governors to detail its latest stadium plans, and at the end of a week that has seen Beckham and his investors turn their attention away from a location near Marlins Park in Little Havana.
"Miami Beckham United has secured a stadium development site at 650 Northwest 8th Street in the City of Miami's historic Overtown neighborhood," the group said in a statement."We intend to create an assemblage of private and County-controlled land totaling approximately 9 acres in Miami's urban core, within walking distance of multiple public transit options and the up-and-coming Miami River District.
"The private properties, which comprise the majority of the land, are under contract and we intend to purchase the County land at fair market value pending approval of our site by the MLS Board of Governors."
Beckham had announced his plans to launch an expansion club in Miami during February 2014, but MLS said he needed a stadium deal in place before officially being allowed entry into the league. After running into hurdles at three different locations, Beckham has now found a site for the privately-financed venue in Overtown, which is closer to downtown Miami than the piece of land near Marlins Park that he and his group were looking at.
A majority of the Overtown locale is an empty private lot on Northwest Seventh Avenue, but Miami Beckham United still needs to secure county land across the street that is owned by the Miami-Dade Water and Sewer Department.
According to the Miami Herald, Beckham's group plans to own the land and stadium. Miami Beckham United is also still open to providing some benefits to the Miami-Dade school system, just as it was planning for the site near Marlins Park.
"Construction of our venue will be privately financed and we will work with Miami-Dade County Public Schools to establish our club as an educational resource for the community," read the statement. "We will also engage nearby businesses and residents as we develop our stadium design and take steps to enhance the neighborhood."