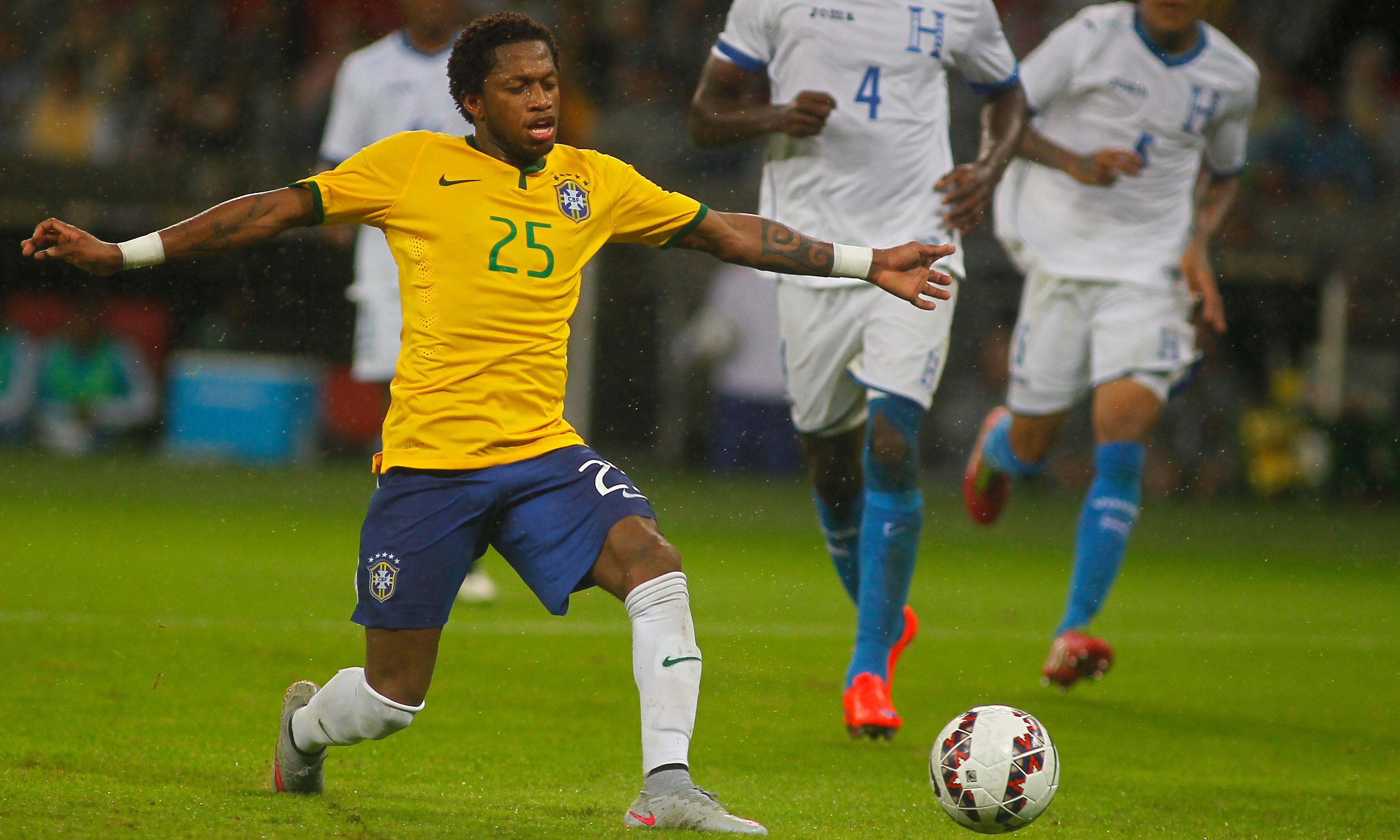 Still reeling from a disappointing Copa America performance, five-time World Champion Brazil now faces some more trouble.
CONMEBOL, South America's soccer governing body, announced on Tuesday that Brazilian midfielder Fred has been banned for one year after allegedly doping at this summer's Copa America in Chile.
The 22-year old was said to have had the diuretic hydrochlorothiazide in his system during the competition, thus sparking the suspension. Although it was only announced on Tuesday, the federation reportedly backdated the ban to June 26, which was still during the period that the tournament was taking place.
Additionally, the ban is said to only be for sanctioned South American events, explaining why Fred has still been eligible to appear in matches with club side Shakhtar Donetsk. The Brazilian has made 12 appearances in 2015 for the Ukrainian Premier League team, tallying two goals in the process.
In his time with the Selecao, Fred has made six appearances including two starts at the Copa America tournament that the ban stems from.
Here are some more news and notes from Tuesday:
BLATTER'S LETTER TO FIFA NATIONS REVEALED

There are 209 footballing nations recognized by FIFA, all of whom received outgoing president Sepp Blatter's letter, which was revealed on Tuesday.
It both bashed FIFA's Ethics Committee and denied any missteps or wrongdoing.
"I am bewildered by the insinuations and allegations brought against me by the investigatory chamber of the Ethics Committee," the letter read. "I have now been employed by FIFA for 40 years – since 1998 as its President. During this period I have always performed my duties to the best of my knowledge and belief and at all times faced up to the challenges with respect, honesty and fair play.
Both Blatter and UEFA President Michel Platini are set to appear on Thursday for a hearing regarding an alleged bribe of 2 million Swiss francs stemming from 2011.
Blatter is facing much larger allegations, after a BBC investigation claimed the FBI is pursuing a $100 million bribery investigation involving International Sports and Leisure, a Swiss marketing company with close FIFA ties, and ex-FIFA executive Ricardo Teixeira and former FIFA president Joao Havelange.
MARCO REUS OUT WITH GROIN INJURY
Borussia Dortmund star Marco Reus is set to miss the club's final two matches of 2015 after picking up a groin injury during the team's 4-1 victory over Eintracht Frankfurt on Sunday, according to head coach Thomas Tuchel.
Tuchel revealed at Tuesday's press conference that the team will miss their 26-year old forward for tomorrow's DFB-Pokal clash with Augsburg as well as Saturday's Bundesliga match against Cologne. Both fixtures will see Dortmund travel away from Signal Iduna Park.
Reus has been a key contributor to the German side dating back to his youth days with the club. He's been a full first-team player since 2012, adding 66 goals in all competitions.
LUIS FIGO CHIMES IN ON BALLON D'OR RACE
If it were to be decided by former Portugal great Luis Figo, Cristiano Ronaldo would retain FIFA's Ballon D'Or for a third consecutive season.
Since 2010, when the award merged with FIFA's World Player of the Year honor, Ronaldo and Barcelona star Lionel Messi have battled for the title of world's greatest player year in, year out.
Brazil's Neymar rounds out the trio that will be considered for the award on Jan. 11, 2016. The Ballon D'Or Gala takes place annually in Zurich, Switzerland, home nation of FIFA's global headquarters.
"They are three magnificent players," the 2000 Ballon d'Or winner explained. "If the logic about how trophies go to winning teams prevails, the trophy will be for a Barcelona player. But if those who vote single out individual numbers, such as goals scored, Ronaldo could win."
Messi won the prestigious hardware in its first three years after the former Ballon D'Or and World Player of the Year awards merged. His Real Madrid counterpart has since captured the title in back-to-back seasons. The last player not named Messi or Ronaldo to win was Kaká in 2007, when he was awarded both of the latter accomplishments.
When asked about any outsiders that he can see capturing the award in the future, Figo said, "I like very much (Paris Saint-Germain's Marco) Verrati, Neymar and (Bayern Munich's) Douglas Costa, but I think Ronaldo and Messi are a step ahead of everyone else."
QUICK KICKS:
Chelsea manager Jose Mourinho recognizes his future with the club could be in doubt after the team's latest 2-1 defeat against English Premier League leaders Leicester City. (REPORT)
The Royal Netherlands Football Association (KNVB) has banned FC Twente from European competition for three years. (REPORT)