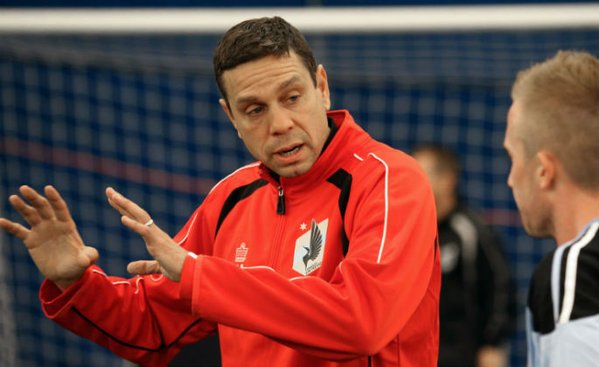 Minnesota United will make the leap to MLS relatively soon, but following an offseason of restructuring and rebuilding, the club is more focused than ever on achieving its short-term goals as a member of the NASL.
Set to depart the league in either 2017 or 2018, Minnesota United's move from the NASL presents the club with several challenges. Those challenges are set to be met head on by sporting director Manny Lagos, who relinquished head-coaching duties to long-time assistant Carl Craig to move into a front-office role.
The role, in truth, is a familiar one, as Lagos has served in duel capacity for six years. Now, in Lagos' short tenure as primarily an executive, Minnesota United has been arguably the winner of the NASL offseason due to the captures of reigning MVP Stefano Pinho and three-time Best XI selection Lance Laing.
While those signings are expected to pay massive short-term dividends, there is one eye towards the future and building a club that can transcend whatever league it may be playing in.
"It's a little more unique than a traditional short and long-term plan for the club in terms of how we approach the roster," Lagos told SBI, "but once you peel away the curtain, it isn't really that different. We have short-term plans and long-term plans and every move we make, we make with the knowledge of thinking about both of those scenarios.
"From a club standpoint, the idea of making sure that we're signing players that stay true to the mission of our club, which is to be one of the best clubs in the world, and be as successful as possible in the short and long term. That makes signings have to be even more measured than maybe in other times in your club's history."
The club's history, which reached its height under Lagos as coach, was drastically altered by his move from the sideline to the office. Admittedly, the move away from the coaching role has been a bit easier than expected for Lagos. Still, with so many big projects on the horizon, there has been little time to reflect on the transition from the day-to-day aspects of coaching.
Making that transition easier is the appointment of Craig, who will enter his sixth year with the club and first as a head coach in 2016.
Lagos says that Carl Craig's best feature is just that: he's Carl Craig. A fiery personality with wit and soccer intelligence to match, Craig's appointment has everything to do with his demeanor, connection with the players and coaching chops.
As his first order of business as head coach, Craig is looking to implement a style of play that he, for one, would like to watch. Relying on speed, power and attacking play, Craig wants to achieve noteworthy results, but is hoping to see them come with a certain level of pizazz and flair.
"The next step is for me to put my stamp on the group," Craig told SBI. "The fellas know me and I've been very close to them in terms of listening and sharing ideas about football. As I jump in the manager's seat, I'll share my typical elements with my football ideology, but also a philosophical approach to life that can enhance both player performance and happiness throughout. On the outside, it might just look like any other football club. On the inside, it will look like our football club. Unless you're in the thick of it, you might not be privy to that.
"We won't be massively different. I don't think so," Craig added. "Ultimately, we have to be different, because we didn't win, so it's necessary that one evolves. The philosophy doesn't evolve, but the way of getting there is for us to change somewhat. Ultimately, success and failure is based on where you finish, and once again, it wasn't bad, but the expectation from the ownership of Minnesota United is that we win."
A student of the game, Craig is very much focused on the short-term. Looking at his roster, Craig is excited by the club's ability to retool with a grand total of six of the 11 Best XI selections. However, the Minnesota United coach is quick to admit the challenges they will face.
The New York Cosmos are bound to find a Raul replacement, while Miami FC's recent moves have certainly caught Craig's eye.
That makes the short-term goal of winning an NASL title one that will certainly prove difficult. Because of that, it's hard for Craig to think of the big picture or the looming move to a different league.
Craig is quick to admit that he won't use "excited" as the word to describe the tasks at hand. Rather, the upcoming efforts are seen as an opportunity that he will give "whatever I've got and a little bit more".
"I'm a fella that lives in the moment and enjoys living in the moment," Craig said. "All of that stuff going on around me, and fair play to Manny, and he's running around like a madman pulling parts together and meeting people. He and I have been in constant communication, but ultimately, all of the other stuff is off my workbook.
"My job, as I see it, is to provide the club with both the winning and attractive product on the field which will entice and enhance the business side of the program. I'm not privy to that side of it, but I'm aware, of course, with it on the field and putting together an attractive product will lead to greater investment from the community. I'm aware of that but I'm only thinking about the football, and I'm grateful for that."
According to Lagos, Craig's focus on the soccer aspect will be absolutely vital to his long-term visions.
When making the move to MLS, Lagos isn't just looking to bring a staff and contracts. Rather, he is aiming to bring a defined culture centered around one thing and one thing only: winning.
"We really are excited about the future of the club and the goal we have and how we grow," Lagos said. "There's no doubt that there's some nice positive energy when you sign guys that you tried to go after and they're very excited to be a part of your project. We're certainly very excited to have them.
"I think we have to create an expectation of winning," Lagos added. "Ultimately, there are factors that other teams present so that you don't always win and there are factors within a season that make it hard. I certainly hope the culture, environment, the expectation is to win a championship, but it's also to grow and get better and make sure that we create the type of consistency that gives us a chance to win."